Mumbai Chef Rahul Akerkar is a bicultural, multi-culinary anomaly. Born to a German Jewish mother and an Indian Hindu father who met as students at an American university, he spent winters in Mumbai and summers in Manhattan throughout his youth. He was tracked for a career in biochemical engineering after earning a masters degree from prestigious Columbia University in New York. But summer gigs in Big Apple kitchens turned into fulltime jobs, feeding a taste for the restaurant world -- and western cuisine.
When it came time to start his own eatery, though, he returned to India, where, in 1999, he opened Indigo, Mumbai's most successful stand-alone restaurant (meaning not off a hotel lobby) serving Mediterranean-influenced cuisine. Located in a converted Victorian house a block behind the Taj Palace Hotel in the Colaba district of South Mumbai, Indigo drew raves and a cult-like following. It remains a Mecca to lovers of contemporary continental. He later launched Indigo Deli a few blocks away as a cozy and casual homage to the delis of New York.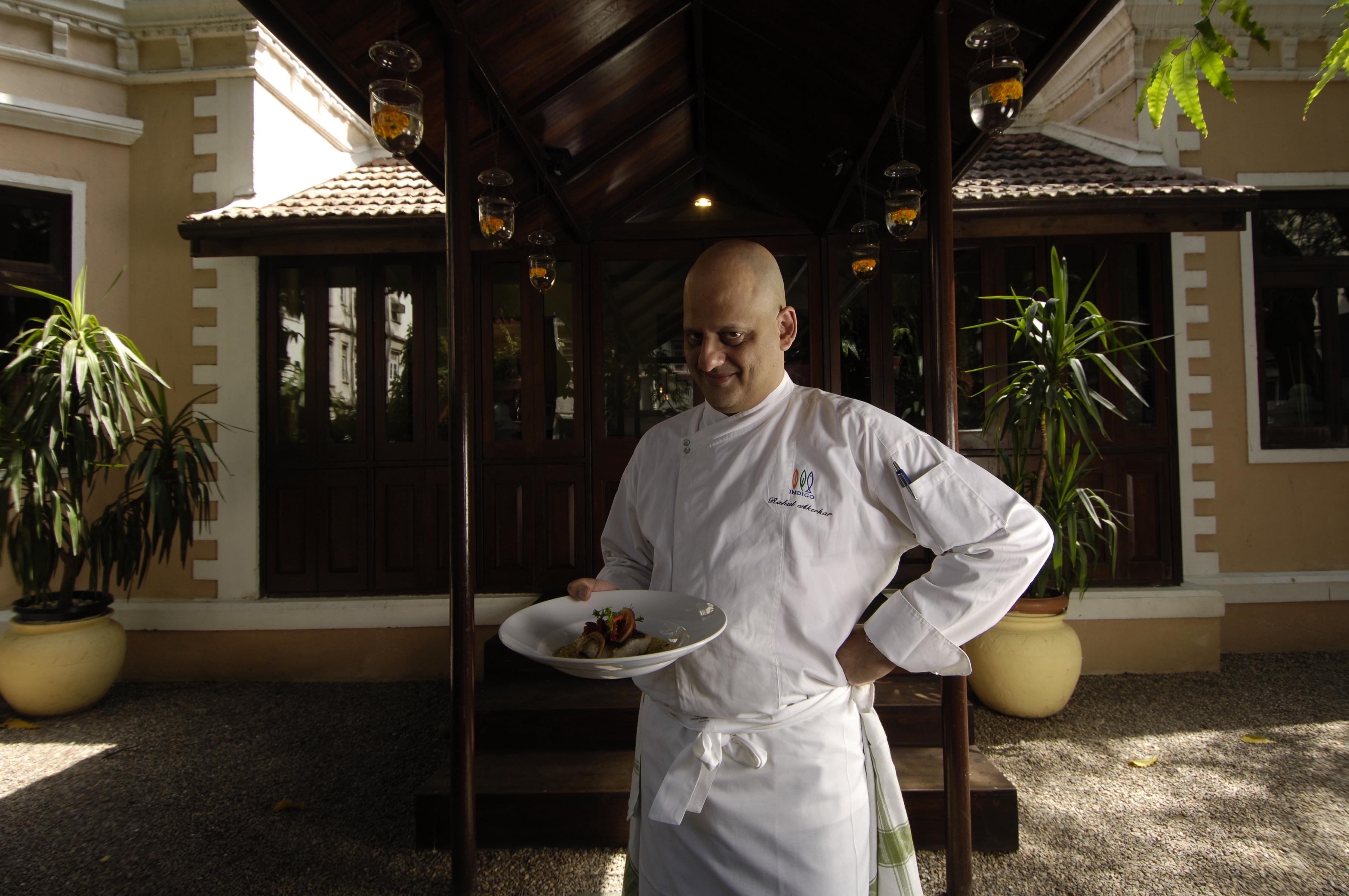 Rahul Akerkar, co-owner and chef in front of Mumbai's Indigo, arguably India's best stand-alone restaurant serving Mediterranean-inspired cuisine
Two years ago he and his wife/partner Malini, under their DeGustibus parent company, which includes their Movable Feast catering business, opened their most ambitious spot, converting historic Royal Western Turf Club beside the Mahalaxmi Racecourse into Tote at the Turf, a 25,000-square-foot restaurant and bar with a menu that elaborates creatively on Indigo's cuisine. That venue immediately became the see-and-be-seen scene, frequent backdrop for Indian newspapers' gossipy Page 3 fodder.
Then last year, he did an unexpected culinary about-turn. Tote's restaurant reincarnated as Neel, featuring nuanced Nawabi festival food, platters of kakori kebabs, baskets of buttery naans and lesser-known recipes like chilgoza (pine nut) shorba and a tangy Kashmiri subzi made with apples. Akerkar proved again that he categorically remains without category.
In New York recently on an eating foray, Chef Akerkar, who looks like a cross between Yul Brynner and the Laughing Buddha, met me at Recette (http://recettenyc.com), a trendy crowded bistro in Manhattan's Greenwich Village. While young and beautiful New Yorkers nibbled at petite plates, Chef ate his way through roasted foie gras, cured kingfish with a crème fraiche, seared scallops with a caviar Beurre blanc and more, talking above the din about his East-meets-West culinary influences.
You were born in India, you live in India, you own restaurants in India. So why did you turn your back on Indian food with Indigo, your famous Mumbai restaurant?
RA: First of all, there is no such thing as "Indian food." It's a fabrication of the West. Each state has its own regional cuisines: Maharashtra, Gujarat, Bengal. Even the states have subcategories - there's coastal Maharashtrian, inland Maharashtrian, Muslim-influenced, etc. Sadly, what most of the world knows today as Indian food is bastardized, trivialized - tandoori chicken, black dal, everything deep-fried. And it's just a shame that many Americans will only experience it in some buffet line in New Jersey.
Plus everything is overspiced and overcooked. I understand the history of why - in a hot country with poor refrigeration and sanitation, it was a safeguard against spoilage and contamination - but come on, we have refrigeration now. Plus, to me, cuisine should be allowed to change and grow. I don't see that being done successfully in India.
PG: Fair enough. So is there anything you like about Indian cuisine?
RA: I like its strong flavors. I like the balance of sweet and sour, like other Asian traditions such as Thai and Chinese cuisine. It's rich and complex. I am drawn to that inherently. It's the ground zero of my palate, my version of comfort food. I like that waiters at most Indian restaurants serve family style, from serving plate to your plate; it gives a personal touch and a feeling of plentitude. How often do you get "seconds" at Western restaurants? And then there's the almost primal relationship with the food eating with your hands.
PG: Who do you consider your cooking mentors?
RA: Well, I never went to culinary school. I learned "on the job," in the kitchens of New York, working for a series of chefs who taught me the basics. I learned everything from Mexican to French to classic American dishes like chicken pot pies, roast beef and popovers. They also taught me the lifestyle, which you can read about in that great book, "Kitchen Confidential," not a healthy lifestyle that I would suggest as a steady diet.
But -- and I know it's a corny cliché -- my grandmother was my biggest early food influence. She was a most phenomenal cook. My grandparents lived outside Bombay, on two acres with every kind of fruit tree, sugar cane - you name it. She had a wood-burning stove and there was always something smelling great on the burners. Everything was homemade, the butter whipped from scratch, all the condiments and pickled stuff. Her raison d'etre was to be in the kitchen making things. She'd come find me in the garden, bearing something fresh and hot: "Kha, kha" - eat, eat.
PG: Is there something culinary traditions of the East can learn from the West?
RA: Subtlety. Less truly can be more in the kitchen. Why cover up the real taste of fish or lamb or delicate greens? It's a young chef's insecurity that makes him or her try to do too much with a recipe. That's what I see the emerging modern Indian cuisine suffers from. The Americans really can be credited with spearheading local, fresh and seasonal, starting with Alice Waters at Chez Panisse in Berkeley, California. My grandmother came from that same tradition. Modern Indian chefs, particularly those at big hotel chains, seem to have forgotten these roots.
PG: Right now your eateries are in Mumbai only. Any chance of us seeing you go global, or at least all-India?
RA: Mumbai is my home. My wife and kids are here. I would hate to be an on-the-road chef, hopping from one city to the next. I don't think I want to be a Wolfgang Puck. That said, yes our delis have become a bit of a chain, with several throughout Mumbai and we're eyeing spots in Delhi and elsewhere. But my cuisine is too particular, too handcrafted, and I would worry that the quality would be compromised if I went -- as you say -- global.
Perry Garfinkel is the author of "Buddha or Bust," who often writes about Asia.
Related