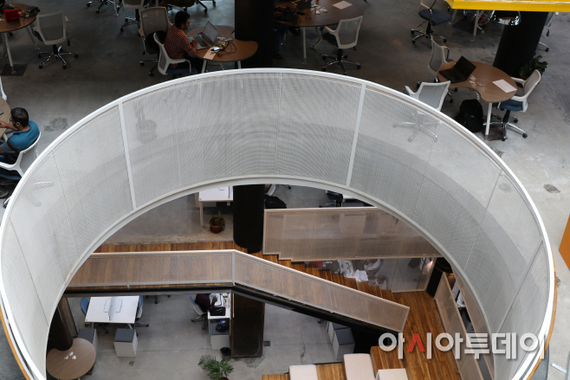 [T-Hub is the largest startup incubation center in India and is locatedin Telangana./ Photographed by Ha Man-joo]
By Ha Man-joo, India correspondent, AsiaToday - It has been belatedly revealed on Monday that India's Telangana government is planning to set up an outpost of T-Hub, its startup incubator, in Silicon Valley, in the United States.
Kalvakuntla Taraka Rama Rao, state IT minister, revealed such plan after his recent U.S. visit saying that Silicon Valley has inspired the Telangana government to set up T-Hub in Hyderabad to support startups.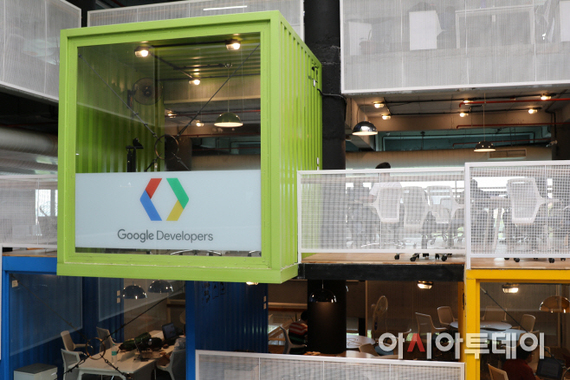 [A workstation space for Google-related developers at T-Hub./ Photographed by Ha Man-joo]
In addition, T-Hub signed the memorandum of understanding (MoU) on June 8 with Israeli university, Tel Aviv's entrepreneurship centre StarTau for launching an accelerator program for agritech startups.
T-Hub was set up in early November last year, in collaboration with Telangana government, India's biggest group Tata Group's holding company Tata Sons chairman emiritus Ratan Tata, International Institute of Information Technology (IIIT) Hyderabad, the Indian School of Business (ISB) and the NALSAR University of Law.
Collaboration between a state government and company to foster startups is a global trend, but what's catching eyes is that its partners are IT institute as well as business organization and law institute. This means that the importance of startup idea's marketability and legal issues that may occur afterwards is being recognized from the initial stage of establishment.
With regard to T-Hub operation, an official said, "It is supported by the state government, but is managed by private sectors." However, the actual role of the state government go beyond mere support. Minister K T Rama Rao, son of chief minister K Chandrasekhar Rao, is the de facto CEO of T-Hub. He is second most important minister in the cabinet.
Along with the announcement of T-Hub's outpost plan, minister Rao also signed a MoU with Prototyping lab in California and signed an agreement with AMD for building partnerships during his visit to the United States.
This allows plans to set up a prototyping lab and Very Large Scale Integration Design (VLSID) Academy by the end of the year, reflecting the state government's development strategy which also puts emphasis on startups' hardware as well as software.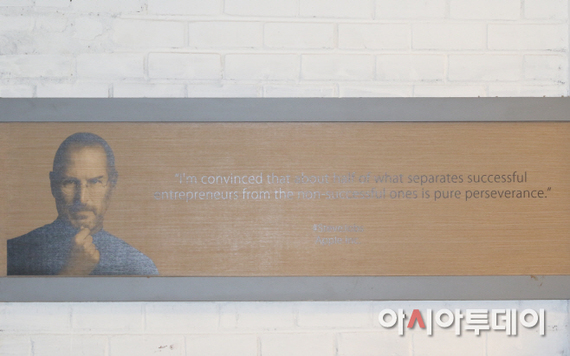 [A saying of Apple founder Steve Jobs on the wall at T-Hub./ Photographed by Ha Man-joo]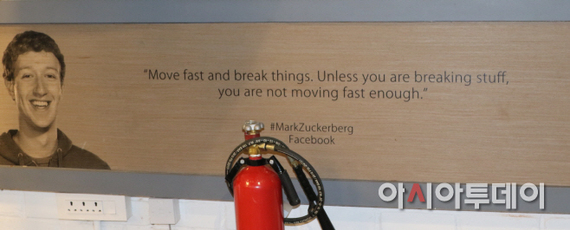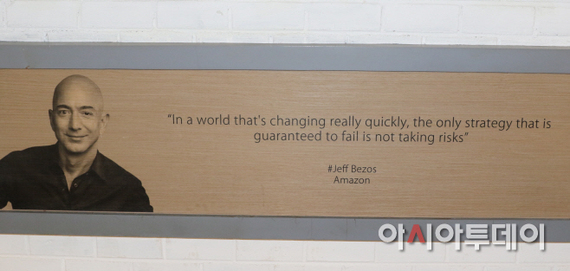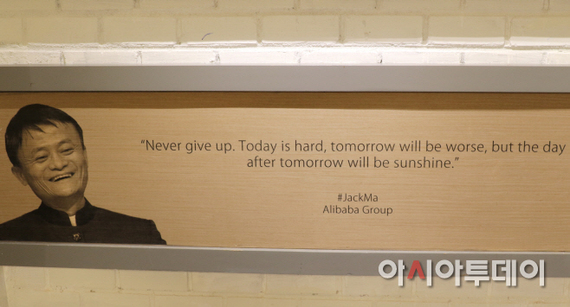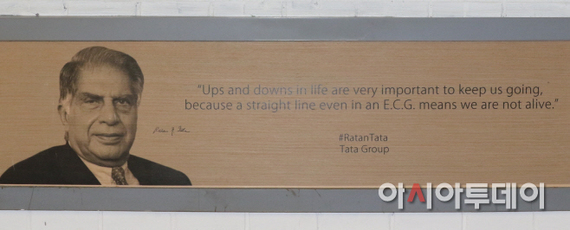 T-Hub, the largest in the country for startups, is located at the IIIT-Hyderabad campus, and offers 70,000 sq feet area with infrastructure with startups willing to pay a fee to use the facility. Currently, 206 startups are being incubated in the facility.
Within the facility, experts mentor incubatees for a period of one year. Incubatees get access to mentors for 4 hours every month. T-Hub holds various workshops and idea exchange meetings on a frequent basis. It has a team of Chief Intelligent Officers (CIO), who currently heads several top companies in India. This council guide selected B2B products to be market-ready, and provides beta customers by using their network to test incubatees' test product. Through this process, startups receive funding from angel investors to start their full-fledged business.
Thanks to this systematic support, 62 startups have attracted investment from domestic and foreign institutions as of June 13.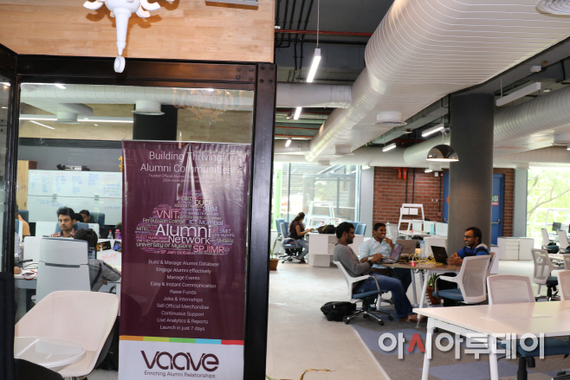 [A signboard that introduces startups to attract investment at T-Hub./ Photographed by Ha Man-joo]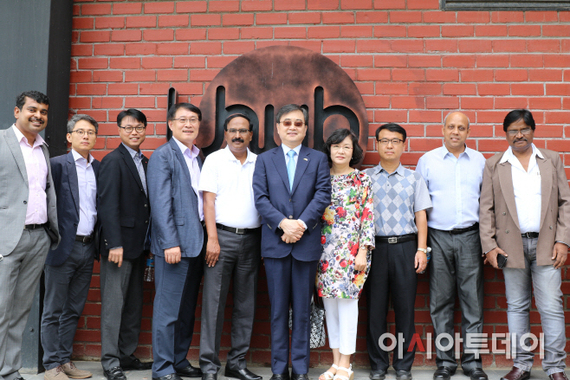 [Delegation of 'Korea Caravan' hosted by South Korea Embassy, including Korean Ambassador to India Cho Hyun (fifth from right) and POSCO India President Sung Ki-woong (seventh) take a photo with T-Hub officials during their visit to T-Hub on June 9./ Photographed by Ha Man-joo]
The interior of T-Hub is not much different from Korea's Pangyo or other incubation centers in the world. It has 24 office spaces for certain businesses, but it has lots of open spaces that make for a futuristic work environment and free flow of ideas.
Catchy slogans such as "Work Hard", "Stay Foolish, Stay Hungry", "Be Sharp", "Act Kind", and "Imagine Believe Achieve" are on colorful walls. Besides, famous sayings of world-famous IT leaders including Apple founder Steve Jobs, Facebook CEO Mark Zuckerberg, Amazon CEO Jeff Bezos, Tesla CEO Elon Musk, and Alibaba Chairman Jack Ma can be seen as well.
Calling all HuffPost superfans!
Sign up for membership to become a founding member and help shape HuffPost's next chapter