Chess, or rather its precursor, shatranj, originated in India. So it was ironic that for much of the modern history of the game, India produced almost no great players.
The country is making up for lost time with a vengeance.
In the last 15 years or so, the popularity of the game has exploded across India with hundreds of thousands of children regularly studying chess and many tournaments springing up supported by India's growing economy.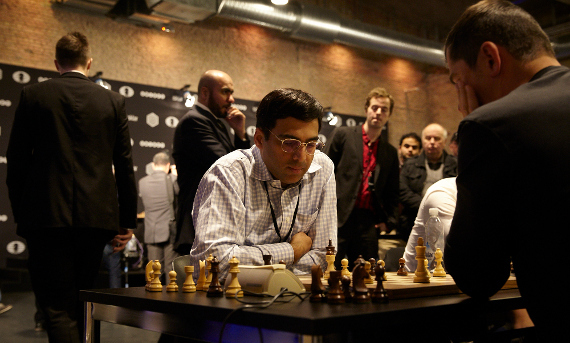 Viswanathan Anand playing in the World Rapid and Blitz Championships in Berlin in October 2015. Photo by Lena Karshirsky for World Chess.com
The reasons for this renaissance primarily trace back to one man: Viswanathan Anand, 46, the former World Champion. His accomplishments have made him one of the most popular "sports" figures in the country and the recipient of many honors, including the Padma Vibhushan, the country's second-highest civilian honor, and the Rajiv Gandhi Khel Ratna, India's highest sports award.
Anand became India's first grandmaster, the highest rank awarded by the World Chess Federation, the game's governing body, in 1988. As Anand climbed into the ranks of the world's top players, eventually becoming undisputed World Champion from 2007 to 2013, his success planted the seeds of interest in the game that are now bearing fruit in successive waves of rising stars.
Among the next generation are Pentala Harikrishna, 30, who is ranked No. 12 in the world and who is now playing in an elite tournament in Azerbaijan, and Baskaran Adhiban, 23, who won the Challengers section of the elite Tata Steel tournament in Wijk aan Zee, the Netherlands, in January.
And there are many younger stars on the way.
Earlier this week, R. Praggnanandhaa became the youngest player in history to earn the international master title (the one before grandmaster). He did it at the age of only 10 years and 10 months. He is far from the only rising prodigy. Among India's 43 grandmasters, six are younger than 20.
India is now ranked No. 5 in the world among countries (the classification is done by taking an average rating of each country's top 10 players) and in the last Chess Olympiad, the biennial team competition that is the most important in the world, India took the bronze medal. It was the first time that India had ever medaled.
Like many young players, Praggnanandhaa is tactically strong, an attribute he demonstrated several times during the Aeroflot Open (B section) in March when he scored one of the three international master norms needed to gain the title.
Mr. McClain is editor-in-chief of WorldChess.com, the official site of the World Chess Championship.
Related
Popular in the Community