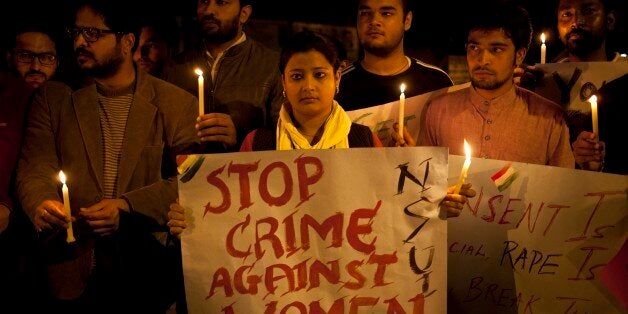 A haunting new documentary about a fatal gang rape has revealed deep divisions in Indian society about how to address violence against women and what role the government should play in regulating public debate.
The Indian government threatened on Thursday to take action against the BBC for airing "India's Daughter," a documentary by Leslee Udwin about the rape and death of a 23-year-old woman on a New Delhi bus in 2012. The horrific crime drew worldwide attention to India's widespread gender violence.
"India's Daughter" was originally scheduled to air on Sunday, March 8 -- International Women's Day -- in India as well as several other countries. But an Indian court blocked the airing after excerpts from the film emerged that show one of the convicted rapists describing the crime without any sign of remorse.
While the airing of the film in India has been canceled, the BBC did air the documentary in the U.K. on Wednesday, drawing fierce condemnation from the Indian government. The film has also remained available on the Web, despite a request from Indian authorities to remove it from online platforms.
How has Udwin's film garnered so much debate?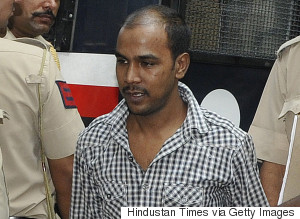 Mukesh Singh is brought to Delhi High Court under high security for a hearing, Sept. 24, 2013, in New Delhi. (Sonu Mehta/Hindustan Times via Getty Images)
Much of the controversy revolves around Udwin's interview with one of the rapists, Mukesh Singh, who drove the bus on which the fatal gang rape took place. Singh was sentenced to death by hanging for his role in the crime, as were three other men. He is currently appealing his sentence. Excerpts from "India's Daughter" that aired earlier this week show Singh blaming the woman for her death, arguing that she wouldn't have been killed if she hadn't resisted.
"A girl is far more responsible for rape than a boy," Singh says in the movie. "A decent girl won't roam around at 9 o'clock at night... Housework and housekeeping is for girls, not roaming in discos and bars at night doing wrong things, wearing wrong clothes."
After Singh's comments were made public, Indian authorities sought to ban the film from being aired, claiming that the filmmaker had not obtained all the necessary approvals to air the film -- an accusation Udwin vehemently denies.
Some columnists and social media users have expressed support for the Indian government, saying that Udwin ought not to give rapists a public platform and that Singh's dehumanizing remarks spoil the victim's memory.
"In the name of exposing the rapist, it gives an open platform to the rapist and encouraging other rapists," Times Now editor Arnab Goswami said, according to The Washington Post.
Goswami's argument was echoed on social media:
Others have pointed out that Singh's appeal is still pending, and that it would be problematic to air the documentary before his case concludes.
Delhi police, meanwhile, argued for banning the film "in the interest of justice and maintenance of public order," according to the Associated Press.
Many others, however, have criticized the government's move. Some argue that it sets a dangerous precedent for media censorship. Others say that the film should be applauded, rather than condemned, for shedding light on a painful reality of Indian society.
"The real 'embarrassment' India needs to confront is its own horrific reality... and the shame that goes with it. Not a bold documentary," columnist Shobhaa De wrote for NDTV.
Anu Aga, a member of the Indian Parliament, said that the country "has to confront the issue that many men in India do not respect women," according to The Guardian. "What the man [Mukesh Singh] spoke reflects the views of many men in India," she said. "Why are we shying away from that? Let's be aware of the view and not pretend all is well."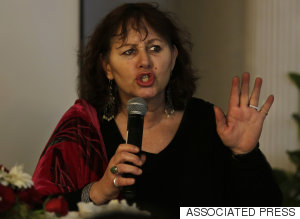 British filmmaker Leslee Udwin addresses a press conference on her documentary film "India's Daughter," about a Dec. 16, 2012, gang rape, in New Delhi, Tuesday, March 3, 2015. (AP Photo/Altaf Qadri)
Udwin has fired back at her critics, dismissing calls for the ban as "illogical, stupid and uneducated opinion" in an interview with Reuters' India Insight.
"In order to progress, we have to understand," Udwin said. "We must not be scared about looking at this, nor must we say we know it already, which is what they are effectively saying."
"It's not just the rapist, it's the whole society," she went on. "The society teaches these rapists what to think. The rapists then act in a certain way, and then the society rejects them as though they have nothing to do with them. They created them, and encouraged them. Society is responsible."
"To reduce rape to a matter of a generic Indian male mindset is to fail rape victims," wrote Gopal. "It is, at best, embarrassingly facile. At worst, it is to collude in the silences about gender exploitation and sexual violence as very modern problems inseparable from every other form of global exploitation that blights our supposedly emancipated times."
Related
Popular in the Community