India has dedicated five decades of public policy to curbing explosive population growth. So why are they now choosing to promote the population growth of one particular religious community?
The Jiyo Parsi (Long Live Parsi) policy encourages India's Parsi community to marry within itself and have children through federally subsidized fertility treatments. Once a thriving community of prestigious families, the Parsis, a minority group distinguished by their adherence to the Zoroastrian faith, have fallen to dangerously low numbers and are threatened with extinction.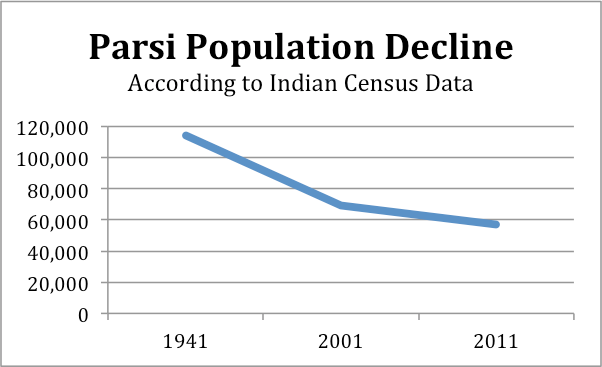 Recognizing the community's dilemma, the Indian government's Ministry of Minority Affairs launched Jiyo Parsi in 2013 to slow the decline of the Parsi population. The program consists of two main approaches: medical assistance and advocacy. The medical program provides financial assistance to young Parsi couples trying to conceive, with aid determined by the type of assisted reproductive procedure and the combined income of the couple. The Ministry established the goal of 200 additional Parsi births through this subsidized medical intervention in the first five years of the program, and to date, 85 babies have been born since it began in 2013.
Additionally, advocacy efforts address the community's beliefs and practices about family life that are driving issues like late marriages and low fertility. They do this through the use of advertisements, social media, celebrity endorsements, brochures, workshops, and individual and couples counseling. In 2014, Jiyo Parsi launched a humorous advertising campaign meant to draw attention to the severity of their population decline problem. The ads were meant to be provocative, and they included slogans such as those shown in the ads below.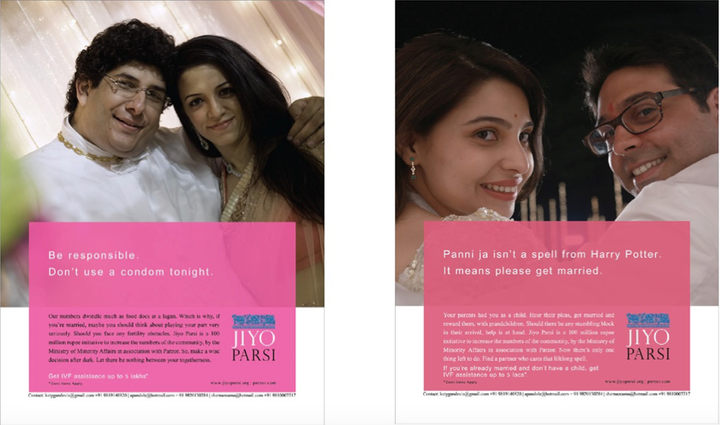 Contrast to National Family Planning Policies
Shortly after learning about the launch of this advertising campaign, I came across an article in The Guardian detailing the death and hospitalization of dozens of Indian women who underwent sterilization surgeries at a hospital in India. The hospital was underequipped and understaffed, with one doctor and his assistant carrying out over 80 operations in five hours. The article explained that, "[sterilization] camps are regularly held across India as part of a long-running effort to control the emerging economic power's booming population." Women are often offered financial incentives to go through with the surgery, serving to especially target marginalized groups that need the money to support their families.
With this context of a national family planning program aggressively combatting population growth, it is clear that Jiyo Parsi is distinct within the Indian political landscape. While it might be expected that the policy would warrant backlash against the Parsis, actively mobilizing themselves in a Hindu-dominated culture, I found that quite the opposite was true on the ground. During a visit to Mumbai in January 2017, I was able to sit down with Jiyo Parsi administrators and Parsi community leaders, who revealed that Parsis' popularity enabled them to receive explicit government support without public scrutiny and in spite of a rising Hindu nationalist ideology, which asserts that to be truly Indian, one must also be Hindu.
When the Jiyo Parsi ad campaign came out, other Indians were shocked to hear that the Parsis were dying out and expressed their utmost support for government efforts to preserve the community. Amul, a well-known dairy company, even picked up on the issue in one of their ads, featuring the beloved cartoon characters, the Amul boy and Amul girl, exclaiming "Khao Parsi, Piyo Parsi, Jiyo Parsi!" literally meaning "eat, drink, and live Parsi," encouraging Parsis to live out their distinct cultural practices.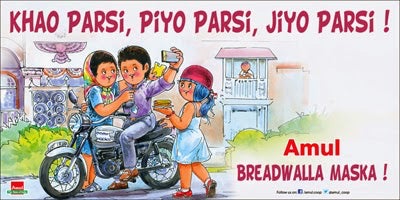 One of the program's staff members remarked that she often felt like Parsis receive more support from outside the community than from within it. She explained,
"There has been a great deal of awareness and a realization that if India doesn't really step up and push the community to help itself, India will lose the Parsis just as it has lost the Armenians, the Jews … All that makes up India's multicultural diversity, and that is the feeling of the ordinary Indian."
In an effort to save their people, community groups have also stepped up to promote marrying at a young age and having multiple children. Marital sites and speed dating events, exclusively for young, single Parsis, have become increasingly popular ways to meet potential spouses. The Zoroastrian Youth for the Next Generation (ZYNG) has spearheaded many of these efforts, bringing young Parsis together for fun activites like hiking or kayaking, and hosting an annual Parsi youth conference at the Taj Palace in Mumbai. One of ZYNG's founders told me that they established the organization to act as a social platform where young Parsis can come together in a setting that isn't religious or political. Their goal is to show that there are young, hot Parsis out there, combatting the stereotype that all Parsis are old and boring.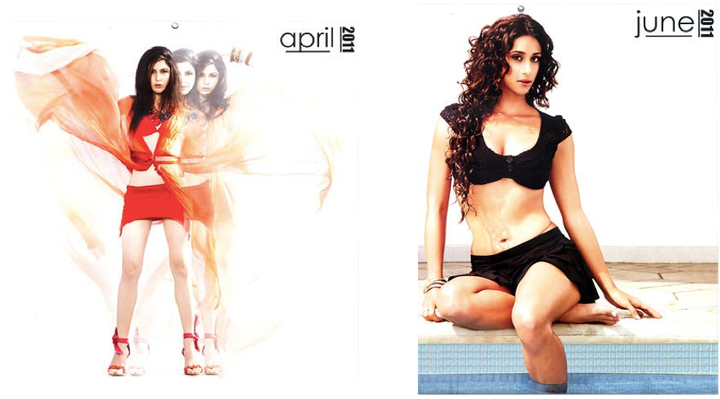 While the future of the Parsis is unknown, their situation is notable in a country that promotes a paradoxical approach to the rest of its population. Through community efforts combined with support from the Indian government and its citizens, the Parsis continue to fight to save their heritage and people.
REAL LIFE. REAL NEWS. REAL VOICES.
Help us tell more of the stories that matter from voices that too often remain unheard.