Bapu Surat Singh Khalsa (Bapu Ji) is an 82-year-old human rights campaigner single-handedly battling the entire Indian establishment. Hailed as a modern day hero, Bapu Ji has been on hunger strike since January 16, 2015 to bring attention to human rights violations in India.
His demand is simple: release all Sikh political prisoners in India. While hundreds of thousands of individuals have shown their support worldwide and continue to stand by his side, the antagonist in this story continues to give a cold shoulder: the Punjab Government.
Sporting a healthy figure and weight at the start of his hunger strike, the Punjab Government's continued, blatant disregard for human life has left Bapu Ji a hollow frame. A gradual and painfully visible transformation of his body has taken place since January of this year. Rather than address the reason for Bapu Ji's hunger strike, the Punjab Government has opted to mentally and physically abuse Bapu Ji and his family through force feeding and harassment.
In February of this year, Bapu Ji's son Ravinder Jeet Singh (a U.S. citizen), was arrested for simply taking care of his father while on hunger strike and held under penal code sections 107 and 151, "apprehension of breach of peace and tranquility of an area" and "arrest to prevent the commission of cognizable offences". While in jail, Ravinder Jeet underwent immense physical and mental torture by the authorities, did not receive a single hearing in court but rather four postponements, and then was suddenly released in late April with all charges dropped. In addition to Ravinder Jeet's arrest, Bapu Ji himself has been arrested numerous times since the start of his hunger strike. Forcibly taken to three different hospitals on six different occasions during his peaceful protest, the Punjab Government has further deteriorated Bapu Ji's body by administering undisclosed drugs and force feeding him. Recently, a video had been posted anonymously on social media showing Bapu Ji being fed in a hospital setting. While this attempt to discredit Bapu Ji's peaceful protest failed, it clearly shows the lengths the Punjab Government will go to hinder this campaign and avoid the real issue at hand.
The Punjab Government continues to insist that the Sikh political prisoners in question cannot be released. From a legal standpoint, this is not true. First is the issue of life imprisonment. In India, life imprisonment can dictate a prisoner to serve a life sentence. However, section 57 of the Indian Penal Code defines life imprisonment as 20 years, or in some cases, less (Singh, 2015). Second is the issue of the Terrorist and Disruptive Activities (Prevention) Act (TADA) of 1987. Widely criticized for its abusive power over Indian citizens and lack of a fair trial or freedom of expression, the majority of Sikh political prisoners remain imprisoned due to this act (Amnesty International 1994). The act has since been repealed but continues to hinder the freedom of numerous political prisoners in India. In July of this year, the Supreme Court passed a mandate allowing state governments in India to release life convicts, with the exception of those convicted under TADA or by the Central Bureau of Investigation (CBI). Because of this exception, most Sikh political prisoners did not qualify for release. However, this exception does not mean the Punjab Government is powerless to grant the release of the Sikh political prisoners. On the contrary, the Punjab Government has the power to not only accept interim applications, but also holds the power to grant permanent release on a case-by-case basis. Legally, many of the Sikh political prisoners have served their minimum sentences, some serving an additional ten to fifteen years.
If one is not convinced by the mounting evidence of human rights violations by the Punjab Government, perhaps it is beneficial to examine its approach in other cases. First is the case of Punjab Police Inspector Gurmeet Singh "Pinky". Inspector Singh was convicted of murdering an innocent youth in 2001 and sentenced to life imprisonment. Eight years into his sentence, the Punjab Government pardoned Gurmeet Singh, granted early release, and allowed his reinstatement into the Punjab Police. Second is the case of Deputy Superintendent of Police (DSP) Swaran Dass. Having been convicted of murder, he was sentenced to life imprisonment as well, and was pardoned and granted early release after serving only five years (while his appeal was still pending in court). The third case involves DSP Jaspal Singh, who was also convicted alongside DSP Swaran Dass of murder, sentenced to life imprisonment, pardoned, then granted early release by the Punjab Government.
Clearly the government possesses the power to grant release and does so for its own. The obvious question in this matter remains, why aren't Sikh political prisoners treated equally?
On December 17, 2015, Sikh political prisoner Waryam Singh was released by the Government of Uttar Pradesh (UP). Singh was convicted under the TADA Act in 1990 and endured twenty five years in jail. Singh's case clearly demonstrates that permanent release (not just parole) is possible and can be carried out by the state government. The release of Waryam Singh in UP calls into question the Punjab Government's stance that it cannot release the prisoners. If prisoners in other Indian states can be released, why can't the prisoners in Punjab be released as well?
Waryam Singh's release after twenty five years is due to the continued struggle of Bapu Surat Singh Khalsa. Singh was one of the longest serving Sikh political prisoners and his release is the first significant achievement in what's now nearing a yearlong hunger strike. Earlier this year, two other Sikh political prisoners, Gurdeep Singh and Professor Devinderpal Singh Bhullar, were granted transfers because of Bapu Ji's struggle, after serving more than twenty years in jails outside of Punjab.
It is this heroic story that will keep the cause alive. Antagonists will always exist in the fight for human rights, but it is the heroes that emerge who bring hope and change for the better. Bapu Ji's supporters worldwide wholeheartedly state that if Bapu Ji dies from his hunger strike, the fight will not only continue but strengthen in its resolve. A day will come when others like Waryam Singh will feel the warm embrace of freedom. This freedom will be possible due to heroes like Bapu Surat Singh Khalsa and his lionhearted fight for human rights.
The question is not about the release of a few Sikh prisoners, the question is about the inalienable right of a person to live life without fetters. The question is about the regaining of liberty after you have completed the full term of one's sentence in prison. The question is about justice, equality and fair play. The question is about parity between the rich and famous and the poor and the underdogs. The prime question is whether after 66 years of the constitution, does it give the Sikhs the rights and privileges due to them as compared to the other majority community? (Bapu Surat Singh Khalsa in a letter to Indian Prime Minister Narendra Modi, February 11, 2015)
Amnesty International. (1994). India: The Terrorist and Disruptive Activities (Prevention) Act: The Lack of "Scrupulous Care". Retrieved from https://www.amnesty.org/en/documents/ASA20/039/1994/en/
Singh, Parmjeet. (2015, July 23). Facts rebut Punjab govt's claims related to List and Release of Sikh Political Prisoners. Sikh Siyasat. Retrieved from http://sikhsiyasat.net/2015/07/23/facts-rebut- punjab-govts-claims-related-to-list-and-release-of-sikh-political-prisoners/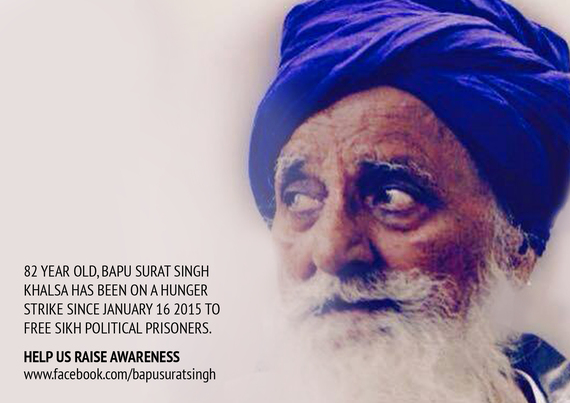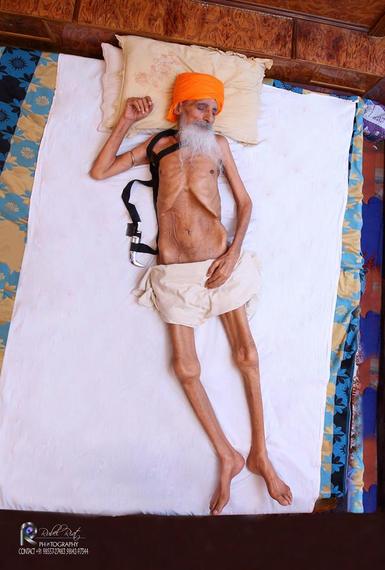 Calling all HuffPost superfans!
Sign up for membership to become a founding member and help shape HuffPost's next chapter