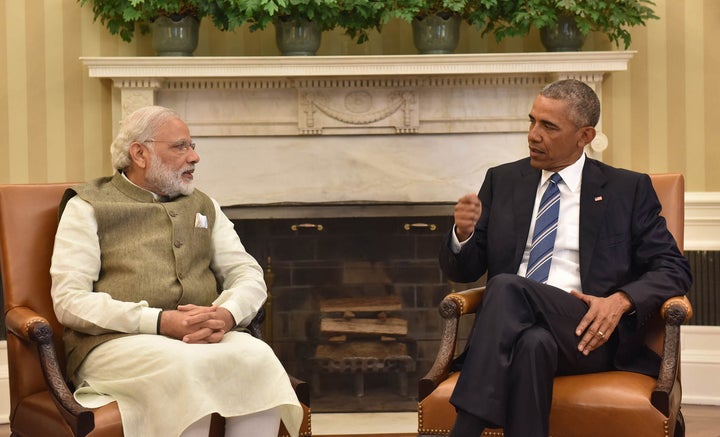 In 2017, fully-fledged membership for India of the Nuclear Suppliers Group (NSG), a most sought-after pronouncement on which it has eagerly set its eyes, could be disappointed.
Wading through multiple negotiations and diplomatic transitions, India was granted a unique 'clean waiver' from the NSG in 2008—only through diplomatic bargaining by the United States with the 48-country cartel. A slew of trade deals followed for nuclear exports between India and some member-states, including the U.S., the UK and Australia.
As the U.S. drifts from its pre-existing foreign policy stance, however, its role as a 'moderator' between India and the NSG is shadowed with inflating uncertainty. The American world view under the new president, Donald Trump, may undergo unforeseeable shifts, including vis-a-vis U.S. ties with China and Pakistan. And any change in Sino-US dynamics which renders China more susceptible to threats—in physical or institutional terms—will have repercussions for India's NSG game-plan.
In just the first week after his inauguration, Trump's executive orders reflected his leit motif of engaging China from strength and recalibrating—or at least revisiting—U.S. strategic flanks on the Trans-Pacific Partnership (TPP), the simmering situation in Tibet and China's claim over Taiwan. Against such an uncertain backdrop, the extent to which the US will readily sponsor India's NSG agenda has to be thoroughly reconsidered.  
The diplomatic trade-offs which the US secured with reluctant partners—such as China, New Zealand and Ireland—for India's eventual NSG entree were tenuous. Orchestrated by the previous Republican administration of George W Bush, the proposal had secured support from France, Russia and the UK. The aim was to achieve a concession from the NSG on the mandatory criteria of the non-proliferation treaty (NPT), with full-scope safeguards as a condition of export. It took repeated redrafts by the U.S. for the India-specific waiver to be accepted.
With the rejection of the first draft, the U.S. circulated an amended version which, though it imposed strict conditions on India's entry into the elite club, readily dismissed the option of 'immediate termination' of the waiver should India avow nuclear-weapons testing. After two successive failures, the U.S. presented a final draft geared to addressing the concerns of reluctant NSG members. In this the focus shifted to the 'energy needs of India, integrity of the non-proliferation regime, safeguards, and export controls' as the objective of the waiver. The final draft still proffered the desired 'clean and unconditional' waiver which placed no, or minimal, compulsions, on India.
As can be surmised from the relentless U.S. efforts, India's NSG waiver was crucial to its strategic and status interests. A pro-waiver diplomat was spotted conceding that 'the process was an incredibly complicated political and technological negotiation'. Wikileaks also revealed that it was 'intense U.S. pressure which involved oversight phone calls to presidents and prime ministers of holdout countries' that such a waiver outsmarted potential rebelling voices. U.S. officials were quoted as saying that the then secretary of state, Condoleeza Rice, made at least two dozen calls to numerous allies to ease the path for the India-specific waiver.
As the U.S. barreled against sturdy opposition, most remarkable was China's. At the outset, China plotted to coalesce dissenting voices—the smaller European nations among others. But overwhelming U.S. persuasion soon meant Chinese maneuvering ran aground. The ultimate stratagem then for China—still today its plausible alternative—was a criteria-based membership. This was promulgated in strong support of China's all-weather friend Pakistan.
The U.S. went out of its way, however, to exercise intense persuasion on China, including personal calls from Bush to Hu Jintao, the then Chinese president. Surprisingly, China decided to allow the waiver to pass in absentia. With Barack Obama now in the White House, the US circulated a proposal for India's NSG membership, 'Food for Thought'. Yet residual opposition from China meant India's NSG accession was not concluded.
Against such an historical trajectory, Indian expectations of eventual full membership of the NSG, facilitated by the US, might be high. But amid the current geopolitical churning, Trump's China policy will have spillovers on the extent to which the US anchors India's NSG journey. While Sino-U.S. ties have confronted tougher times, even as Obama openly challenged China's aggressive stance over the South China sea or the TPP, Trump's fired-up strokes might unsettle any Indo-US rapport at the NSG.
The new administration has decided to dig up longstanding issues on Taiwan and Tibet, on which China has been irritable and uncompromising. Trump's call on the Taiwanese president, Tsai Ing-wen, juxtaposed with a question-mark against the 'one-China' policy under which Beijing lays claim to the island, and his subsequent declaration of US withdrawal from the TPP brings contrasting signals to the table. If the former signified U.S. intervention on the Taiwanese-nationalist side, the latter would open up space for greater Chinese involvement in the regional economic arena.
In relation to Trump's U.S., India might, some suggest, feel morally obliged to take sides which resonate with its 'identity' in the international realm—its insistence on humanitarian policies for, and non-violent approach to, international conflict resolution. Christened as a 'natural partner' of the U.S., India has to give due regard to its stances but,India also has to exercise caution in the region and the wider hemisphere.
A U.S. adamant on locking horns with China could incite tremors in the NSG problematic for India. It becomes highly unlikely, then, that the U.S. would go the extra mile to secure NSG membership. Further, a scuffle with China could bring the U.S. to confront a precarious and more volatile Pakistan. And this would signal trouble for a resilient India in its backyard. Hence, it serves well for India to build upon moderate policy options towards China and the U.S.
A persistent irritant is the threat perception in Sino-Indian partnership, relating moreover to status concerns in the regional biosphere. Having invested enormous resources on major security issues with China, India has entered a status dilemma with Beijing. As Wohlforth suggests, status (as opposed to security) dilemmas are prevalent where systemic factors provide maximum opportunity for strategic uncertainty and misperception. Status, as conceived here, is formed by socially constructed identities and values in the domestic as well as the international realm.
While India perceives China as a threat to its sovereignty and territorial integrity, China's threat perception of India is in relation to its growing proximity to the US and its regional standing. As Basrur reckons, India is seen as a 'reluctant hegemon' by China, while India's perception of China has changed over time, from a regional hegemon to a 'strong competitor'. The need of the hour for India is to formulate better stances which allow the Sino-Indian status dilemma to subside—whereas if India were further to approach the US viewpoint it could be exacerbated.
This stems not just from a defensive standpoint, but with a view to associating with Chinese policies whenever the potential arises. And amid China's ebbing economic condition Indian markets can bring an opportunity: with its infrastructure deficit, India can provide the shoulder Chinese traders can rest upon. As rightly noted in the international relations domain, a state cannot choose its neighbours but it can decide its friends.
In this geopolitical climate India has a pivotal role to play in the region, requiring steady advancement towards China on mutually beneficial grounds. For India to pursue its NSG agenda, China's reluctance needs to be adequately addressed , while at the same time ensuring the US is equally motivated to go the distance.
The author expresses deep gratitude to Mr Robin Wilson for his guidance and advice.
Calling all HuffPost superfans!
Sign up for membership to become a founding member and help shape HuffPost's next chapter