Every day in a tiny corner of the not-so-tiny, demographically youngest country of the world, three to four start-ups emerge. With 4,200 start-ups and counting and an annual growth of 40%, by the end of 2015, India had secured third place globally by these numbers.

These statistics are much to be proud of against the background of a country which was long famous for nepotism, red-tape and bureaucratic hurdles. Beyond any contention, these small businesses have the potential to expand, to generate massive employment, and to contribute to the GDP of the country, hence facilitating lucrative social and economic progress. But, we cannot forget that no reward comes without risk. While we are optimistic with these statistics, it's important to highlight the associated risks and address the deficiencies, which if left ignored, could have very serious consequences.
First, start-ups need to be sustainable, and through their livelihoods can generate a ripple effect of benefits for the community at large. Let's get deeper into it through a story.
Mukul and Shikha are neighbours in a hot tropical country. Both folks decide that they need some shade in their backyard. Shikha went ahead and bought a big umbrella. It was a bit expensive, but convenient and offered immediate relief. Mukul went to the nursery and bought a small plant. He planted it in his backyard and watered it.
After years, Mukul's plant grew to become a large tree. It provided shade not just for Mukul, but for a large region. It provided fruits and other benefits. The umbrella that Shikha brought stayed the same. It didn't grow. Rather, it got worn out at and had to be replaced at short intervals.

A start-up is akin to a small plant. It doesn't offer any immediate benefits after planting, but provides unlimited benefits in the long term. We need long-lasting start-ups to grow our economy, and not mere businesses to take advantage of three year exemptions under Start-Up India scheme, only to shut down later.
These days, a lot of start-ups either take too long to break even, or close their operations too soon. They are not able to survive the cut throat competition. Barring a few exceptions, many start-ups are able to derive consumer traction but not sustainable profits despite enormous valuations and successful seed-funding. Their presence has benefited the consumers and the community through their services, but a lack of a long term revenue-generating stream has made them prone to a hire and fire policy for mass scale employment.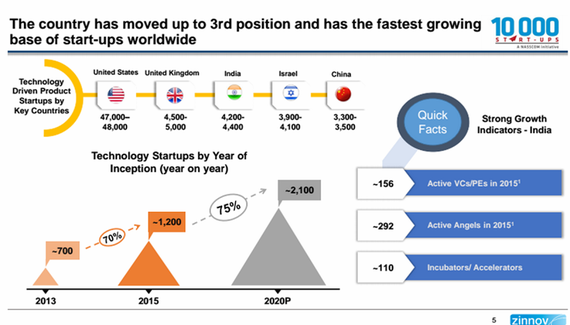 Second, the statistics on the demography of the ecosystem says that 72% of the founders are less than 35 years old, making India home to the youngest entrepreneurs in the world, with a gender breakup of 91% male and 9% female. This wide gap between male and female entrepreneurs is worrying. A 2014 study by MIT, Harvard and Wharton universities, found that men are 60 per cent more likely to get funding than women, all other things being equal. Marriage, pregnancies and children raise subconscious questions in many investors' heads on the ability of women to multi-task and remain committed to their start-up. It is hard to forget the case of Tinder, where its co-founder, Whitney Wolfe filed lawsuit against the company for being fired from her job as VP of marketing and stripped of her title of cofounder because having a young female founder made the company look "like a joke." However, if we evaluate the statistics, then we realize that start-ups with female executives are equally likely to succeed, if not more. The Indian government has taken a progressive step to address this concern by launching a scheme "Stand-Up India" with a fund of 5 billion and a vision to support two-fifty thousand entrepreneurs, particularly women and other backward communities.
Add to this a third concern, that the majority of founders claim to work for long hours, and suffer anxiety and insomnia amidst high-pressure deadlines and stakeholder expectations. In general, this lifestyle is taking a toll on their health.
Fourth, a majority of these burgeoning starts-ups are dominated by the demand to have a tech focus. Technology is a promising avenue for businesses, and has particularly favoured the rise of e-commerce businesses in India. However, this unprecedented rise in the Internet sector is at risk of replicating the situation the United States faced at the onset of the 21st century. Known as the dotcom crisis, the American market faced a similar upsurge in investment in Internet-based companies, followed by a crash and recession. We unabashedly do not want such a scene to arise in India when the global economy is looking up at India for its spectacular growth rate.
At the end of the day, beneath the façade of valuations and the race for funding, we cannot be manipulated by mere numbers. After all, we don't want to infuse air into a bubble which will eventually burst. We don't want start-ups to become just a glorified word for an SME (small- to medium-sized enterprise). What we need is less sizzle but more steak; we need more sustainable organizations to drive our growth story. We don't need to run or worse, stop; what we really need is more responsible funding.
At my university, Shri Ram College of Commerce, we looked to create more sustainable businesses by utilizing the platform of the Hult Prize. The Hult Prize Foundation, in association with the Clinton Global Initiative and Hult Business School, runs the world's largest student competition across universities; transcending backgrounds, gender, and communities (Shri Ram College of Commerce was the first undergraduate commerce college to conduct it on its campus in 2015). Although the space of social entrepreneurship is often confused with creating charities, students were here encouraged to ideate business models which could generate profits and create social impact at the same time. After three successive stages of rigorous selection and 7 week long incubation, one team all across the globe will be selected for seed capital of USD 1 million.
This programme, I believe, can create more sustainable, more diverse and more responsible growth stories for generations to look on. It will be interesting and intriguing to see how the "tortoise" of social entrepreneurship overtakes the "hare" of our existing notions of entrepreneurship.
Calling all HuffPost superfans!
Sign up for membership to become a founding member and help shape HuffPost's next chapter