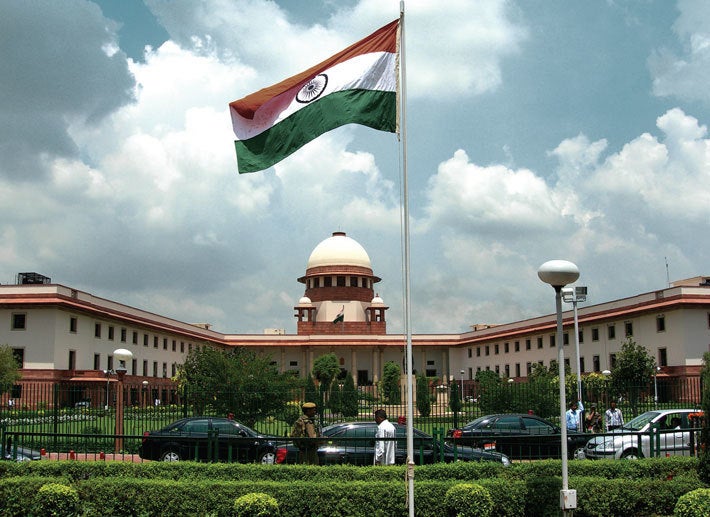 India's Supreme court's wrecking ball does it.
India's Supreme Court bans the practice of Triple Talaq (Hitherto, a man could pronounce the word divorce three times in a row making divorce effective instantly) in one-shout and asks the legislators to pass a law to make unilateral divorces illegal and punishable The court has wrecked a long held misogynistic practice in the likes of Sati practice.
As a Muslim, let me welcome the Supreme court's verdict, it amounts to restoring Islam's basic tenet: justice.
The state should not interfere in religious practices, however, triple Talaq in "one instance" is not religious. It is not Islamic nor Quran approves of such atrocity. God does not like divorce, but has given the option to divorce should the differences between husband and wife become irreconcilable and unbearable. Quran is about justice to every human being and it prescribes that it should be done in three months allowing the couple to reconcile or reaffirm their decision (Reference: Quran, Surah Talaq Chapter 65 translations by Mohammad Asad, Yusuf Ali or Fateh Mohammad Khan) in the presence of witnesses from the community.
Triple Talaq in one-shout is a cultural misogynistic practice and not Islamic, and the Supreme court as a body to ensure justice to all citizens has a right to restore justice to Muslim women in this case and it does not amount to interference in religious matters, it is not in the Quran.
Arfa Khanam a journalist posted something to this effect, "If triple Talaq in one instance is allowed for men, it should be extended to women as well." She makes perfect sense!
However, it is not a significant decision, but a small step towards justice for women but a giant leap towards restoring women's rights and dignity. My friend Suhaib Siddique has pulled some statistics, "Divorce rate among Indian Muslims is 0.56% (2011 Govt. of India census), and Triple Talaq (Instant Divorce) among Indian divorcee is 0.8%" this is backed by a recent survey by Dr. Abu Saleh Shariff of US India Policy Institute. Though instant unilateral triple Talaq is morally wrong, the ones affected by it are less than 1/10th of one percent among divorcees.
It is not a political victory to BJP either, they are not for women's rights, as a larger number of Hindu women are mistreated in marriages and particularly divorced single women. Laws should be made to prevent abuses, rapes, domestic violence and dowry burning for a larger number of people to bring justice to women. Then they can claim victory.
Dr. Shariff writes, "Anyone trying to improve the conditions of Muslim women by talking of the red herring of triple talaq should know the depth of sufferings of 2.4 million deserted women. "No injustice should be meted out to our mothers and sisters in the name of religion or community," Modi had said. Will he not take up their cause despite the fact that the vast majority – 1.9 million – are Hindu and there may be no political gain from talking about their plight?" It is time for PM to speak up as abandoned wives outnumber Triple Talaq victims.
It's not a defeat to All India Muslim Personal Law Board (AIMPLB) either, it's rather a reminder to them to do the right thing. I am glad they welcomed the decision and they have every right to appeal and defend their stance and fight it out. Prophet Muhammad (pbuh) had said education is necessary and every contract should be in writing, indeed the Nikah Namah (Marriage Contract) is invariably signed by both the bride and groom and two witnesses, the AIMPLB can introduce that the final divorce at the end of third month should go through a similar process and not verbal. They have a lineup of things to do and they can work on banning the Halala practice before supreme court steps in. Let's clean it up ourselves before someone does.
Arnab Goswami shouting at his Republic TV "SC has passed a historic judgment which will help millions of millions of Muslim women in India." Arnab is pure non-sense, where did the bloody million come into his mouth? Facts and statistics don't matter to him, he wants to build up his ratings by pandering to the mean instincts of the public.
It is a victory for women, first for Muslim women and I hope the legislators work on justice for all women. I believe most Muslims will accept this decision whole heartedly if they study Quran and understand justice is the foundation of Islam.
No nation will prosper if its society is divided, we blame the British for dividing us, and now we have the new dividers in the guise of BJP. They need to prove to Indians that they are for every Indian, and that no Indian is entitled to more rights than the other. What Muslims want is equal access to jobs, education, justice, business loans, home loans, rental homes and nothing more. Isn't that the moral responsibility of the party that rules the nation to assure every citizen of justice?
How would that benefit the nation? It produces more consumers for businesses to produce cars, build homes, manufacture products and develop more products to bring about sab ka vikas. If Bill Gates did not make other people millionaires', he would not have become a billionaire. If Modi does not believe in sab ka vikas and practice it, it is merely bakawas. I pray he listens to his best instincts and restores the righteousness in society, a society where every Indian lives without fear.
Mike Ghouse is president of the Center for Pluralism and is committed to build cohesive societies and offers pluralistic solutions on issues of the day.
#Supreme Court of India, # Triple Talaq, # Unilateral divorce, # Center for Pluralism
Related
Popular in the Community