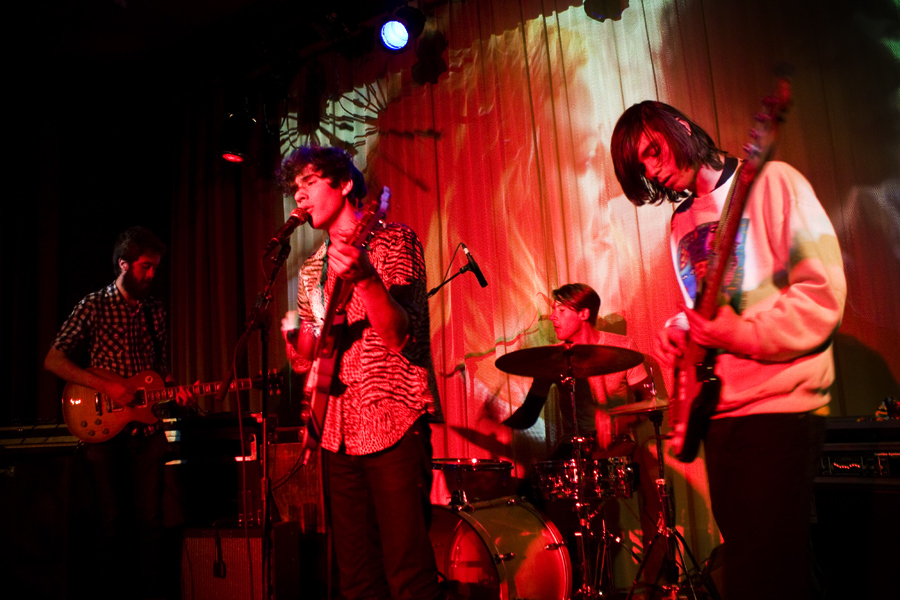 Young and earnest. Clean and lacking even the faintest whiff of rebellion. More liberal arts than art school. That's how the indie bands of today are pitching camp, and that attitude might be putting down stakes in New York indie culture. A refugee camp from the hardcore 00s of posturing postpostpunk, the flannel-and-cotton mafia just wants to play happy, sweet music for music's sake. Oy vey. Is Ian Curtis rolling in his grave?
Beauty Feast was the first incarnation of this straightforward sweetness at Mercury Lounge, shooting up the gritty Lower East Side with a rustic folk jam. Beauty Feast features two female voices, one whiny and one reedy, both cheerily plaintive and homespun. Alternating between fun angular guitars, Johnny Cash guitars and syncopated electrobeats, this seven-piece set jammed their way through a toe-tapping room.
Lead singers Anna Meyer and Kelly Zutrau, looking like teenagers fresh from summer camp in ambiguously ironic t-shirts and khaki shorts, belted simple tunes of happy love as loud as they could and told corny jokes between songs. "Less singing more touching," they encouraged the crowd. The reedy voices shone through plugged in acoustic guitar and tambourine to make you think you might just be at a good version of your quad rock bluesy folk jam, not in the land of hustle and flow - so it makes sense that the band met at summer camp and private school and played music at NYU together. Beauty Feast as a collective was more of a contradance band for a Brooklyn liberal arts hippie wedding than the next Arcade Fire, but for plain homespun un-self-conscious fun, the ensemble served ably.
Oberhofer, a quartet of boys who never seem to hit empty on their gas tank of youthful energy, took the stage next. A clean, honed voice with touches of Modern English's Robbie Grey and carefully composed and executed guitar indicate hard work and talent, but whether Oberhofer could take that to the top venues and charts is as much of a mystery as (and somewhat related to) our economy right now.
With a little more anger and innovation, these kids earnestly playing their strings and sticks out could go somewhere. One of their last songs, "Haus," foreshadows that with frissons of thrashing guitar, motivated splashy cymbals and heart-rattling snares, and hardcore punk screams that segue into smoother croons. The singer wants to chop down metaphorical cherry trees and use them to build a house with a lover, and the metaphor works because of the strength of his voice and the emotion in it. This courting serenade is an absolute pop rock gem worthy of mainstream airwaves. Every orchestral element is there: a sweet whistling voice with great tone variation, a rising climax, frenzied but tightly controlled drums, and intense guitar gunshots.
Next up wasTwin Sister, whose lead singer could be a porcelain doll, her hair tied up with a doo-rag and her Mickey mouse t-shirt hanging loosely on her tiny frame. This was the electronic dream soundtrack of cherubs and the alphabet candy pop of unassuming, swoony hipsters. Her vocal stylings were careful, quiet meditations, intricate labyrinthine yarns woven with pulsing electrobeats.
At times, Twin sister can be like Tokyo's best easy listening station. At others, there's more trip-hop intensity. Either way, you feel that you could cloudhop across the sky to the ticking, syncopated rhythms, especially when Twin Sister goes into intense instrumentals, the perfect foil to the calm singing. The audience really responded to these instrumental moments, cheering and swaying.
Twin Sister was the perfect opening for Memoryhouse, it makes sense that they have been touring together. The sweet low intensity of Twin Sister gave way to Nouvion and Abeele's lush, pounding guitar pop. Trembling seismic beats. Whispered loops that run away over a harmonic layering of sustained electronic thumps. Heralding of a new generation of Air addicts. Abeele's history as an ambient composer are evident here, and his notes feel like small tactile fingertouches on a skin that's somewhat numb, distantly felt.
Both guitarists and she on keys take on an almost house beat, where her voice is more driving and urgent. The diversity here is what's key. This is not as easy listening as Twin Sister, but the panic and sadness are tucked under a dreamworld of symbols and ambient sounds.
"Lately, I'm not sleeping; I'm not breathing without machines," Nouvion sings. Memoryhouse may be nostalgic for happiness lost, but they're not going to scream about it. Life is a undersea dream in their world, and though the album does not translate exactly faithfully in live performance, you can sense the difficulty of performing their electronic music live, and also that translating and speaking their dreams precisely in music is the challenge itself. "These lungs are filled with water from the tide," Nouvion sings.
The overarching hallmark of most of the performances is their unusual suspects attitude, a rebellion against classic rock or pop swagger -- they are a latent part of the chillwave movement taking over New York's indie scene. No entourage, no Gaga costumes, no smashing guitars or even very much dancing or headbanging. These young bands are products of an electronic music revolution and a revolution in recording, who had cheap, fairly hifi independent recording available and the ability to make their own beats with synthesizers, drum machines and computer software. Atomized by a splintered music industry, but somehow still all lumped together in their independent musicmaking and recording attitudes and styles, these bands are earnest rather than rebellious, more Lonely Man than Damn the Man.