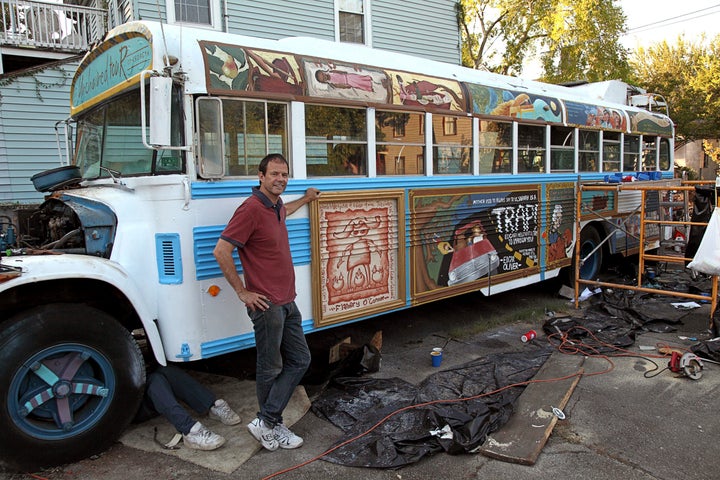 We're on a 1975 Blue Bird schoolbus rattling down Route 17 in Southwest Georgia. Because the bus windows were made in the pre-smoked-glass era, real sunlight is permitted to pour down on us. Also a warm wind is whipping around. I'm in near bliss. In my old Laz-E-Boy recliner my eyes are half shut and there's a sliver of oak limbs and Spanish moss flowing above me, and I'm listening to fellow passengers speculate on the recent spate of Mysterious Dead Birds (we found one outside a Savannah laundromat, one at a TV station yesterday, and two in the churchyard where we painted the bus).
Dan Kennedy says, "Any time wildlife is dying around you, that's a good sign for any enterprise."
"Why is that?" someone asks.
"Well, first it means we'll have something for lunch. Second, dead wildlife is a pretty universal sign of good fortune. It's a wink from the universe meaning good things will be coming our way."
We all laugh. We hit a huge bump and come smashing down and laugh again.
We call ourselves the Unchained Tour. We're a posse of fiddlers and singers and raconteurs--many from the Moth, the storytelling series that I founded fourteen years ago--and we're headed for a performance on St. Simon's, an island off the Georgia coast. St. Simon's is where I grew up on and where the Moth got its inspiration (nights on Wanda's porch swapping tales with friends, pale moths veering around the porch light). From St. Simon's we'll head for thirteen other towns and cities around Georgia where there are still independent bookstores. Our mission is to spread enthusiasm for reading old-fashioned printed books, and for sharing evenings of stories and music with real people, old-fashioned non-avatar breathing people.
We hold that independent booksellers should be the vital heart of any community. We think a good bookstore should be a hive of activity, offering not just author readings but also music shows, nights of raconteuring, gardening and cooking classes, philosophical debates. The local bookstore should be the gathering place for all curious folks.
And since Moth evenings are so popular, with our podcasts of true personal stories reaching millions around the globe, and with The Moth Radio Hour playing on some 240 stations, it seemed that raconteuring would be a good way to spread this message. So we fixed up the old Bluebird and painted it with scenes from Georgia stories--Flannery and her chicken, the death of Tomochichi--and we took to the road.
And now everything is humming along. We reach the village of Darien and take a ride on an old shrimp boat and listen to Marianna Hagan, who's been around shrimpers all her life and has the stories to prove it. Then we roll on down to St Simon's and eat Southern Soul barbecue and put on a show at the Palm Coast coffee house. Some fuss at the door--there's never enough tickets. A dozen kids jumping on and off the bus. The show, in the warm autumn night, is lovely. Stories from the famous New York playwright Edgar Oliver, and from Tina McElroy Ansa, the brilliant African-American raconteur from Macon, Georgia. Dan Kennedy, author of "Rock On" and the funniest man alive, is our host. I give my little sermon about books and community. Everyone crowds around at the end to tell us they're with us, they're "on the bus", as the Pranksters used to say. Lots of twenty-somethings telling they're tired of the internet, of ghost-surfing their nights away. They want more nights like this. They want raconteuring. We go to a friend's house and tell more stories and listen to the crashing surf. Then early in the morning we board the Bird and pull out, waving to all the kids, headed for the hinterlands.
Calling all HuffPost superfans!
Sign up for membership to become a founding member and help shape HuffPost's next chapter