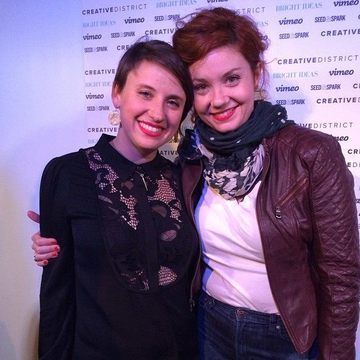 Photo credit: Max Silverman
The job of most indie filmmakers is truly a labor of love, devoted to creating and producing films that very few people ever see. But the industry is finally seeing some push back from indie filmmakers Emily Best and Erica Anderson.
They decided to disrupt the current business model by casting themselves in a new role as entrepreneurs launching their start up called Seed&Spark.
Seed and Spark is more than just a niche crowd funding platform for indie filmmakers. It aims to solve the biggest obstacles faced in the industry (beyond the funding), like building an audience and finding distribution. Best says:
"I could go on and on about how the economics of independent film are so deeply stacked against the creator that even a wild success by indie box office standards might mean no money for the filmmaker. In order for independent film to be 'independent,' we have to have a business model that allows us to feed our families while making the stuff we care about. "
Friendship, Film & Funding:
Erica Anderson (Director of Crowd Funding & Community) and Emily Best (Founder & CEO) met in a NYC acting class years ago and have since collaborated on a variety of entertainment projects. One of their close friends, actress/filmmaker Caitlin FitzGerald began talking with them about the kind of roles she was getting offered vs. the kind of roles she wanted to portray. This conversation led to them collaborating on a female centric movie titled Like the Water that Fitzgerald wrote with Caroline von Kuhn and Best was set to produce. A month before shooting began in a small town in Maine, Anderson was itching to get involved in the project and Best welcomed her help. Their positive experience on this project is what led them from filmmaking into business.
Finding a Way With a Micro-Budget
Anderson says, "About a month before filming began, we were about $20,000 short, which is pretty typical of an indie film. So, we decided to email a wish list to everyone we knew asking for donations of specific items needed for the shoot location during summer like mosquito screens, sunscreen, bug spray and so on. The email also included a link to PayPal to raise funds."
The email campaign was a huge success because its targeted outreach was also to the community where they were shooting. They gave the local residents a sense of ownership in the film by offering their name in the film's credits and a seat at the local debut screening in exchange for donations. They raised $23,000 in 30 days and then received an abundance of in-kind donations as well. Anderson says, "The local catering company gave a deep discount and the catering delivery guy had an interest in filmmaking so he became our grip! It was an incredible experience, the town embraced us and really opened their doors and their hearts. It was refreshing, so different from NY or LA where people are over it."
One year to the day after completing the film, they arrived back in the town of Camden, Maine and screened the film to a sold out house with line around the corner. Standing room only.
Anderson says, "This film was the tipping point for everyone involved. We saw the effect of people feeling invested in a film. We had actually raised funds and built an audience. The people who supported Like The Water, would begin to support Seed & Spark. They wanted to see more indie films. Building an audience, in the end, is the most difficult part. But if you have a film that belongs to a community of three hundred people, it will have a longer life and a much more satisfying run."
That first iteration of Seed & Spark was called the Independent Media Wish List. Best says:
"With Like the Water we wanted a way for our supporters, when crowd funding was still in its most nascent stages, to really understand exactly what we needed to make the movie. We were too far in the forrest for the trees at that point to see that anything remarkable had happened. It was when we started the festival run, mostly regional and local festivals all over the world. Someone who contributed to our campaign or someone who knew someone showed up and brought friends. In Oaxaca. In Romania. In Mississippi. In Maine. Our specialty screenings were packed. And we had heard from investors, producers and sales agents that there would be no audience for this film."
The Next Iteration of Seed & Spark
With that momentum, Best took their proof of concept to Sundance in January 2012 and walked around with her iPad to show people the platform. She was on a mission to have a clear line of communication with filmmakers. She asked everyone about their filmmaking needs explaining that Seed & Spark wanted to provide solutions.
"After Like the Water film, we started to understand the power of audience building. That the focus on fundraising for film really missed the long-term potential benefits of crowd funding for a filmmakers' career. We were providing a new tool. From our inception its been about, 'What are your pain points and how can we help?' People were excited that we were tackling not only the issue of money but that most of these films just don't get seen. Audiences need to know that indie filmmaking isn't just 'Little Mss Sunshine' every five years. There are so many more films to be seen."

The response at Sundance was tremendous and they began to build their team.
From Filmmaking to Technology & Crowd Funding
Best and Anderson were still working other jobs while building Seed & Spark. Anderson says, "Emily focused on working with the tech people and developers, some in India and some in California. It was many months of development as there was a steep learning curve, not being tech people."
Crowd funding has come a long way since they launched in 2012. Anderson says:
"Crowd funding had started already but it hadn't reached the general public yet. It was a bumpy road raising money and building the platform with very long hours for Emily who took the lead. But now it's so satisfying because we are seeing that what we've built is changing the way people are thinking about their careers and lives. Right now is the tipping point as we have just come full circle where some Seed & Spark clients have finished raising money, completed festival runs and have built in distribution. Now, while their film is being seen it's a great opportunity to continue to fundraise for the next project. The cycle begins again. We are hitting that stride right now."
Hitting the Road: Educating & Connecting
There seemed to be a hiccup in the timing of when filmmakers were coming to Seed & Spark. Anderson says, "Filmmakers were coming to us a little late in their process. They hadn't considered many of the issues that were extremely important for successful marketing. Both parties wished we had more time for planning and executing." So, out of necessity, they decided to take their message on the road with a workshop to educate filmmakers and build their indie community. The called it the #StayIndieTour and it began in NY & L.A. Next, they started going to festivals and speaking on panels. Because they had a valuable educational offering, they were receiving invites to teach in many other parts of the country. They began to divide and conquer.
"October begins the onslaught of regional film festivals. Every single weekend there are three or four festivals around the country. In the last quarter of 2014, we were asked to teach in 25 different cities. Emily covered the west coast, while I worked the east coast." We met in Texas and drove together to workshops in Houston, Atlanta, Savannah, Kansas City, Denver, Boulder, Salt Lake City and more. In the first quarter of 2015, we've already received over 300 requests for the workshop from our initial 30 city tour.
They weren't charging fees for the workshops so they wanted to find sponsorship to help cover costs and earn a bit of money. Anderson explains that G-Technology became the perfect sponsor. G-Technology had originally come to Seed & Spark as an advertiser in their magazine called Bright Ideas. Their products are also on the Wish List of many clients and they now offer a discount to Seed & Spark clients.
Anderson says, "We were getting in front of so many filmmakers, G-Tech really enjoyed the exposure. We would host roundtables with G-Tech that we launched in Sundance where we had editors, producers and directors who all had different needs for their film. These roundtables helped G-Tech better understand their workflow. From this outreach, G-Tech now manufactures a new rugged drive based on feedback from the tour."
Erica Anderson's Advice for Finding Corporate Partnerships:
When looking at brands to pitch, an entrepreneur should consider what products they like best and figure out how those companies are in alignment with their mission. Do you share the philosophy of the sponsor brand? Do they compliment your mission?
Know that brands always need to grow their customer base, so a partnership is added value for them and they want to be associated with people who are doing good things for their industry.
Have a clear understanding and explanation of what the partnership will look like. Know what the brand needs, how you can provide solutions and who else are they've partnered with to meet their goals.
Have a professional pitch deck or one sheet. You can't underestimate presenting your offering well.
Non-paying partnerships are valuable too. Aligning with companies (like we did with Hootsuite and MailChimp) can be collaborative efforts that offer great PR for both sides. While G-Tech is a sponsor of the #StayIndieTour, TUGG has also been a valuable partner, as they are trying to get out a similar message out to filmmakers. We collaborated on our handbook with them and did cross promotion because we believe in each other. This was more of an educational partnership rather than financial.
It's important to have both sponsors and partners, to work in the spirit of trying to better the same community. Join forces around the same vision to make a stronger offering.
Video On Demand
"One aspect of our business that has been interesting and very challenging is the VOD (Video on Demand) world. When we launched there was iTunes and Netflix but in same year there were ten other platforms that launched too. Some have gone away because it's been difficult to monetize VOD. Netflix has changed their business model several times. They were the main buyers of indie films but now focus on original content. On Seed & Spark, If you contribute to crowd funding, you earn 'Sparks" currency to watch films on our platform & platform partners."
"What became clear really quickly is that it's hard to change audience behavior, and if we wanted to help filmmakers make a living, we needed to give them access to distributing their films where audiences are already watching by the millions. That's what led us to forging partnerships with Emerging Pictures, Verizon FiOS, Hulu and many more. These distribution partnerships took about 18 months to finalize."
Anderson says, "It's been through the process of helping films get made and creating relationships with people in the film world that allowed the credibility of better deals and splits with distribution partners. It's been worth the wait as this can be big deal for people, to have some built in distribution."
Anderson talks about how the new distribution system is analogous to the organic food revolution of 10 years ago:
When we started to see 'fair trade' coffee we understood that the people that grew and harvested it got paid for it. Maybe we pay more for it but we know that it's sustainable and that we're helping the eco system as a responsible consumer. Luckily on the filmmaking side, it may not cost more. There are more places to watch film than theaters but consumers may need to do a little digging and ask, 'Where are filmmakers actually getting paid, where is this fair trade system?' Fair trade in filmmaking is on Seed & Spark. From watching a film on our platform, you know that 80% of the fee goes directly to the filmmaker. Typically the filmmaker is the last to get paid. Anytime you can pay to watch directly from filmmaker, that's great!"
Anderson says, "There is something to be said about being an outsider in an industry that is exclusive, it leads you to believe there is one system of doing things. We had to self educate. Emily paved the way through this process and she's now one of the most knowledgeable people in the indie film industry. You can make changes in an industry as old as Hollywood. Grassroots can have a powerful effect if you have passion, patience and are doing what you believe in. It's not just about the bottom line, but trying to better an industry and better a lot of people's lives."
"For me, our role is really to educate filmmakers to be able to forge the careers they want on their terms. All this technological advancement is a failure to me if it does not actually deliver the power into the hands of the end user. An advisor of mine said, 'To scale your company is to scale yourself.' I really understand what he meant by that now. We're getting yanked hard into the marketplace, our website's growth sometimes outpaces the technology, we're asked to be more places than we have humans to send. These are great problems to have but can really shake your confidence and focus. What helps is I have an absolutely exceptional team. It may sound silly, but my proudest moments are often in our weekly meetings when the whole team is together working on an idea. It's a room full of brilliant people who really want the best idea to win, not the ego. They're also learning to scale themselves."
"We went from nothing to something. Over $2,000,000 has been raised for over 140 film projects. We're growing 3X MoM right now and our campaign success rate is over 70% with an average raise of $20,000 (that outpaces the other sites by 2-3X). We just started distributing films through our new partnership pipelines so we're about to get a bunch of exciting data and also write real checks to filmmakers, which is my most favorite thing to do!"
Seed & Spark has finally disrupted the system and the platform isn't just for filmmakers, it's a great destination for all film lovers. Start popping the corn!
Popular in the Community