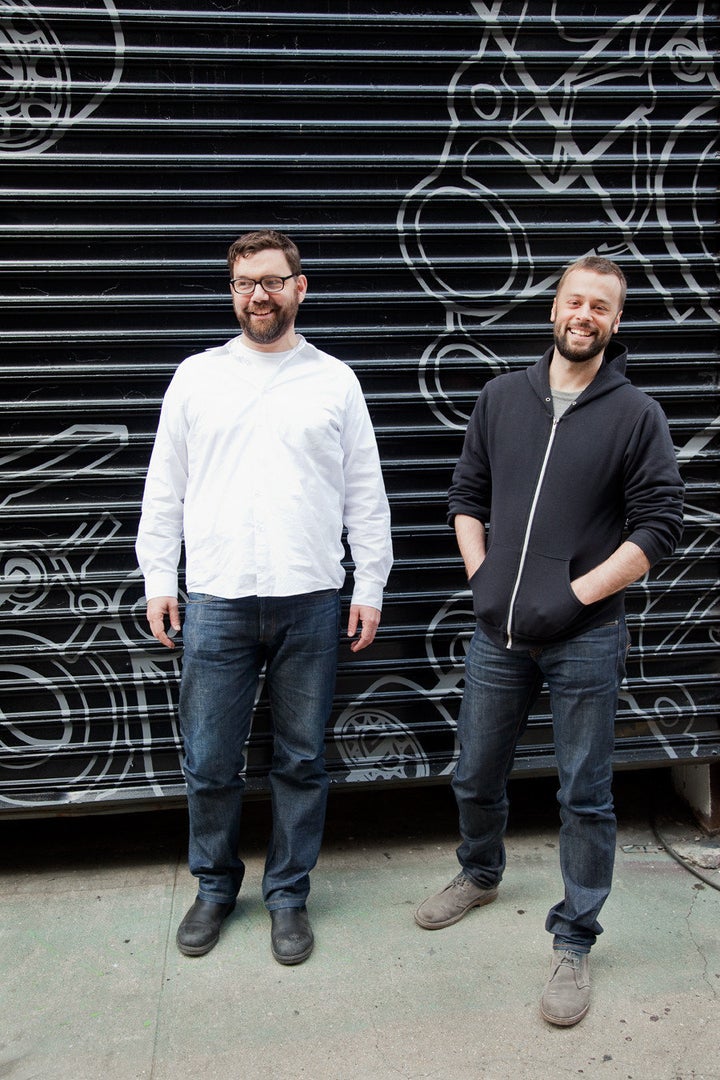 It is February. It is the Academy Awards (your first time at the Academy Awards). Christopher Plummer is favored to win an Oscar for a ripe performance as a gay widower in your movie (your first movie nominated for an Oscar). And everyone asks if you think Plummer will thank you.
You are the producers of Beginners, Lars Knudsen and Jay Van Hoy, and you answer "no" every time. Because you are realists, and because you've been paying attention.
"He hadn't in any speech prior to that," says Van Hoy.
Plummer, as anticipated, overlooks you. But you're still satisfied, because you were the guys who said "yes" to Mike Mills after every other producer had passed on his script for Beginners.
People worried that the story — based on Mills' experience with his own father — was too intimate, and that Mills, who is both a writer and director, was too hard to corral. You disagreed.
"The way we looked at it was, this thing is so personal to him, there's no way he's going to let anyone down," Knudsen recalls. "He's not going to let his father down."
You had no money or connections of your own when you got into the business and you started off as interns in the demanding — ummm, frightening — hothouse known as Scott Rudin Productions. Rudin, the Emmy-, Grammy-, Oscar- and Tony-winning producer of The Social Network and True Grit, is infamous for dropping the axe on assistants — or throwing a phone at them — when he thinks their work doesn't measure up.
One of you, Knudsen, eventually became Rudin's executive assistant, and he once fired you 16 times in a single day, but you emerged from all of that with a powerful admirer and partner.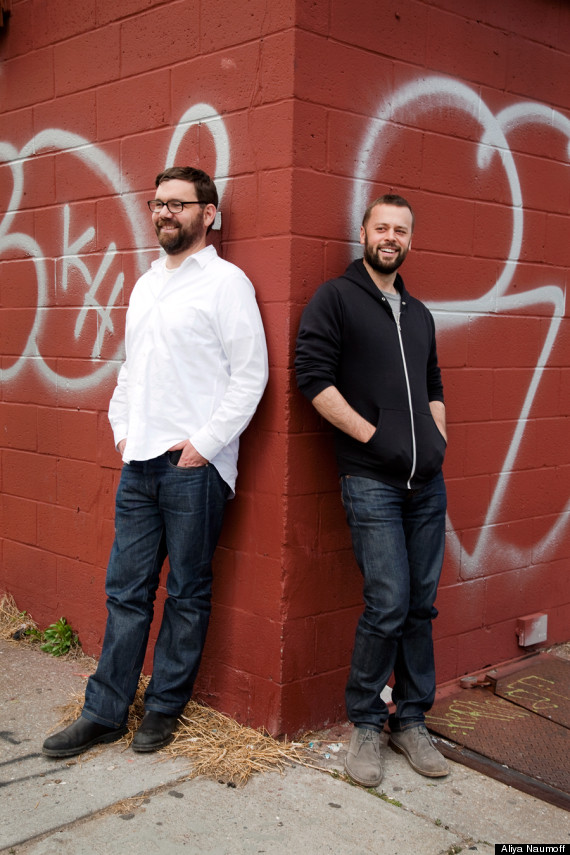 "Lars was unbelievably industrious and smart and fun, and incredibly ambitious," Rudin says. "I think they're both super talented guys."
Rudin gave you a deal with enough money to rent an office and pay an assistant, and thanks in part to that you have produced more than a dozen films, most of them budgeted at $1 million or less (chump change, for example, on the set of Disney's $250 million bomb, John Carter).
Recently, you have begun pursuing more expensive projects, while putting your own former assistants in charge of smaller films. You are, in other words, building your own road map in an industry notoriously averse to maps, to entrepreneurs, to being small and lithe and daring.
"They're doing the hardest thing there is to do in the movie business, by far," says Rudin. "They're doing it all on their own, without any institutional support. Every movie is from scratch, every movie is starting again. It's brutally, brutally tough."
You made Beginners for $3.4 million, and it became a modest summer hit, taking in $15 million worldwide. Now you're upping the ante, producing a film called Dirty White Boy about the late Wu Tang Clan rapper Ol' Dirty Bastard's stranger-than-fiction friendship with his last manager, a 22-year-old former VH1 intern named Jarred Weisfeld.
You have announced that Michael K. Williams — known to pop-culture addicts as the gay stickup man Omar Little in the HBO saga The Wire — will play Ol' Dirty Bastard. The news was received with a mixture of enthusiasm ("What a combination!") and dread ("Will they really get it right?") within the overlapping Wu-Tang and Wire fan communities.
"It's this beautiful harmony of icons colliding," says Van Hoy. "It could potentially have that sacredness in a way. But that's also enough to keep you up at night, if you're trying to make the film. It's so personally relevant to so many people, not the least of which are the surviving members of the Wu-Tang Clan and everybody who knew them."
"It's kind of like, we'd better not fuck this up."
You plan to work tirelessly to avoid fucking things up, and you plan to work smart, squeezing as much as possible from your limited resources. You'll find ways to reassure would-be investors that they won't have to sell their first-edition Pulp Fiction posters if things go awry, if the road map tears.
You also need to remember that you have a style and an ethos that puts actors and filmmakers at ease. With your hipster beards and Williamsburg digs, you're not so different from the musicians, writers and artists who have colonized this New York City borough where you work and live.
"From the beginning," says Van Hoy, "we've had this idea, that if we trusted each other we would have leverage in an industry where nobody trusts anybody."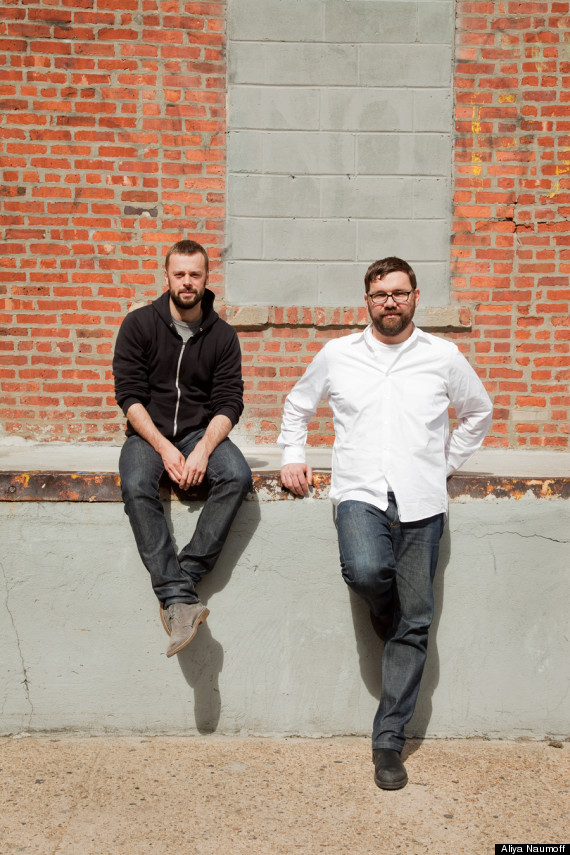 Not many kids dream of being producers when they grow up. But Lars Knudsen, now 33, knew. He knew when he was a teenager living in Aarhus, Denmark's second largest city, that he wanted to make movies. "I knew I didn't want to direct, I can't write, I'm not going to be an actor," he says. "I knew that producers enable films to get made, and that's something that stayed with me."
Knudsen, whose mother is American, moved to New York in 2001 with a simple objective: to secure an internship working for Scott Rudin. Knudsen had read about Rudin's explosive temper and tendency to unload on his assistants, and that's exactly what attracted him.
"If I was as an intern, if I was there every day from early morning to evening, I knew there would be a window at some point where an assistant would get fired and I could step in," Knudsen explains. "And that's kind of what happened."
Jay Van Hoy, 36, grew up in Galveston, Texas, and studied film at the University of Texas at Austin.
He was already working as an assistant for Rudin when Knudsen arrived. "In that world, it was very much about pleasing the assistants," Knudsen says, "so my first impression of Jay was, like, he needs to like me."
"What I remember," says Van Hoy, "was that he would just be there until 9 p.m. He would be there as long as we were. And the reason, it turned out, why he was hanging around the office was that he was living in a hostel across the street, on 45th Street."
On the surface, the pair were nothing alike. Fair-haired and slightly built, Knudsen has a Scandinavian aversion to being the center of attention. (The photo shoot for this article was sheer torture for him.) Van Hoy is tall, burly, dark-haired and at ease with the sound of his own voice. But when they met they had one thing in common: unlike the vast majority of 20-somethings in New York, they knew what they wanted and were prepared to do what it took to get it.
It was late on a Friday night when Knudsen finally found an opportunity to prove his worth to Rudin. The producer was on his way home when he noticed that his weekend "take-home" bin — a postal basket piled high with scripts, videos, books, and other homework items — was sitting on Knudsen's desk instead of on the doorstep of Rudin's apartment, where it was supposed to be waiting for him. Knudsen had messed up.
"He does what he does and gets upset with me," Knudsen says, "and I just tell him, 'Don't worry, it'll be there before you get home.' And that's obviously ridiculous, because he's leaving now and the car's waiting for him and I'm still here."
As soon as Rudin left, Knudsen hoisted the bin and sprinted the long block from 7th Avenue to 8th Avenue, hailed a taxi and raced to Rudin's apartment on the Upper West Side. Somehow, he beat the boss home — barely. He took the elevator to Rudin's apartment, dropped off the bin, and then rode back down.
"And when the doors open, he's standing there," Knudsen says. "And he takes two steps back, and there's some other people that live in the apartment, and he's like, 'Did you guys see that?' From that moment on, he saw me in a different way."
If Knudsen was obsessed with making an impression, Van Hoy was focused on hoovering up as much information as possible. Before working for Rudin, he had interned for a production company called The Shooting Gallery, where he'd spent all day every day filing legal papers — but not before reading them start to finish. After three months with Rudin, he took an internship at Killer Films, the indie studio founded by Christine Vachon, because "there were no doors in the office and you could hear everything that went on. I figured I could learn a thing or two."
Vachon was impressed enough to ask Van Hoy to coordinate post-production on Todd Haynes' 2002 film, Far From Heaven.
Not long after the "take-home bin" incident, Rudin made Knudsen his executive assistant, an experience the younger man likens (apologetically) to Ralph Macchio's training in The Karate Kid: "He pushes you and pushes you. I think you don't know until you leave what it is that you learned."
"What I learned working for Rudin," adds Van Hoy, "was that you'd better find your limitations before he does. If he finds them, you're fucked."
Eventually, Rudin put Knudsen in charge of the publicity and awards campaign for Stephen Daldry's The Hours. "It was just fascinating to see how political the race is," Knudsen recalls. "It was the year of Harvey and Scott."
Rudin had developed The Hours with Paramount, but Harvey Weinstein, then in his glory as the head of Miramax, controlled foreign distribution. The two larger-than-life producers went to war after Rudin got the picture into the Venice Film Festival and Weinstein, who hated the score and Nicole Kidman's prosthetic nose, yanked it back out. As payback, Rudin sent the struggling ex-smoker a crate of cigarettes.
"I was there for that," Knudsen says. "Contrary to the rumors, the note said 'Thank you,' not, like, 'Fuck you, die.'"
The contest for Best Picture, he adds, "was between The Hours and Chicago, and all of a sudden The Pianist came from nowhere and took all the momentum. And it was like, 'OK, no point in spending more money.'" (Nicole Kidman went on to win Best Actress for her portrayal of Virginia Woolf in The Hours.)
Having a front-row seat at the Oscar knife fight was amusing enough, but what Knudsen really craved was experience on the set of a movie. He got it in 2003, when Jonathan Demme's remake of The Manchurian Candidate came to New York. Rudin, who produced the film, granted Knudsen's request for a job as assistant production coordinator.
"I know that the production manager and coordinator were not happy about that at all, because I sort of became this 'must hire,'" Knudsen recalls, "but I became very close with them."
All this time, Knudsen and Van Hoy were looking for a way to become independent producers in their own right. They knew they needed to gain experience in every aspect of a film's life, and now, thanks to Knudsen's experience on The Manchurian Candidate, they were close.
"We thought at one point that we would partner up with all these other young people that wanted to produce and get some land in Jersey or something," Knudsen recalls, "but no one really wanted to quit their jobs and go do it with us. Jay and I were the only ones. So we just said, 'O.K., let's do it.'"
I'm Not Celebrating Christmas
Developing a project from scratch would take months, even years, so Knudsen and Van Hoy set out in search of a filmmaker, with a script, who was willing to take a chance on two would-be producers who didn't know what they were doing.
In the spring of 2003, Van Hoy was volunteering for a non-profit called Cinematexas, screening student films, when he came across Gretchen & the Night Danger, a short about an awkward high school girl. Lars watched the film and liked it too, and the partners made a pitch to the filmmaker, an Austin-based writer/director named Steve Collins: let us help you turn your short into a feature film.
After numerous trips to Austin to scout locations and recruit a crew, Van Hoy and Knudsen put the budget at $350,000 — a modest sum in filmmaking terms that still proved murderously difficult to raise. They had no stars, no experience, and no idea how to find serious investors.
"We made a list of people we knew who we thought had money," Knudsen says. "I remember sending it out to friends of my parents, and then you realize that this is the real world and of course they're not going to give you $15,000 or $20,000."
"We chased down every single possible lead," adds Van Hoy.
Van Hoy and Knudsen were collecting unemployment checks, and their benefits were set to run out on December 31, 2004. If they didn't have their funding by then, they'd have to give up and go back to work.
The bleakest moment came on Christmas Day, when a prospective investor who had been stringing them along for weeks sent an email saying that he had opted out.
"That's when I made my mom cry," Knudsen recalls. "She called from Denmark, like, 'Merry Christmas,' all that stuff. I just said, 'Look, I'm not celebrating Christmas today.'"
But the following week, something miraculous happened: a fellow aspiring producer named Anish Savjani came through with the funding they needed. The deal was sealed on New Year's Eve and filming began on Van Hoy's 30th birthday, February 27, 2005. The shoot was hectic but successful, and as the year drew to a close, it looked as if Gretchen might take off.
"Everyone was like, 'This is the next Napoleon Dynamite. You guys, you've made it. This is gonna be a big thing. You're going to get into Sundance,'" Knudsen recalls.
By then, he and Van Hoy had signed on as producers of two smaller films that were in post-production: Old Joy, a haunting tale of two old friends who spend a weekend reconnecting in the woods near Portland, Ore., directed by Kelly Reichardt; and Wild Tigers I Have Known, an experimental film about a cross-dressing 13-year-old boy, directed by Cam Archer.
Knudsen and Van Hoy got a memorable lesson in the fickleness of the film world when Sundance turned Gretchen down — and accepted Old Joy and Wild Tigers to the festival's new, cutting-edge Frontier section. "That's when we knew we wanted to be very active and have several films in production at the same time," says Knudsen. "If you juggle a lot of things, every day you get good news. You may get a lot of bad news, but there's one thing that's good."
After that, the pieces of their producing career began falling into place. Rudin, who was entering into a new deal with Miramax, came to them with an offer that would rescue the partners from the existential anxiety of the previous winter. In exchange for an upfront fee, they would serve as his eyes and ears in the independent film world.
The arrangement gave them extraordinary access to emerging filmmakers eager for Rudin's attention. And, it forced Knudsen and Van Hoy to take a systematic approach to surveying the landscape of independent film. "We recognized Mumblecore a full six months before it was called anything," Van Hoy says, referring to the loose collective of D.I.Y. filmmakers whose talky, ultra-low-budget creations had a media moment last decade. "Our report was called 'The Movement That Has No Name.'"
The Trick To Making Movies
Knudsen has a saying he likes to repeat: "We want to make films, not talk about making them."
In some ways, making films is easier than ever before. Last year alone, Ed Burns produced an entire feature for $9,000 and Gena Rowlands starred in a movie that was shot entirely on a cell phone. But even with digital technology driving down costs across the board, it's no small feat to make a feature film for under $1 million.
A typical six-figure-budget film will be shot over three six-day weeks — 18 days in all — with a handful of actors and between 12 and 20 crew members, all earning the industry minimum of $100 a day. Working with a smaller crew and fewer locations can limit food, housing, and equipment rental costs, and shooting on digital video instead of film can save an additional $50,000 to $150,000. Schedules are so tightly packed that a single setback can send ripples throughout the production.
Producers, if they know what they're doing, don't set budgets so low arbitrarily. Like other independents, Knudsen and Van Hoy work hard to gauge each film's earning potential, using foreign sales estimates as a guide. (Foreign film markets are more transparent – and somewhat more reliable – than domestic ones.) The goal is to protect as much of the investment as possible; 80 percent is covered by foreign sales estimates, another 15 to 20 by tax subsidies or incentives. Whatever's left over has to be accepted as pure risk by investors.
Unfortunately, the same technological revolution that has pushed down the costs of production has also cratered the market for original films, as viewers around the world turn away from DVDs in favor of a vast selection of cheap or free entertainment offerings presented on a bewildering array of platforms. Unless they feature exploding robots or are based on popular young-adult book franchises, most movies today can't drum up enough market interest to justify budgets of more than $5 million.
For industry veterans — even scrappy ones like Christine Vachon — the transition has been painful. "The downward pressure on budgets is extreme, and we have to be insanely prolific to scratch out a living," Vachon says. "And I'm not exaggerating: we are scratching out a living."
Knudsen and Van Hoy missed the good times altogether, which is arguably to their advantage. "At least we don't know what we're missing," Knudsen says. Their early films all cost $1 million or less, so a $3-5 million budget feels positively luxurious to them. That comfort level, in turn, allows them to view today's obligatory number-crunching as an exercise in liberation. If Hollywood, tethered as it is to scale and predictability, can't afford to tell original stories anymore, says Van Hoy, "for me, that's an opportunity. There is a market for it."
The trick to making movies, then, as opposed to talking about making them, is setting the budget low enough that you can raise the money quickly and then launch into production.
"They take no pleasure in limitations," says actor Ben Foster (Six Feet Under), who worked closely with Knudsen while filming Here, in which he played a map maker who embarks on a road trip across Armenia. "But they are tremendously creative. And where one producer would say, 'Well, we have to cut this scene, we don't have it in the budget,' Jay and Lars will collaborate with the director on how best to obtain the values, the quality, the aesthetic, the mood, whatever is needed, in a new and different way."
Foster got a firsthand taste of just how committed Knudsen is to a filmmaker's vision during a day of shooting on Armenia's
tense border with Iran. The production had applied for permission to shoot over the border into Iran, but the clearances never arrived. The scene called for Foster to drive a truck along the border, but the actor didn't have his passport, so Knudsen — who had been warned that there could be trouble with secret police active at the border — stepped in and took the wheel. Not shooting the scene, he says, "was never an option."
Others share a similar fondness for Knudsen and Van Hoy.
"There are a lot of producers who are jerks," says the Oscar-winning actor Martin Landau, who starred in a little-seen Parts and Labor gem called Lovely, Still, a love story about two elderly neighbors. "These two guys are creative producers at a time when most producers are basically money raisers and not filmmakers. These guys care about the product."
The philosophy of making movies, not talking about making them, is one of the things that persuaded Mike Mills to sign up with Parts and Labor. "Beginners was such a personal film for Mike," Knudsen recalls, "and a film that he needed to make next — he couldn't not make it. And we said, 'We'll get it made. If we have to make it for a million dollars in Portland, we'll make it.' And I think that gave him some reassurance that we weren't just going to play the game of having to attach an actor of a certain value to get the film financed."
They ended up getting just such an actor after Mills' agent, Rich Klubeck of United Talent Agency, spotted Ewan McGregor at the ski lift in Park City during Sundance. "Rich pitched him the whole script on the gondola," Van Hoy says.
Rudin helped arrange a meeting with Christopher Plummer in New York, and before long the film was financed to the tune of $3.4 million, thanks to an injection of cash from Olympus Pictures. "It was very intimate," Knudsen says of the shoot. "The actors never used their trailers. They were always on the set, and I think that was a refreshing experience for them."
Beginners debuted at the Toronto International Film Festival in September 2010, where Focus Features picked it up. The distributor was hoping to repeat the success it had just enjoyed with The Kids Are All Right, Lisa Cholodenko's film about a lesbian couple thrown into turmoil when one partner has a heterosexual affair. That movie hit theaters in July, a time when multiplexes are dominated by aliens and vampires, and caught fire at the box office, earning $20.8 million in the U.S. and another $13 million abroad.
But other studios had taken note as well, and the June 2011 release of Beginners was overshadowed by two surprise hits, Woody Allen's Midnight in Paris and Terence Malick's Tree of Life. So Beginners earned just $5.8 million at home. "Midnight in Paris just blew us away," Knudsen says.
Still, it was immediately evident that Plummer would be the man to beat at the Oscars. According to the old-school producers' handbook, Knudsen and Van Hoy should have summoned thunderbolts from the sky when Plummer left their names out of his acceptance speeches. But instead, they took it in stride.
"The only reason I felt it was because we knew our parents were watching the Academy Awards, and all they gave a shit about was whether he was going to say our name," says Van Hoy. "What I learned was not to take that stuff so seriously."
And though Plummer may not have thanked them by name, his eventual victory gave the producers something far more valuable. "There's interest in us in a new way," says Van Hoy. "It demonstrates that we're capable of producing a film that will be recognized by the Academy, and that we're able to do it on films that aren't so expensive."
Last October, your deal with Scott Rudin expired. Rudin had moved to Sony and no longer needed all that granular intelligence you provided about the indie world.
You make up the difference by cutting a first-look deal with a foreign-sales company based in Germany. In addition to powering the lights and paying the assistant, the arrangement helps you improve your foreign-sales estimates and provide your investors with even more accurate forecasts.
Now you have to find a financier — be it a studio, hedge fund, or anybody with deep pockets who loves independent films — so you can stop shaking your tin cup every time you want to make a movie. You're also planning to launch a sister business in Denmark to take advantage of European subsidies. You wouldn't mind becoming the go-to guys for Scandinavian directors looking to make international films in English.
You have five films due to be released this year — among them, Shit Year, starring Ellen Barkin as an actress who retires from the business, and The Loneliest Planet, with Gael Garcia Bernal and newcomer Hani Furstenberg as backpacking newlyweds — and at least eight more in the works, including Dirty White Boy, which will be directed by commercial and music-video veteran Joaquin Baca Acey; Ain't Them Bodies Saints, a modern Western with Casey Affleck, Rooney Mara and Ben Foster; The Womb, directed by New Queer Cinema pioneer Gregg Araki; and Red Light Winter, New York writer/director Adam Rapp's $3.5 million adaptation of his own stage play, starring Kirsten Dunst.
"I feel like I couldn't be in better hands for a project like this," says Rapp, whose film is being co-produced by Rudin and Parts and Labor. "In some weird way, these guys act like they're working non-for-profit, and I know they're not, but it just feels like they're making art."
The truth is that, like all producers, you hope for a hit that will move you out of hand-to-mouth territory once and for all.
"I think we all know that there's a possibility for a breakout," Van Hoy says, "and we want to be smart about it, so that if it does happen it benefits everyone who's been involved with it."
In your keynote speech at last year's Sundance Film Festival Producers Luncheon, you pointed to a few examples of such "breakout" films and emphasized that too many indie producers "are too busy adapting when we should be innovating."
You set up a new organization, the Independent Producers' Alliance, whose goal is to get producers to collaborate on a range of issues, from health insurance to online distribution platforms.
"What's come about in the past four to five years is that there's a different kind of camaraderie among producers," says Van Hoy. A decade ago, "there was a sense of activity in New York. There were jobs, there were people working all over the city, and assistants that did all kinds of things. And that doesn't exist in the same way anymore. There are definitely production companies, but they're streamlined to the point that there are three or four producers sharing an office, with a folding table in the middle of the room."
So no, you're not a saint. And you're definitely not running a charity. The truth is, there's no room in your world for the old Hollywood bullshit. It wastes time, and it doesn't pay.
"You can slash and burn your way through your career, but what do you have to show for it at the end?" Van Hoy asks. "I think those days are sort of over."
Popular in the Community