It's quite possible that Chicago is the DIY capital of America. The grassroots and almost anti-authority tradition runs so deep, it's no wonder that when manufacturing evolves into an act you can accomplish outside of the established channels, so blooms a giant scene that utilizes the latest technologies, sources money from the crowd, and needs the permission of no one.
This roundup features six physical consumer products that have already gained traction and are heading towards the marketplace. These are all from Chicago startups, all are near-ready or available for purchase, are consumer products that are easy to explain - and are all just plain nifty.

A special thanks to Sacha De'Angeli, creator of Photoboop (below) , who recommended a wide array of products by local makers and helped solidify some of these choices.  He is the organizer of MakerBiz, a group of inventors and makers. Chicago wouldn't have the maker community it has without him.
The BikeSpike
The BikeSpike uses GPS technology (to locate your bike) and cellular technology (to inform you in real time). If your bike gets stolen, The BikeSpike's  hardware/software system will immediate alert you - allowing you to spring into action and embark on a rescue mission rarely seen outside of adventure movies.  It also notifies you if someone begins to tamper with your ride, along with the a detection system that will alert key contacts if you're been in an accident.
Described as a LoJack for bicycles, this GPS unit allows you to see where you bike is at any point in time. They raised over $150,000 on Kickstarter in April and are taking pre-orders on their website. http://bikespike.com/. $129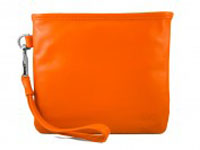 Everpurse
"Just drop the phone in the pocket and [the smartphone] starts charging." Everpurse's patent-pending docking system physically connects to the phone and gives you up to two extra full charges on a given day.
What makes the Everpurse the phenomena it has become is due to the fact that they partners with outstanding handbag designers (1154 Lill Studio and Laudi Vidni)  to offer an entire line of purses that are so fashionable and hip (see the parsimmon purse) that you will be able to emotionally heal from the slew of as-seen-on-TV purse organizers that are so ugly it would made a train take a dirt road.
With the kickstarter goal of $100,000, their campaign raised over $238,000  It works iPhones (models 4- 5c), and Galaxy III and IV. Exact specs are on their website. Prices range from $189 to $329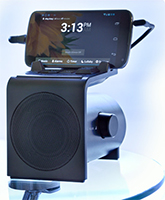 Hale Dreamer Alarm Dock for Android
Formerly SONR Labs, Hale Devices offers a full-featured alarm dock that intelligently screens your calls and silences notifications during your sleeping hours. This new product, currently on Kickstarter, follows their previous product, the The Android Symphony Dock, "described as the world's first universal, plug-and-play speaker dock with remote for Android-based smart phones." This new unit is smaller, serves as an alarm clock, and has music quality that "offers a room-filling sound in a small package." The clock/dock combines with an app that goes so far as to text certain callers and double check that their call is so damn important and they really need to ring you at this ungodly hour  (customized with settings and filters set by the user) . Only when they get through the digital checkpoint will their call be allowed to wake you up.
They just received a glowing review on Android Central and are close to their goal on Kickstarter.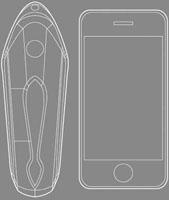 Lyteshot
I'm bending the rules and putting Lyteshot on the list even though their audience is social game developers (rather than consumers) who wish to add a digital component to live action games. Lyteshot's customizable platform can convert a typical group scavenger hunt into an espionage adventure by adding digital gadgets and armband sensors (along with a smartphone) to acquire in-game story-lines, tasks, and receive real-time information. If that doesn't sound exciting to you, then you've never spent six hours a day at a MagiQuest, compulsively waving your magic wand at a plastic gem, trying to unlock the dragon chamber. Lyteshot did a successful beta with Waxwing Puzzle Company (LINK) and continue to partner with social gaming companies who integrate with their gaming platform.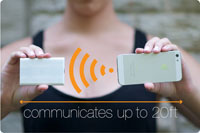 Nova
Nova is a flash "light bulb" for your iPhone camera that is wireless and the size of a credit card. They set out to raise $25,000 and surpassed their goal by a whopping 341 percent. The campaign clearly illustrates that what's wrong with your pictures is the built-in flash. It's the reason you have thousands of pictures of your friends and friends looking washed-out and possibly suffering from the flu. By simply whipping out this tiny wireless gadget, held in your outstretched hand, it flashes in sync with your iPhone it shows your loved ones as the natural glowing beauties they truly are.
Thin enough to be stored in your wallet, LED light source offers 3 temperature adjustable settings:soft, white and brilliant.  Nova is currently focusing on fulfilling their Kickstarter orders, but their newsletter will let people know when they can put in their pre-order. Was $59 on Kickstarter.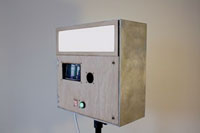 Photoboop
Everybody loves photo booths, and all the smartphones in the world can't manifest a stable, fun, you-don't-have-to-ask-a-stranger option for posing with your pals. This product will inspire you to capture the moment without cramming your group into a clown-car sized booth. Created by Sacha De'Angeli (mentioned in the top of this post), Photoboop is available as a device for purchase, or party rental kit (which includes a live view monitor, embedded lights and a prop set). Both computerized getups can record time-lapse videos, along with the aforementioned photos. In lieu of printing a smeary photo strip destined to serve as a drink coaster, it uploads the images to several popular photo uploading sites. It is currently available for rent or purchase - the device (camera not included) is $199, and rentals are available in the Chicago area.
REAL LIFE. REAL NEWS. REAL VOICES.
Help us tell more of the stories that matter from voices that too often remain unheard.