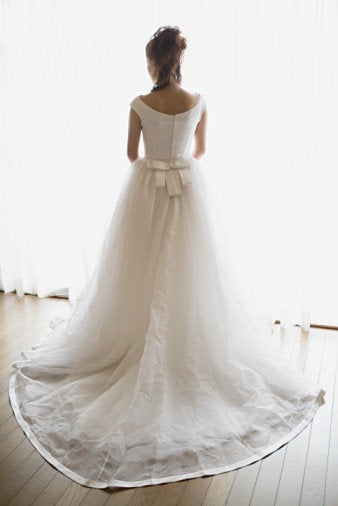 Ten years ago, I was a newly engaged 30-year-old woman who had a wedding to plan. What I had imagined would be a giddy year filled with cake tastings and gown fittings was actually one of the most confusing times of my life. Did I love my fiancé? Check. Did I want to be surrounded by my family and friends when I declared that love and then throw a blowout to celebrate? Definitely. But that's about all I knew. Alongside those certainties were dozens of questions, some practical, some existential. Where, when and how would this event take place? Was wearing a veil hopelessly retrograde -- or absolutely essential? Would hiring a wedding planner reduce or boost my stress level? Was I ready to be married? Is anyone ready to be married?

When I went searching for discussions about these and dozens of other concerns, I felt even more lost. Bridal magazines peddled Cinderella fantasies that I hadn't bought into even when I was eight years old and was a Cinderella fanatic. I flipped through lush photo spreads about ring pillows and petit fours and read articles on what to do about "problematic" bridesmaids. Wedding blogs didn't exist then and the early bridal websites, while helpful in figuring out the ins and outs of seating charts and registries, didn't deliver when it came to the deeper questions about faith and family, monogamy and money that weddings inevitably unearth.
So I decided that the best way to figure it all out was to invite other women and men to join in a larger conversation about love, marriage and modern nuptials. In June 2001, three months before I was married, I launched a website called Indiebride.com. In my editor's letter I wrote:
My hope is that Indiebride will fill a much-needed niche in the bridal media, that it will be a place for would-be brides who have more on their minds than planning a reception, women who never for a second believed in Prince Charming and who have not, despite all of the cultural cues, been breathlessly awaiting their wedding day for their whole life.
Our community forum, "Kvetch," began buzzing immediately with conversations about everything from how to plan a mixed-faith ceremony to what to do about meddling mothers-in-law to having second thoughts about getting married at all. A decade later,there are tens of thousands of conversations on the Kvetch boards -- including a robust thread about parenthood, which, after the wedding, is the next big emotional minefield in most couples' lives.

I am thrilled to announce that as of today, Indiebride will become part of Huffington Post Weddings, a new site that embodies the spirit and mission of Indiebride -- a commitment to focusing not just on the wedding day, but the years of marriage to come. The small but passionate community that was formed on Indiebride will now be able to take advantage of everything Huffington Post has to offer -- up-to-the-minute news, social media and video.

Of course, we'll also help you plan a bash for the ages. Weddings mark the beginning of what will (hopefully, fingers crossed) be a lifelong adventure with your partner, and we want to help you get it right. HuffPost Weddings aims to take you through your big day -- and beyond.