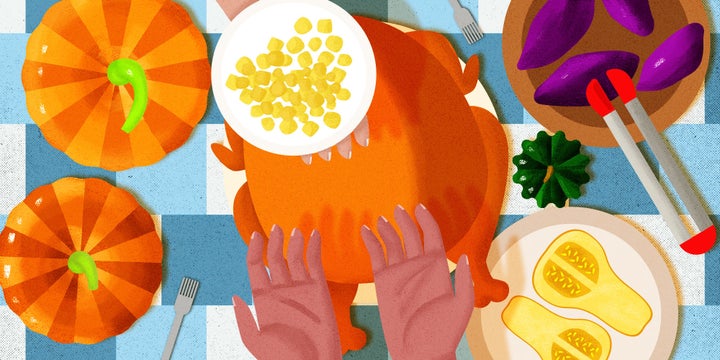 Every year, Americans gather around a festooned table to eat turkey and sides in celebration of Thanksgiving, a holiday that Abraham Lincoln officially founded in 1863 to unify people during the Civil War.
However, the narrative taught in elementary schools of the natives and pilgrims happily convening for a meal isn't quite the whole story, and a group of diverse indigenous chefs — and indigenous people generally, who live across the Americas — are using their food culture as a means to tell the correct story about the holiday.
Chef Sean Sherman, whose cookbook The Sioux Chef's Indigenous Kitchen won a James Beard award this year for Best American Cookbook, grew up in South Dakota but lives in Minneapolis. He now runs a restaurant called The Sioux Chef and the Indigenous Food Lab, a nonprofit that will help open indigenous restaurants across the country. Sherman explained that Americans already eat some indigenous, or pre-Colonial, foods on Thanksgiving — squash, pumpkin, cranberries, turkey and sweet potatoes — and that European settlers introduced post-Colonial staples like sugar, wheat flour, dairy and beef to North America.
"I feel like what's been really dangerous about Thanksgiving is the mythology around the settlers and the natives and how they had such beautiful time," Sherman said. "I think that storyline is really damaging to indigenous peoples and indigenous rights because it kind of just pushes aside so much of the trauma that was happening." The Mankato hangings in Minnesota occurred the year before Lincoln made Thanksgiving an official holiday, and there have been hundreds of other massacres over hundreds of years.
"I think we could do so much better [by having] a holiday that's not focused on something that just dismisses so much intense history for a large group of people," he said. "It should really be about giving thanks for the harvest season and [exploring] an indigenous dinner."
The traditional indigenous diet at the time of the first Thanksgiving feast was healthy — it didn't include sugar, dairy, beef, pork, wheat flour or processed foods — and it focused on sustainable ingredients. On Turkey Day now, however, the typical American consumes more than 4,000 calories, which is about twice the average person's recommended daily caloric intake.
Indigenous chefs Andrea Murdoch and Hillel Echo-Hawk engage in Thanksgiving with all the traditional trimmings, albeit with some reluctance.
"I feel like what's been really dangerous about Thanksgiving is the mythology around the settlers and the natives and how they had such beautiful time. ... It kind of just pushes aside so much of the trauma that was happening."
Murdoch was born in Caracas, Venezuela, and then moved to the U.S. after a white couple adopted her. She resides outside of Denver, where she runs her catering company, Four Directions Cuisine. She said she doesn't feel strongly about celebrating the holiday, but encouraged people to do so in a way that acknowledges the reality of history.
"It doesn't bother me if people celebrate Thanksgiving, and it also doesn't bother me if indigenous people get together and have an anti-Thanksgiving or mourn the day," Murdoch said. "For me, as a person, as an indigenous woman, as a chef, I mostly care about people coming together."
She grew up in "two worlds" ― nonindigenous America and the Andes — and has vacillated between them. "I don't feel like if I throw an anti-Thanksgiving dinner on Thanksgiving that I'm shunning my family," she said. "At the same time, if I go to somebody's house and participate in an American Thanksgiving, I don't feel like I'm shunning the people with the indigenous community, either."
Echo-Hawk grew up in Alaska but now lives in Seattle. She's a member of the chef-driven I-Collective organization and runs a catering company called Birch Basket. She uses the holiday as an excuse for her large family to spend time together.
"Most of my family likes the 'traditional meal,'" she said, and her mom enjoys cooking a "super dry" turkey.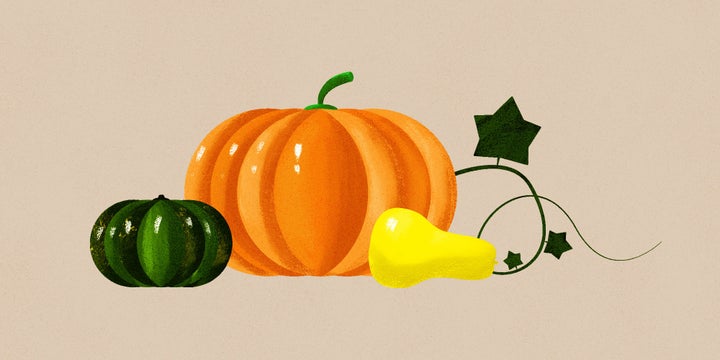 However, Echo-Hawk, like Sherman, has strong opinions on Thanksgiving and says proper education is necessary to dispel the false narrative of the holiday.
"Know the real story," she said. "It's not just paper turkeys. Don't have your kids be dressed up as pilgrims and Indians. Don't make us out as characters. We're real people. The reason other people don't think indigenous people are even real is because of things like this. Even for their meal, from whatever area they're in, have all indigenous food. What that means is food that has been growing in that area for millennia. Just try."
Indigenous tribes (of which there are 573 tribes in the U.S.) also exist in Mexico and Canada — the country recognizes 634 First Nations groups, and I-Collective chef Quentin Glabus is part of one of them. He grew up in Edmonton, Alberta, and is from the Frog Lake Cree First Nations. Glabus, who has lived in New York for the past year, has cooked private dinners in Brazil, Tokyo, Singapore and many other countries.
"Over my travels and cooking in different countries, you see things and hear about things that you would never have fathomed back home," he said. "When I meet someone while visiting in their country and they discover that I have an indigenous background, a lot of people are excited and have questions: 'Do you still wear headdresses?' 'Can you make it rain?' 'Is everything true about what I watch in the Western movies or on TV?' For people or cultures from other countries, they just do not know better. But they are curious. They want to know so they are better educated for knowing."
"You take from the land only that what you require and give thanks to the creator for the gift that was shared to you to share with others. And by doing so, you insure a continued nature flow of life."
These chefs agree nonindigenous people should be more versed in indigenous culture, including eating indigenous food when it's not Thanksgiving.
"I know that for me and for other people who have started on this journey, it brings us so much closer to our ancestors, and I think that is important to strengthen us as people," Echo-Hawk said. "I think that if other people outside of reservations that are not indigenous start eating what is local in their area, I think not only is it better for the environment, but it will also be better for their health."
"We should be eating and supporting indigenous cuisine year-round," Glabus said. "We do the same thing with Chinese, Thai, Indian, French food, and so on, so why not a cuisine that is indigenous to North America and was here long before the first pilgrims arrived? Indigenous cuisine is more than just the food, ingredients or cooking techniques that were used. There is meaning behind it. It brings families together and unites communities during celebration or mourning. You take from the land only that what you require and give thanks to the creator for the gift that was shared to you to share with others. And by doing so, you insure a continued nature flow of life."
Check out the five recipes below, all from indigenous chefs.
Maple-Brined Smoked Turkey
10-pound turkey with giblets removed

4 quarts water

1 cup coarse salt

1/2 cup maple syrup

2 tablespoons whole juniper berries

1 large sprig sage

4 to 6 cups wood chips (hickory, apple, or hazelnut)

Sunflower oil for rubbing the turkey
1. Place the turkey in a large container (a food-safe bucket or big pot). In a saucepan, heat about 1 quart of the water with the salt until it dissolves. Cool. Then add the salt water, the remaining water, maple syrup, juniper berries and sage to the turkey. Make sure the turkey is fully submerged. Cover (weigh the turkey down, if necessary) and refrigerate for 12 to 24 hours. Soak the wood chips in cold water for at least 4 hours or overnight. Remove the turkey and pat dry.
2. Prepare a charcoal grill or smoker for indirect heat, at about 275 degrees Fahrenheit. Sprinkle in enough of the soaked wood chips to cover the coals and allow them to char.
3. Place the turkey in a roasting pan fitted with a rack. Brush the turkey with the sunflower oil. Place the turkey in the grill or smoker and cook until the internal temperature of the thigh registers 165°F, about 3½ to 4½ hours. Remove and allow to rest for at least 20 minutes before carving.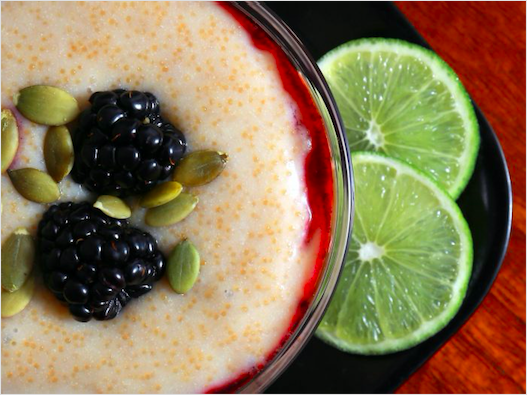 Amaranth Corn Pudding
Recipe courtesy of Andrea Murdoch
Murdoch: "I knew I wanted to use corn stock for natural sweetness and starchiness. I added coconut milk to represent the Amazon. Amaranth already represented the Andes. Limes, while not indigenous to the Americas, has been popularized in Latin American cuisine. I favor the brightness, acidity and sweetness of limes over other citrus, so in went the lime juice. This is a great summer dessert when chilled or even a nice replacement to oatmeal when it's chilly outside."
Yield: Two 8-ounce servings
1 1/4 cups corn stock (see below)

1/2 cup coconut milk

1/3 cup amaranth seeds

4 1/2 tablespoons amaranth flour

2 1/2 tablespoons agave or maple syrup

1 tablespoon lime juice, or to taste

Pinch of sea salt
1. Bring the corn stock and coconut milk to a simmer.
2. Whisk in the amaranth and amaranth flour. Simmer for about 15 minutes or until the mixture thickens and the amaranth grains tenderize. Whisk from time to time to prevent the mixture from sticking to the bottom of the pot.
3. Remove the pot from the heat and stir in the agave or maple syrup, lime juice and a pinch of salt.
4 corn cobs, roasted with kernels cut off

6 cups water
Place corn cobs in a stock pot and cover with water. Simmer over low heat for three hours. Strain and scrape the "milk" from the corn cobs. There is more natural sweetness and starch here that you don't want to leave behind.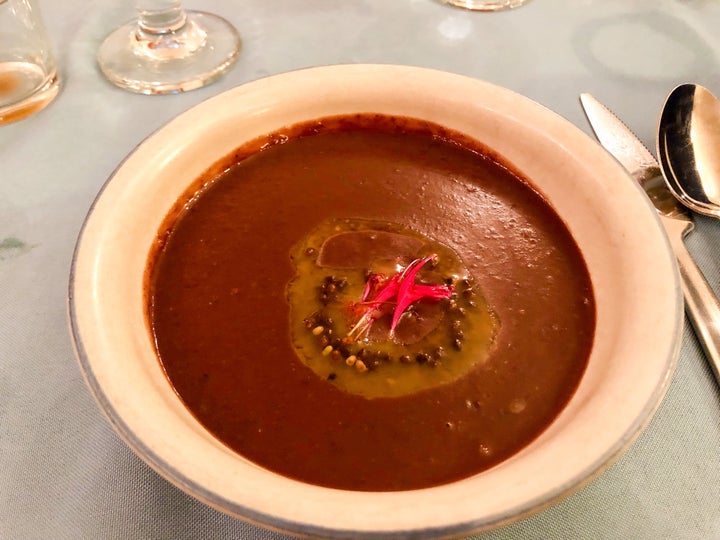 Red Bean Soup with Toasted Spiced Sunflower Seeds
Recipe courtesy of Quentin Glabus
Note: Use a scale to measure weighted ingredients.
200 grams sunflower seeds, no shell

15 ml sunflower oil

1/2 teaspoon cinnamon

1/2 teaspoon smoked paprika

1/4 teaspoon ground chilies

1/8 teaspoon pumpkin spice (optional)

1/8 teaspoon salt
Combine all ingredients in a medium bowl and toss to mix. Place on a baking sheet lined with parchment paper and place in an oven pre-heated to 350F/180C. Bake for 5 to 10 minutes, or until desired golden brown color is reached. Remove and cool completely and store in an airtight container for up to 2 weeks at room temperature. Can also be used on top of salads as well.
Serves 4 to 6

300 grams red beans, soaked over night

1000 grams vegetable stock or turkey stock

100 grams shallots, sliced

200 grams celery, small chopped

1 bay leaf

2 grams garlic

1 gram fresh thyme leaves

30 ml sunflower oil

Salt and white pepper to taste
1. In a medium to large pot, add the oil, shallots and celery and on medium-low heat, gently cook until shallots are translucent, 5-8 minutes. Add fresh thyme and cook for 2 minutes more.
2. Meanwhile, drain and rinse beans in cold running water. Once shallots and celery are cooked, add beans along with bay leaf, garlic and stock, bring to a boil then simmer on low heat. Cook beans until they are soft and cooked through, roughly 20 minutes. Do make sure to skim off any impurities.
3. Once finished, in batches, place small amount of soup base in blender (fill only 1/4 full to avoid burning) and place a towel over the top, not the lid, to avoid heat build up. Puree until smooth and place in a second clean pot. Continue until soup is all pureed. Once done, heat on low-heat and season to your taste.
4. Fill a bowl with soup and garnish with sunflower seeds.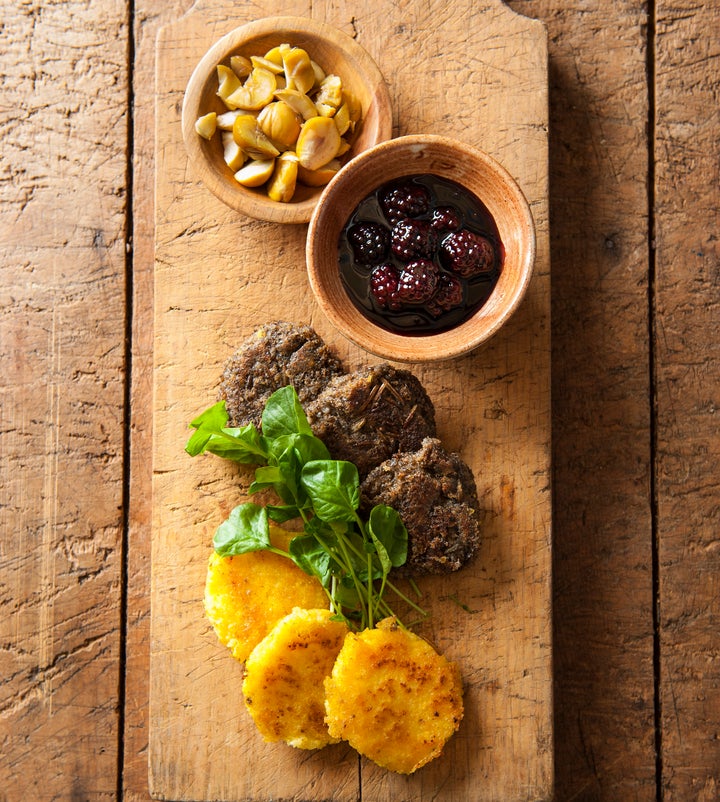 Wild Rice Cakes
The recipe for these couldn't be simpler. It's just overcooked wild rice, pureed into a thick dough. We like to stir in a little cooked wild rice for texture. Once shaped, these will keep several days in the refrigerator, so feel free to make them ahead. Leftovers may be re-crisped in a low oven until warmed through.
2 cups cooked wild rice

About 3 cups water

Pinch salt

Generous pinch maple sugar

3 to 4 tablespoons sunflower oil or more as needed
1. Put 1 1/2 cups cooked wild rice and water into a saucepan, reserving 1/2 cup. Place over high heat, bring to a boil and reduce the heat to a simmer. Cook until the rice is very soft and the water has evaporated. Drain. In a food processor fitted with a steel blade, puree the rice into a sticky dough. Place the dough into a medium bowl and work in the salt, sugar and the remaining cooked rice.
2. Scoop out a scant 1/4 cup dough for each patty and shape to rounds about 1/2-inch thick. Heat the oil in a heavy skillet and brown the patties about 5 to 8 minutes per side until lightly browned. Transfer the patties to a baking sheet and place in a warm oven until ready to serve.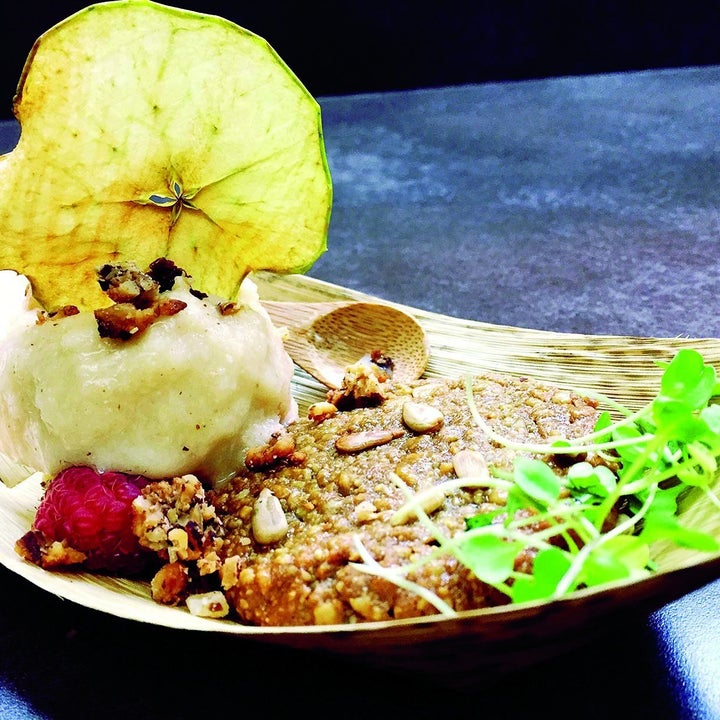 Hazelnut Maple Sorbet
Hazelnut milk is simple to make, but if you're short on time, feel free to use the organic packaged milk now available in many natural food co-ops and supermarkets.
3 cups hazelnuts

4 cups water, divided

1/2 cup maple syrup to taste

Pinch salt to taste
1. Preheat the oven to 350 degrees Fahrenheit. Put the hazelnuts on a roasting pan and bake in the oven until they smell nutty and the skins crack, about 10 to 15 minutes. Remove, place in a clean dish towel, and rub to remove some of the skins.
2. Put the hazelnuts into a jar and cover with water. Soak for at least 2 hours or overnight. Strain the hazelnuts. Rinse and put into a blender with 2 cups of fresh water. Blend until smooth and creamy. Strain through a nut milk bag or cheesecloth until most of the liquid is removed.
3. Pour the nut milk into a bowl and add the maple syrup and salt to taste. Transfer to an ice-cream maker or large baking dish and freeze. Temper slightly at room temperature before serving.