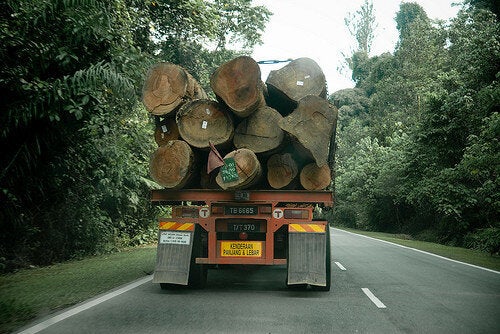 Since the February 2012 protests over mining, dams, and illegal logging in Panama, indigenous leaders from Western Panama have been in negotiations with the government, and have reached an agreement regarding development projects on their lands. In Eastern Panama, communities have continued to denounce illegal logging on their lands. Yet despite their calls, the government has been slow to act. The situation has led to increased tensions -- and on Friday March 30, two people were killed as a result.
Over the past weekend, community members from a Wounaan community in Eastern Panama apparently burnt down a few tractors which had been left by -- or were still being used by -- loggers who had invaded the area earlier this year. Despite the fact that government agencies had declared that all logging operations had been paralyzed, there was apparently at least one tractor still operating in the area as of Friday, March 30. Community members went to investigate; it was being operated as they approached. They did not realize it, but there was someone standing guard, armed. He shot a community leader, Arquilio Opúa, killing him, and ran away. The man operating the tractor was then killed.
According to reports we've received, the police and other agencies have been notified, and are on the scene.
Over the past three months there has been increased tension in the Wounaan communities of Eastern Panama due to illegal loggers invading their lands. The authorities have been very slow to act: the national environmental agency has not responded effectively, and the police have failed to provide adequate protection. The communities and their representative organization, the Wounaan Congress, have brought the situation to the relevant authorities repeatedly; they've gone to the press, and alerted the international community. Indeed, the situation was denounced at a hearing at the Inter-American Commission on Human Rights in Washington, D.C. just one week before. The Wounaan warned that an escalation could take place and result in violence, should the government not act. Unfortunately, despite all their efforts, the worst has now taken place.
Ironically, this takes place at a moment of hope for the Emberá and Wounaan peoples of Eastern Panama: the government has publicly committed to titling several of their lands in the next three months. The Wounaan communities of Puerto Lara and Caña Blanca were to have received their titles this past Saturday, March 31st, though ultimately that was postponed to mid-May. Rio Hondo/Platanares and neighboring Majé are slated to receive their titles in June.
Suzanne Pelletier, Executive Director of the Rainforest Foundation, which works with indigenous communities in Eastern Panama, stated "We hope that the situation will be resolved through dialogue, and that the government will uphold its promise to recognize collective lands in Panama." Situations like these underscore the need for indigenous land and resource rights to be respected and upheld, the world over.
Calling all HuffPost superfans!
Sign up for membership to become a founding member and help shape HuffPost's next chapter