Recently, Canadian Prime Minister @JustinTrudeau used his United Nations General Assembly speech to highlight the socioeconomic challenges faced by Indigenous Peoples in his country. He drew attention to inequalities in education, unemployment and the higher levels of poverty of indigenous peoples compared to the non-indigenous population.
Indigenous children in Canada are more than twice as likely to live in poverty than non-Indigenous children. In other high income countries, similar statistics are recorded. In Australia, a significantly larger proportion of Indigenous Peoples are living below the poverty line compared with other Australians. Similar statistics can be cited for the Indigenous Peoples of New Zealand and the USA.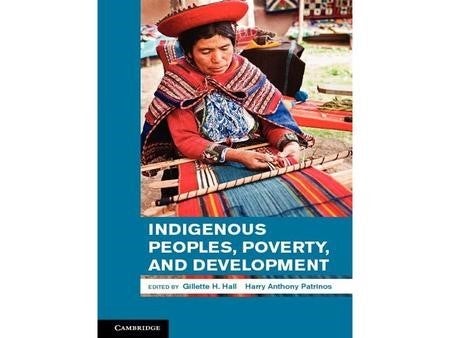 Globally there are about 370 million Indigenous Peoples. Present in over 90 countries, indigenous communities represent about 5% of the world's population but make up 15% of the world's extreme poor, and 1/3 of the rural poor. They live, own and occupy approximately one quarter of the world's lands and waters which represents 80% of the world's biodiversity. But research shows they are just as much urban as they are rural. According to a recently published report Indigenous Latin America in the Twenty-First Century, nearly half of Latin America's indigenous population now live in urban areas. Wherever they live, Indigenous Peoples face distinct pressures, including being among the poorest and most marginalized in their societies.
Only about 10% of the Indigenous Peoples around the world reside in the Americas, a smaller number than most might have previously thought. In fact, 80% live in China, South Asia and Southeast Asia, according to World Bank's first global study of poverty among Indigenous Peoples across the developing world, Indigenous Peoples, Poverty, and Development.
In other countries, the poverty rate for Indigenous Peoples is higher and the gaps wider. This includes sub-Saharan Africa, where more than 80% of the Indigenous Peoples are poor. In Latin America, the gaps widened in the 1990s but began to decrease more recently; still, the poverty rates are higher and the gaps remain. This is despite improved social indicators for Indigenous Peoples in most countries.
The situation can be contrasted with that of China. In no other country did Indigenous Peoples (or ethnic minorities) experience a decline in poverty that was quicker than that for non-indigenous (non-ethnic minorities). China's success is driven by good overall economic policy and by targeting disadvantaged regions – rather than people.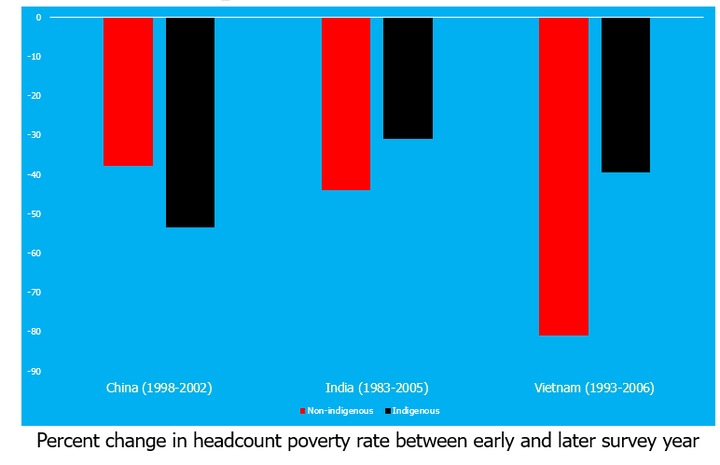 Geography seems to be important in patterns of ethnic disadvantage. More urbanized ethnic minority groups and groups not concentrated in poor regions tend to experience smaller or no disadvantages compared with the non-indigenous population. More rural ethnic minority groups have less access to education and social safety nets—unemployment and pension insurance—than do the more urbanized populations. School enrollment gaps are smaller in urban areas. Health insurance quality is also tied to location. Overall, disparities across social welfare outcomes diminish sharply when geographic differences are considered, suggesting that many gaps that appear as cross-ethnic differences are due to differences in regional development. Considering the disadvantaged contexts in which many rural members of ethnic minorities reside, poverty alleviation efforts to improve education and health will be most effective if paired with strategies to improve community infrastructure and the environment for economic activity.
In other words, policies to reduce poverty must consider human development and economic development. While human capital policy is indispensable, it will only result in poverty reduction if economic policy is linked up. More schooling will help improve productivity, but the returns will only be realized when the economic policies are working and the physical infrastructure is in place.
Developing high level skills which accompany economic development strategies are important. This is what AFOA Canada is doing at their Inaugural International Conference – Building Sustainable Communities By Strengthening International Networks – in Vancouver, BC from October 2-5, 2017, where I presented my findings on indigenous poverty.
Related
Popular in the Community