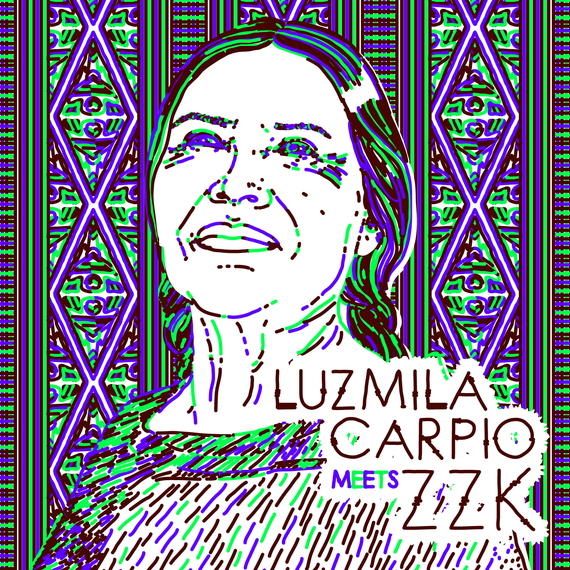 Since the mid-60's, Bolivian singer Luzmila Carpio has represented the culture, community, and stories of the indigenous people that inhabit the mountains and valleys of the Andes. Her music touches on everything from their struggles and injustices, to celebrating the birds, the sky, and everything that is Mother Earth.
Buenos Aires based ZZK Records recently collaborated with her to create the Luzmila Carpio Meets ZZK EP, remixing her indigenous sounds with some with fresh beats.
She sings in the 2,000-year-old native language Quechua. Her messages express rebellion against the westernization of her people, making her one of the most important indigenous singers in all of South America.
"ZZK has always been about spreading Latin American culture to the world, and this was an opportunity for us to connect our fanbase with an amazing pillar of South American culture, in a modern and contemporary way," says ZZK Records founder Grant Dull.
The EP consists of innovative producers from Argentina such as King Coya and Chancha via Circuito, but also opens collaborations to a few international beat makers in the U.S., Ecuador, and the Netherlands.
You may not understand Carpio in the Quechua language, but her mesmerizing voice makes you feel something that transcends all language barriers. Each one of these producers excelled in honoring her legacy.
"All the producers involved were already big fans of Luzmila, so it was also an honor for them to be able to remix her work," explains Dull.
After listening you will be left with the curiosity to learn more about Luzmila Carpio. Luckily, a compilation of her music the Yuyay Jap'Ina Tapes, which are the original recordings behind this ZZK EP, is available to stream via Basecamp. Later his year, Almost Musique and Squirrel Thing Recordings will be releasing her music on CD and a double LP.
Stream the Luzmila Carpio Meets ZZK EP on Soundcloud below.
Related
Popular in the Community