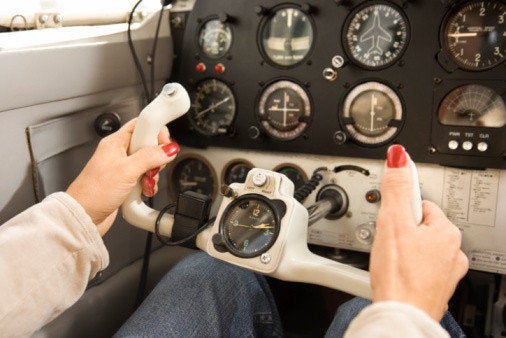 A Mumbai-bound IndiGo airlines flight was delayed nearly 2 hours at the Delhi airport on Friday morning after a passenger caused a ruckus over the fact that the plane's pilot was a woman, according to Indian news site IBN Live.
A fellow passenger told the IANS (Indo-Asian News Service):
First the flight was held up by a slight fog. Then, just when we were about to fly, the doors were opened again at around 9 as a middle-aged man seated a couple of seats away from me objected to a woman piloting the plane.
The man reportedly became jittery after the pilot came the intercom to deliver a regular flight announcement and was female.
The man started grumbling, saying "I don't want to die! She can't take care of the house, how will she take care of a plane?"
Flight attendants were called and ground staff came on board to escort the man off the plane with his luggage. The whole ordeal lasted roughly 40 minutes.
An airline spokesman responded that there was a "mentally unsound" passenger on the plane.
Related