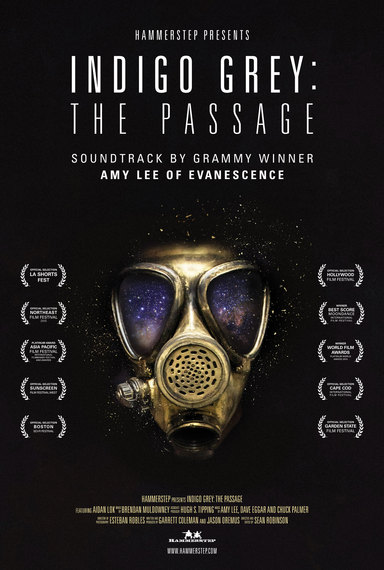 Creating an award-winning short film is a unique craft unlike its full length feature counterparts. The short-filmmaker has a small amount of time to establish narrative, character development, audience connection and musical score, all of which have much more leeway in full length features. Though these aspects can be seen as challenges, there are also artistic advantages to creating short films. Because of the brevity of a short film, there is no need or expectation for narrative. It can simply be a visual and aural feast, more of a statement than a story and with this advantage comes an endless well of artistic freedom.
Brooklyn-based artists Garrett Coleman and Jason Oremus decided to take the plunge into the well of short films with their award-winning project Indigo Grey: The Passage, which they wrote and produced together. Directed and edited by fellow Brooklyn resident and filmmaker, Sean Robinson, Indigo Grey: The Passage is a synthesis of varying art forms showcasing a sweeping score composed by Amy Lee of Evanescence and Grammy-nominees Dave Eggar and Chuck Palmer. "This film is about taking risks and exploring the lines between fantasy and reality and by daring to embrace the unknown," describes Robinson, "we are empowered to experience a catharsis beyond the realm of convention."
The film Indigo Grey: The Passage combines sci-fi aesthetics with martial arts and an emerging style of neo-Irish dance which is the predominant focus of the film. Starring the young Aidan Lok, this seven-minute audio-visual experience has no dialogue being driven solely by movement, imagery and the evocative soundtrack. With a sleek editing style and an expressive performance from Lok, the set up of the film lures the viewer into a mysterious realm as the sci-fi element is quickly introduced. In sci-fi, anything can happen which can sometimes evoke uneasiness within the viewer. As Lok's character slowly enters an ominous warehouse by way of a railroad track, he discovers an alternate dimension in which the gas-mask clad Hammerstep crew exists.
Coleman and Oremus are founders of Hammerstep, a group of former Riverdance stars who are reshaping and evolving this style of dance by integrating elements from hip hop, tap, and other forms of movement. Coleman is a two-time World Champion Irish dancer and Oremus was a longstanding principal dancer for the globally-acclaimed Riverdance phenomenon. Both Coleman and Oremus wanted to utilize their skills in Irish step but were yearning for something fresh, something innovative, and most importantly, something no one had ever seen before. This thirst for newness bore the unique style of Hammerstep which was first conceptualized in 2009 and since then has been performed at the famed Lincoln Center in New York and has even garnered attention as far as Australia and South Africa.
Indigo Grey: The Passage was officially released online on September 13th and recently premiered at the 2015 Los Angeles International Short Film Festival as well as being officially selected to screen at 17 diverse film festivals. Though their tour de film festival has only just begun, the short film has already won four awards, giving them a strong start to their journey. Indigo Grey: The Passage is based on the live, immersive show experience of the same name which is slated to open in New York in 2016. Its success in the film festival circuit is helping further the Hammerstep movement as more people are discovering and rediscovering Irish dance as well as how it has evolved.
Whisking you away with its sweeping cinematography, the film was well edited, elegantly directed, and hypnotically choreographed to a riveting soundtrack. Indigo Grey: The Passage is a truly one-of-a-kind project that merges the worlds of film, dance, sci-fi, art and music. With its lack of dialogue, the young Lok's budding acting performance is extremely impactful as he relies solely on his emotional expression and movement to carry the narrative. A lavish feast of sensory stimulation, this short film has successfully captured the attention of its viewers by transporting them to another dimension and most impressively, all within its humble seven minutes.
Related
Popular in the Community