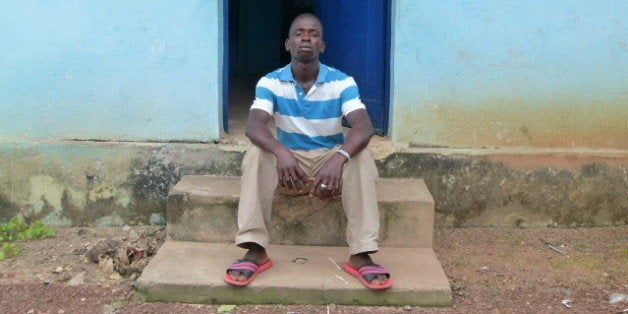 ABIDJAN, COTE D'IVOIRE -- Ousmane has been stateless all his life. His family -- who were from Burkina Faso -- were living in Côte d'Ivoire at the time of his birth -- a birth, however, that was not registered. Abducted from his family when he was 6 years old to work on cocoa plantations, he has lost all ties with his parents and is unable to establish their identity. As a result, the authorities of neither Côte d'Ivoire nor Burkina Faso recognized him as a national of their country.

Being stateless has put Ousmane in a position of extreme vulnerability. "I work in the fields to survive because I do not have a choice. I would have liked to be a driver. But because I do not have papers, no one will hire me... When you do not have papers, you cannot do anything. I hope to have a better life, be like my friends, be happy; be like everyone else. "
The United Nations High Commissioner for Refugees, which I represent in Côte d'Ivoire and whose mandate includes the eradication of statelessness, estimates that hundreds of thousands of people are stateless or at risk of statelessness in West Africa. Without a nationality, these individuals are deprived, in Hannah Arendt's words, of the "right to have rights" and, as a result, cannot go to school, get a job, obtain healthcare, get married, travel or vote, among many other rights that the rest of us take for granted. Like Ousmane, they are at high risk of exploitation and trafficking and are often forced to live in the shadows for fear of being caught without any documentation.
Fortunately, significant progress has been made in the fight against statelessness in West Africa. Increased commitment on the part of the Economic Community of West African States to tackle the issue, which exists to some extent in every country in the region, is reflected in the growing number of Governments that have ratified the two international conventions on statelessness.

Côte d'Ivoire is on a particularly promising path. In addition to signing the two conventions in 2013, the Ivorian authorities have implemented a number of measures that are intended to prevent and reduce statelessness on their territory, including removing gender discrimination from its nationality legislation and implementing a special program to enable historical migrants and their descendants, who make up the majority of at-risk people in Côte d'Ivoire, to acquire Ivorian nationality by declaration. In February 2015, on the occasion of the first Ministerial Conference on Statelessness in West Africa, organized by UNHCR in Abidjan, Ivorian President Alassane Ouattara publicly committed his Government to draft and adopt a national action plan to eradicate statelessness in Cote d'Ivoire.
These are all excellent steps that should serve as an example for other countries in the region and beyond. Of course, there is still work to be done to eradicate statelessness in Côte d'Ivoire, starting first and foremost with a rigorous identification of stateless people. Without more qualitative and quantitative data on who is stateless and why, it becomes extremely difficult to assess the scale of the problem and design policies to address it. Another priority -- in Côte d'Ivoire specifically but also more generally throughout West Africa -- is the need to introduce safeguards into national legislation and procedures to prevent new cases of statelessness from arising, and to develop a legal framework for the protection of stateless persons found in a State's territory.
One of the reasons statelessness is so entrenched, even in countries like Côte d'Ivoire where there is a strong political will to eradicate it, is that the problem is obscure and complex. Not belonging to a country is a thoroughly unfamiliar concept to most of us. Stateless people are, by definition, invisible in the eyes of the law, which makes putting a face on this overlooked human rights crisis difficult.
But this does not mean that we should not try. UNHCR launched in late 2014 an ambitious campaign to end statelessness within the next 10 years. Underpinning the Ten Actions to End Statelessness is a need for greater awareness on the issue among the general public. By speaking out and mobilizing the necessary political will for governments to change their laws and procedures, we can rescue people like Ousmane from their legal limbo.
Related
Popular in the Community