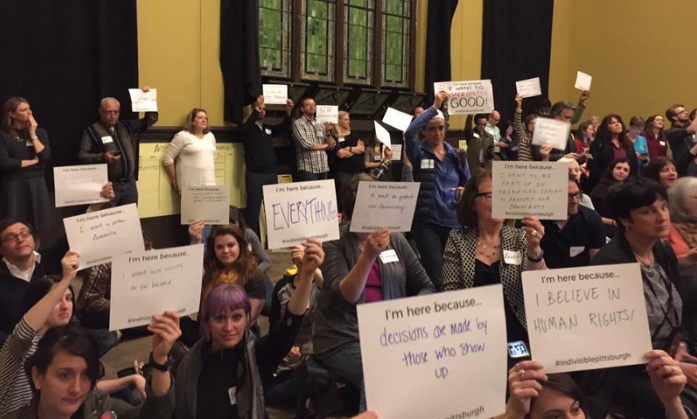 On February 22, 2017, the Pittsburgh chapter of Indivisible held its kickoff event at the Union Project in East Liberty, Pittsburgh. The formation of the chapter saw the exclusion of women of color and queer individuals who came to voice their concerns about the new chapter's admitted lack of intersectional representation, organizing experience, and failure to engage grassroots movements that had been long working for social justice. After the event was over, one of its leaders verbally abused a Black woman for asking him a simple question.
What happened at the meeting is typical of this city. Although we've been called one of America's "Most Livable Cities," we are also referred to as the "Mississippi of the North." Black women in Pittsburgh have the lowest life expectancy in the United States. This is a place with a long history of racism, gentrification, anti-immigrant Democratic representatives, and police brutality. In that way, Indivisible Pittsburgh is perfectly representative of this city's own progressive failures—and that is precisely the reason why, if it does not make some serious changes, it will fail.
Indivisible was created by former congressional staffers in the aftermath of the election, with the intention of forming a nationwide movement in resistance to the federal government's racist and authoritarian regime. Staffers published a "Practical Guide for Resisting the Trump Agenda," implementing strategies the Tea Party used to organize locally and convince Members of Congress to block and resist President Obama.
Whether or not it is effective to model a progressive movement after a conservative one is a matter of perspective. America and its institutions are, after all, built upon systematic racism. Our political system is no exception. Indivisible could be one of the many forces that need to be thrown on the wheels of the machine so that Trump can be stopped. It could be that the same strategies that worked to impede the Democrats won't apply to a Congress that doesn't seem to care at all about people. I do not know, and I think that people can decide for themselves whether or not joining an Indivisible chapter is right for them.
What I do know is that Pittsburgh is a divided city. Having Trump in office will not bring people together or heal the deep wounds centuries of oppression have caused here. As it is now, Indivisible Pittsburgh is reflecting the city's polarities. If it continues to do so, it will—and deservedly—fail.
Personally, what I find most problematic about Indivisible is that it is modeled on the Tea Party—which is, debatably, a white supremacist movement. It was successful through its homogeny and hate groups used their gatherings as recruiting grounds. I feel safe to say that its political platform did not represent the interests of the majority of Black, brown, immigrant, queer, trans, poor, and disabled folks. This is concerning to me as I see many of the same Democrats banding behind Indivisible expressing that the party must "leave identity politics behind" (code for "avoid addressing systematic racism") in order to "run after the white working class." To their credit, this is exactly what the Members of Congress who guided the formation of Indivisible chapters around the country seemed to want to avoid. The Indivisible Handbook, which guides the movement's local chapters, clearly states the necessity of centering those who are most threatened by the current administration at every stage of forming the group:
"Trump's agenda explicitly targets immigrants, Muslims, people of color, LGBTQ people, the poor and working class, and women. It is critical that our resistance reflect and center the voices of those who are most directly threatened by the Trump agenda. If you are forming a group, we urge you to make a conscious effort to pursue diversity and solidarity at every stage in the process. Being inclusive and diverse might include recruiting members who can bridge language gaps, and finding ways to accommodate participation when people can't attend due to work schedules, health issues, or childcare needs."
"Every stage in the process" does not mean "at the kickoff meeting" or "after you have met," as Indivisible Pittsburgh seemed to hope would happen with its first event. It means that this should happen when people first come to the table.
There is no lack of women of color, queer people, disability advocates, and immigrants rights advocates who are organizing in Pittsburgh. Many of these organizations are not being approached by new groups that are springing up in the wake of the presidential election — or if they are approached, it is as an afterthought. To quote local feminist leader Daeja Baker:
"If they know any people of color [the organizers of Indivisible Pittsburgh] should have invited them directly. It is clear that either the group doesn't really, as a collective, value the work of people of color in the community enough to invite people or that possibly they don't know many or any people of color and they didn't try connecting with individuals in a meaningful way."
Baker said that Indivisible Pittsburgh never asked the people voicing their concerns a simple question: Do you know of any grassroots organizations where we should direct people? Do you know of any grassroots organizations that we should contact?
Not doing so violated the parameters set out in Indivisible's very own guide, which specifies the necessity of seeking out activist groups or networks to see whether they are already doing congressional work. In failing to contact these organizations, the organizers missed a wonderful initial opportunity to engage, educate, and galvanize many to broaden their understanding of different, complicated advocacy movements in Pittsburgh.
It is understandable that those who have only recently become involved in actions would make these mistakes. As with the Women's March on Washington, which brought in experienced and diverse activists when it was denounced for its lack of inclusivity, the errors are not necessarily completely unfixable. I do confess that I find it confusing that unexperienced organizers would feel that they were the right people to lead a local chapter of a nationwide movement with the specific intention of taking on a fascist regime, but that is their prerogative. Prior to the kickoff event, the leadership of Indivisible Pittsburgh did express that they were a "not very diverse group" without much organizing experience. They also expressed that they wanted to diversify their leadership to work with more established organizers and provide roles for those with diverse, complex, and interacting identities.
Although the leadership expressed this intention, due to Pittsburgh's long history of systematic racism, many who planned to attend the event were suspicious of their ability to follow through. Just a month before, organizers of the Sisters March on Pittsburgh had failed to learn from the early mistakes of the March on Washington, alienating many women of color, queer, and disabled individuals from their event.
For Indivisible Pittsburgh's kickoff, this recent memory was compounded with, among other issues, the fact that questions about the availability of childcare at the event went unanswered on the event page until about an hour before the meeting. When organizers did respond, they said that they "had not planned" for childcare— a strong indicator that Indivisible Pittsburgh was not adhering to its own guidelines.
Most concerning was what happened to Felicity Williams, a lawyer and local education advocate, when she posted online about her intention to attend the event, speak out, and represent the issues that concerned her. A white woman replied to Felicity's post by saying, in essence, that a Black woman's intention to attend and speak at the event made her feel "scared."
This is Pittsburgh. This is not unusual. That does not make it right.
Local organizers and Black femme activists Celeste Scott and Sueño Del Mar, two of the organizers of the Our Feminism Must Be Intersectional Rally and founders of Black Femme Excellence Co., quickly banded behind Felicity to ensure that leadership would be held accountable for their expressed intention to diversify. Queer, non-binary, and neuroatypical folks, including myself, who were also concerned about diverse representation, elected to attend the event to provide Felicity support. At around 7:00 pm, we walked into the room that Indivisible Pittsburgh had rented at the Union Project in East Liberty. All the seats were filled. We stood at the back of the room.
The meeting began with the leaders of Indivisible Pittsburgh acknowledging the online comments that had expressed concern about lack of diverse representation, and expressing that these concerns were valid, and something they wanted to fix. Then they took turns speaking about the presidential administration. One of the leaders, a teacher named Andy, spoke the longest, asking the assembled crowd a series of questions that included: "Who else in the room is angry?" and "Who is ready to stand up for 'minorities?'" At the second of these questions, the overwhelmingly white audience rose to their feet.
Attendees were directed to do three actions, which included taking pictures of ourselves filling out placards stating why we were in the room. These images, posted on Instagram with #IndivisiblePittsburgh, scrolled across the screen at the front of the room behind the speakers. As the speakers went on and on about Trump's fascist agenda and the importance of calling members of Congress, it became increasingly apparent that they did not intend to pass the microphone, as we had hoped. Instead, filling out these placards would be the only way that we might have a chance to bring visibility to the concerns articulated online — concerns that we were repeatedly encouraged to bring to the meeting when we attended. So, we went back to using the Internet to express ourselves, like some of us had been doing before: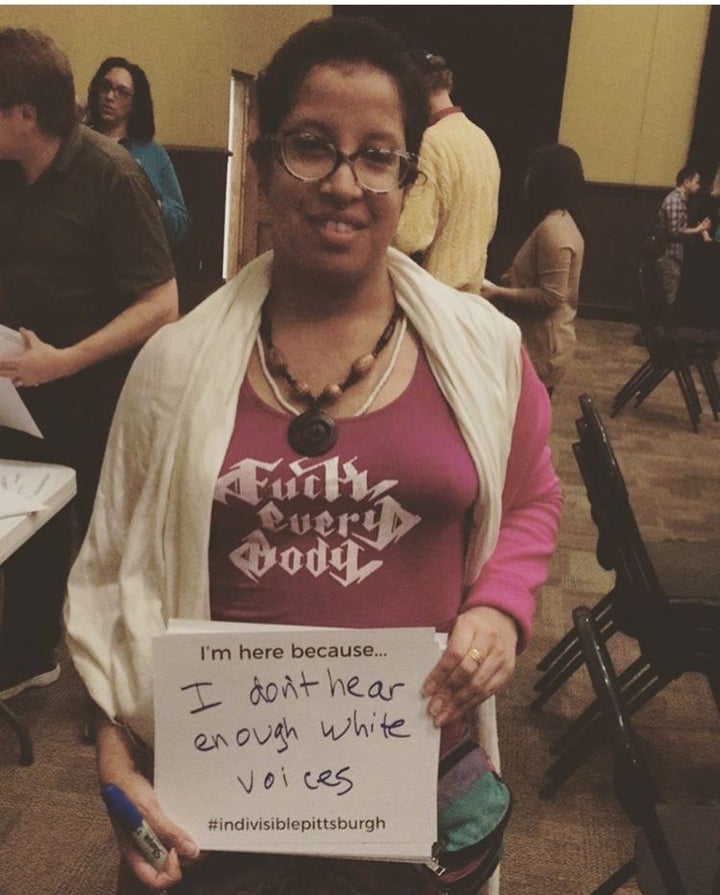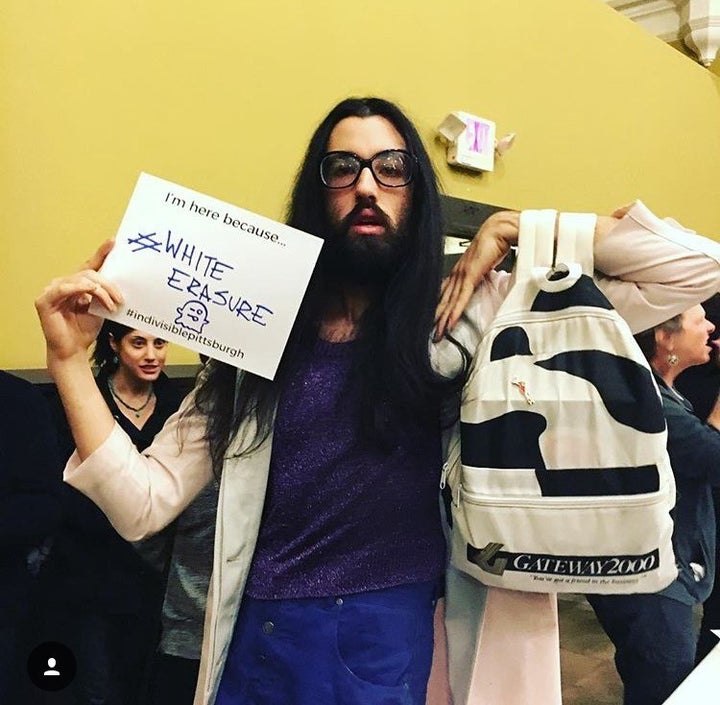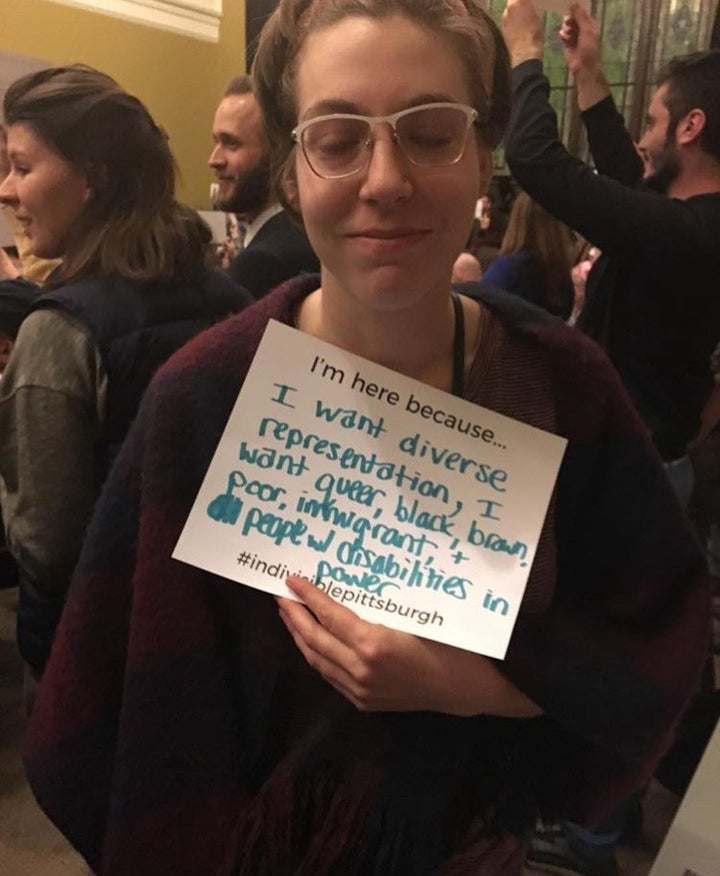 Our #IndivisiblePittsburgh Instagram photos scrolled on the screen behind the speakers without acknowledgement. The meeting's organizers did not put out any call for leadership that I heard, and did not articulate what roles in their organization were even available. There was no Q&A with the audience or discussion or any real interaction—rather, speakers addressed the audience with no opportunity for anyone to answer. We were asked to fill out postcards to send to Republican Senator Pat Toomey. Personally, I refrained.
At 7:50 pm, the event ended with the speakers thanking everyone for coming and instructing attendees to sign up for various action groups. Chairs began to be folded as people left. Felicity, along with Sueño Del Mar and some others, went to the front of the room to speak with two of the co-founders, including Andy, the man who had earlier asked the crowd to stand up for minorities. Felicity expressed her concerns about the lack of diverse representation in the organization's leadership and their failure to connect with existing grassroots efforts prior to holding an event. They told her they were "trying their best" to be better. One of the co-founders said that Indivisible Pittsburgh should exist because the guidebook told them "we needed new organizations."
Felicity then asked the leaders a simple question: "There are already organizations doing this work with experienced and diverse leaders. What do you all add?"
Andy responded by telling Felicity that she, her attitude, and "people like her" were the problem with the progressive movement for their "divisiveness." He also told her — despite Indivisible Pittsburgh's initial claims that their leaders had not been organizers for very long — that he had been an activist for "longer than she had been alive."
Sueño interrupted him to say that his words were ridiculous. That is when he became verbally abusive. He became threatening to Felicity and Sueño, pointing his finger in Felicity's face with spit flying out of his mouth as he yelled, "We invited you and you and you here tonight, and you all come and harangue us?!"
When Felicity and Sueño tried to speak back, Andy demanded that they let him finish talking. They did, only to be dismissed when they tried to speak by Andy when he turned his back and walked away.
Felicity and Sueño chased after Andy, still trying to make their voices heard. A staff member from the Union Project—which Indivisible Pittsburgh had rented for the meeting because of its local reputation as a safe space for many--approached Felicity to intervene, saying that Felicity was "making people uncomfortable." Felicity expressed her own discomfort at Andy's threatening behavior and dismissal of her, and the fact that the space had become unsafe for her. She was urged to calm down, and when her friend, a Black woman, asked if she could speak and "be the voice of reason," she was denied. Andy left the Union Project without us witnessing anybody approach or correct him before his behavior.
The other leaders held out on telling us Andy's full name. When Felicity, Sueño, Celeste, and I got in touch with Indivisible Pittsburgh again to find out who he was and for the group to show accountability, our requests for his last name, repeatedly articulated by Felicity, Sueño, Celeste, and I, were repeatedly ignored.
Instead, Indivisible Pittsburgh leader Leslie Horton told us this in response: "We honestly know very little about him as a person. He was convincing that he had a lot of experience speaking to crowds and had a lot to offer as a teacher, but we in retrospect should have thought more about giving him the mic. He will be banished from leadership, you have my word."
When we asked for his full name again, she asked: "Is anyone here going to doxx him, or otherwise interfere with his personal life? I don't want to protect him; I want to hold him accountable for his actions."
Horton's question demonstrates the fact that Indivisible Pittsburgh's current leadership is more concerned about what might happen to a white male abuser when he is confronted by Black women than what he could potentially do to them if he chose to enter their spaces. In this way, Indivisible Pittsburgh aligns perfectly with the presidential administration it claims to oppose.
Horton went on to say that she believed that people "have a right to their privacy" before finally acquiescing and providing us with his full name: Andy Norman, a professor in Carnegie Mellon University's Philosophy Department.
If somebody chooses to lead a public meeting on behalf of an organization, as Andy Norman chose to do when he led the Indivisible Pittsburgh kick off meeting, then they are leaving the private sphere. It is necessary to know their last name. He can find ours — we RSVP'd to the event on Facebook and participated in making Instagram posts.
At this time, Indivisible Pittsburgh still has not made a statement of accountability despite the specific request of the women who were harmed by the organization's negligence.
As it looks right now, Indivisible Pittsburgh does not stand for inclusiveness — instead, it stands for liberalism, which has long excluded diverse representation from its politics. It is no coincidence that, even under the Obama administration, Democrats only had one Black senator in their ranks. And as for Members of Congress, only one — a Republican — had a Black Chief of Staff. Liberalism and the Democratic party are in no way exempt from the white supremacy now so often being associated with the Republican-controlled government. In fact, some have argued that Clinton lost the election due to the very same form of exclusion.
It is very real that with our current presidential administration, Congress, and potentially our Supreme Court, social services and protections as well as civil rights are being stripped away. Resistance is necessary. But to say that there is no time for all of us—Black, brown, multiracial, queer and trans, immigrants and their children, femmes and women so often unheard—should mean that there will be no time for anyone. If Indivisible Pittsburgh silences and abuses us, then they will fail. Among the voices they are excluding are those which can educate on what it has been like to live in a country where dignity, human rights, and civil liberties are denied—and who have created systems to survive despite it. This knowledge should not be sought for free, and it should not be expected. It has to be earned.
Pittsburgh's white Democratic establishment needs to decide whether it wants to live or die. And it needs to decide it now.
This piece was originally posted on Medium.
Related
Popular in the Community