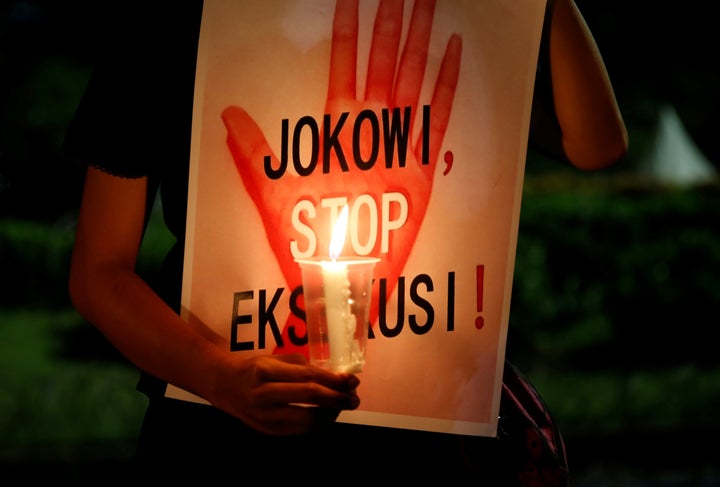 UPDATE: Indonesia executed four convicted drug offenders by firing squad just before 1 a.m. Friday. The state killings were the first in the country in more than a year.
The four dead included three Nigerians ― Humphrey Jefferson Ejike, Seck Osmane and Michael Titus Igweh ― and one Indonesian ― Fredi Budiman.
Ten other individuals who also faced the death penalty were granted a sudden and unexpected reprieve, although it remains unclear why they were spared and for how long they will remain alive. The executions took place during heavy rain, and there is some speculation from human rights advocates monitoring the situation that the 10 remaining executions were simply postponed due to the poor weather.
"The execution of at least four people tonight by the Indonesian authorities is a deplorable act that violates international law," Rafendi Djamin, Amnesty International's director for South East Asia and the Pacific, said in a statement provided to The Huffington Post. "Any executions that are still to take place must be halted immediately. The injustice already done cannot be reversed, but there is still hope that it won't be compounded."
Indonesia is preparing to execute at least 14 people Thursday on drug trafficking charges in one of the largest mass drug executions in the nation's history, according to multiple human rights groups and media reports. 
Executions are by firing squad and typically take place at night in Indonesia. Authorities are supposed to give those on death row 72-hour notice of the date. These 14 inmates were told earlier this week to expect their executions by the end of the week.
But according to Amnesty International, the families of the 13 men and one woman were only notified Thursday morning that the executions would take place the same day, 24 hours earlier than initially expected. That late notice is "contrary to Indonesian law and international standards," the human rights group said.
Several human rights organizations have condemned the state-sanctioned killings and have called on Indonesian President Joko Widodo, also known as Jokowi, to commute the sentences of the four Indonesians and 10 foreign nationals.
"Jokowi should not become the most prolific executioner in recent Indonesian history," Rafendi Djamin, Amnesty International's director for South East Asia and the Pacific, said in a statement Thursday. "He still has time to pull back from these unlawful executions, before inviting global notoriety."
If the latest executions proceed as planned, Widodo, who has been in office since October 2014, will have carried out the death penalty more times this century than any other Southeast Asian country and any other Indonesian leader, Amnesty International said.
Four of the individuals expected to be put to death on Thursday have clemency appeals that have yet to be heard, according to Djamin. He said there are "serious fair trial concerns" with several other prisoners' cases. 
"At a time when a majority of the world's countries have turned their back on this cruel and irreversible punishment, President Jokowi is recklessly hurtling in the wrong direction," said Djamin.
Human Rights Watch also condemned the planned executions.
"President Jokowi should acknowledge the death penalty's barbarity and avoid a potential diplomatic firestorm by sparing the lives of the 14 or more people facing imminent execution," Phelim Kine, deputy Asia director for Human Rights Watch, said in a statement. "Jokowi should also ban the death penalty for drug crimes, which international law prohibits, rather than giving the go-ahead for more multiple executions."
According to Cornell Law School's death penalty database, there are about 134 people currently on death row in Indonesia and about half of them were convicted of drug crimes. With Thursday's planned deaths, Widodo will have executed 28 individuals during his tenure. By comparison, under Susilo Bambang Yudhoyono, his predecessor from 2004 to 2014, there were 21 executions in total.
Plans for Thursday's executions reportedly began after the United Nations convened in April for a special meeting aimed at shaping global drug policy. The gap between nations that want to embrace more progressive harm reduction policies and those who want to maintain focus on criminalization of drugs became clear at that gathering. A delegate from Indonesia was reportedly booed when he defended his country's use of the death penalty for drug offenses, calling it an "important component" of the nation's drug policy.
Indonesia authorities maintain that the country is under siege by the illicit drug trade and that the use of the death penalty is part of their war against a "narcotics emergency."
But the notion that the death penalty has a useful deterrent effect has been debunked. Just last year, the U.N.'s Assistant Secretary-General for Human Rights Ivan Šimonović noted that while several countries continue to use capital punishment for drug-related offenses, "there is no evidence that the death penalty deters any crime." Even when it comes to murder, a recent study concluded that the death penalty does not deter the crime "to a marginally greater extent than does the threat and application of the supposedly lesser punishment of life imprisonment."
"There is no credible evidence that the presence or absence of the death penalty has any effect on drug use or drug availability in a country," Rick Lines, executive director for Harm Reduction International who wrote an extensive report on the use of the death penalty for drug crimes, said in a statement. "Capital punishment has always had much more to do with flexing state power than it does with crime control or prevention."
Earlier this week the U.N. high commissioner for human rights, Zeid Ra'ad Al Hussein, urged Indonesia to end the practice. Under the International Covenant on Civil and Political Rights, which Indonesia has ratified, countries that continue to use the death penalty must apply it to only "the most serious crimes," Zeid said. Drug-related offenses do not meet that threshold, the high commissioner said. 
His office has also expressed "deep concern" about what it described as a lack of transparency and uncertainty around whether death row inmates receive fair trials in Indonesia.
The executions are expected to be carried out at a high security prison on Nusa Kambangan island in central Java.
Calling all HuffPost superfans!
Sign up for membership to become a founding member and help shape HuffPost's next chapter
BEFORE YOU GO
PHOTO GALLERY
27 Reasons Why U.S. Shouldn't Lead War On Drugs