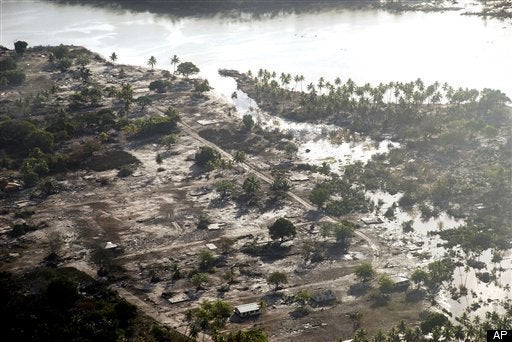 In the last week and a half, a number of natural disasters have struck locations in Southeast Asia and the Pacific Ocean. After two catastrophic typhoons in the Philippines, a number of earthquakes in Indonesia and a tsunami that ravaged American Samoa, the number of dead are in the thousands and the displaced in the tens of thousands.
Below are a list of links that can direct you to how best to send aid to disaster-affected areas around the globe:
Philippines
•Google has compiled an extremely helpful list of emergency numbers and groups in the Philippines who are accepting donations. It also includes a broad view of the map displayed below.
•Help the UN World Food Programme by making a donation. This program identifies families in specific need of aid. Just $18 provides a family with rice for two weeks. This is the most critical and immediate way you can make an impact.
•UNICEF has provided hundreds of thousands of dollars worth of relief to affected children in the region. You can call 1-800-4UNICEF or donate via their Philippines Floods page.
•Donate to the International Red Cross and help them continue to put relief workers on the ground in the Philippines.
•Donate via Catholic Relief Services online or call 1-877-HELP-CRS
•Operation USA is sending relief supplies to typhoon victims in and around Manila. Donate online at www.opusa.org, by phone at 1.800.678.7255 or by check made out to Operation USA, 3617 Hayden Ave, Suite A, Culver City, CA 90232.
Samoa and American Samoa
•
in American Samoa though the full extent of the damage has not yet been assessed. The first
is expected to have landed at 1 p.m. ET Wednesday.•The U.S. Coast Guard has dispatched resources to help in recovery efforts, though workers will likely have to assess the extent of the damage before significant aid is requested.•Joe Becker, the Senior Vice President of Disaster Services has uploaded an update to YouTube with the emergency response to the tsunami in American Samoa. He discusses how problematic it is to get enough supplies over the thousands of miles of Pacific Ocean. He thanks those who have donated and asks for further donations to the
.
• International relief agency Operation USA is sending emergency medical aid to American and Western Samoa, appealing for donations to go towards health care materials, water purification supplies and food supplements that will be shipped from the Port of Los Angeles. Donate online at
, by phone at 1.800.678.7255 or by check made out to Operation USA, 3617 Hayden Ave, Suite A, Culver City, CA 90232.•The government of Samoa has set up
, labeled specifically for tsunami relief and rehabilitation.
Indonesia
•Life has returned to normal in Indonesia after a powerful 7.6 earthquake destroyed much of western Sumatra and left hundreds buried under rubble. According to UNICEF, 40% of Sumatran children have returned to school.
•Scottish relief workers have arrived in Sumatra. The UK based Disasters Emergency Committee (DEC) has reiterated the need for increased donations to provide aid and materials to help get affected families back on their feet.
•The Indonesian vice president said that 75 are confirmed dead in Sumatra, though with more trapped under buildings, that number is expected to rise.
•We'll update this section with aid information when available.
Related
Popular in the Community