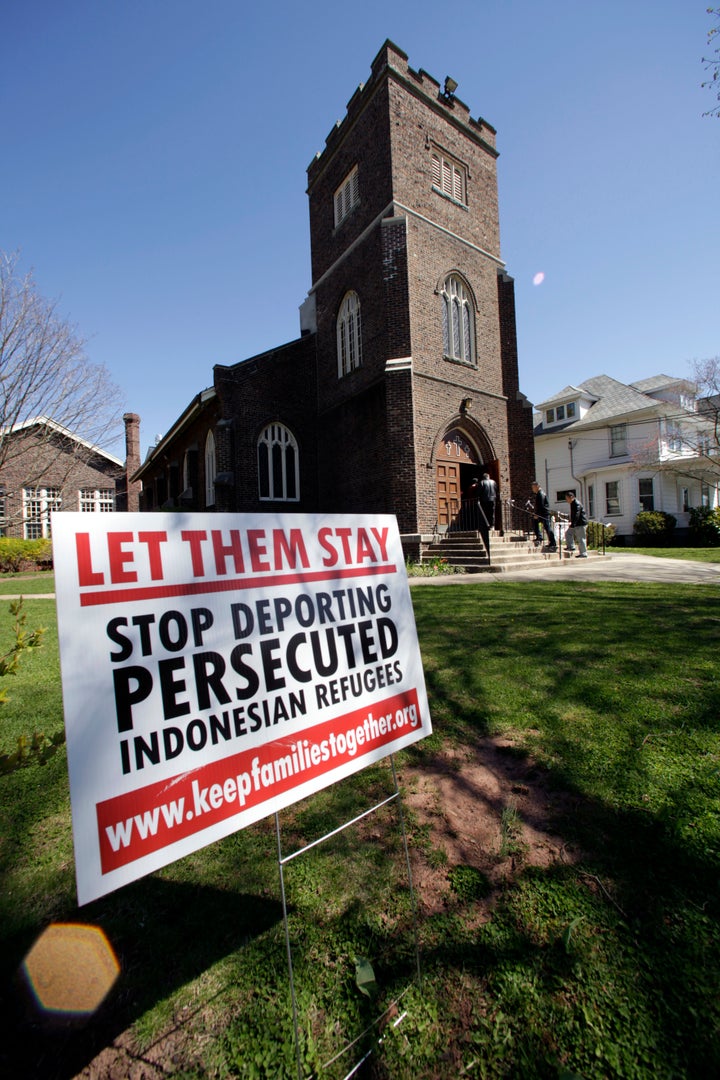 Three men who fled persecution in their native Indonesia are now living in a New Jersey church to avoid deportation, as its pastor and members of Congress push for a bill to help Indonesian refugees apply for asylum in the United States.
Reformed Church of Highland Park Pastor Seth Kaper-Dale said on Friday he will continue to welcome undocumented Indonesian immigrants into his church, but he and Rep. Carolyn Maloney (D-N.Y.) are hoping the church will not need to.
Maloney and Republican Rep. Chris Smith of New Jersey, are sponsoring a bill to help Indonesian immigrants, like the three living in the church, who come to the U.S. to escape persecution because of their Christian faith. The bill would allow them to apply for asylum in the U.S. despite missing a deadline to do so. It would apply only to a specific group and would not necessarily allow them to stay in the U.S. indefinitely.
The bill is about protecting religious freedom, said Maloney, who visited the immigrants Friday. "They fled violence, they fled the burning and the raids of their religious sanctuaries. I think it's just the fair and just thing to allow them their day in court."
Although there is no law against immigration enforcement entering the church, there are informal policies against it, Kaper-Dale said. ICE officials are allowed to enter churches, but typically do not for enforcement purposes.
The bill has not yet seen much action, Maloney said, however she hopes that bringing more attention to the issue will encourage members of Congress to sign on. There are more than a dozen co-sponsors so far.
There is no reason the bill should not gain bipartisan support, given its limited scope and the people it would help, Kaper-Dale said. "This is the kind of thing that even in a divided Congress should go forward," he said.
Kaper-Dale welcomed the first immigrant, 44-year-old Saul Timisela, to the church in early March and the second, 45-year-old Rovani Wangko, at the end of the month. The third arrived early Tuesday morning. Two of the men now living in the church should already have been deported -- one's deportation was scheduled for 37 days ago, and the other, about two weeks ago. One's date is still approaching.
All three of the men entered the country legally, but due to confusion over the law, did not apply for asylum within the required one-year period. They came forward under a government initiative that would allow them to register in the U.S. without status, but that later led to their deportation orders, Kaper-Dale said. Their involvement in an "Orders of Supervision" program he spearheaded did not help them gain official refugee status, he said.
Because the men have families and clean criminal records, as well as strong ties in the community, Kaper-Dale said he believes they should be given prosecutorial discretion under an Obama administration policy announced in August 2011. Under that policy, the administration reviews some deportation cases and allows some immigrants considered low-priority to stay.
"We hope and pray that (Immigration and Customs Enforcement) might see just how much this community of people is loved and just how much they belong here and we won't have to take anybody else in," he said. "But we'll continue to let people in if we have to."
REAL LIFE. REAL NEWS. REAL VOICES.
Help us tell more of the stories that matter from voices that too often remain unheard.
BEFORE YOU GO