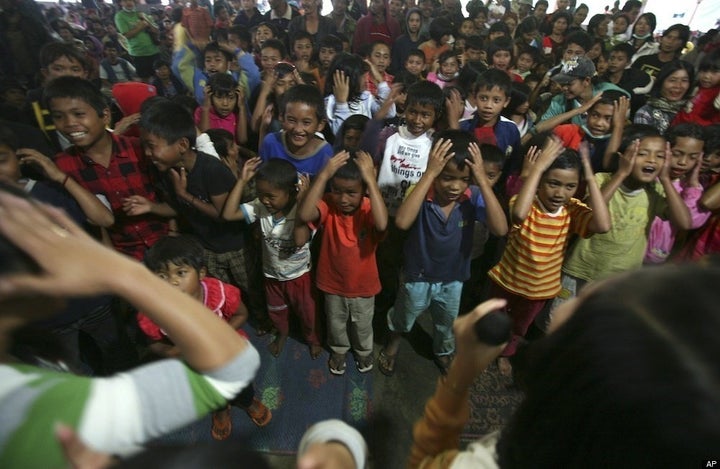 TANAH KARO, Indonesia -- Thousands of villagers returned to their homes along the ash-covered slopes of an Indonesian volcano that exploded after four centuries of dormancy, even though officials warned they could be putting their lives at risk.
Some said Tuesday they could no longer bear to stay in cramped emergency shelters, while others wanted to get back to their farms.
The first eruption of Mount Sinabung -- which caught many scientists off guard -- over the weekend was followed by a second, more powerful blast Monday that spewed soot and debris more than a mile (several kilometers) into the air, leaving the region on high alert.
Several domestic flights in North Sumatra province had to be diverted because of poor visibility, and two people died, though it remained unclear Tuesday if the volcano was to blame.
Of the 30,000 people who have been evacuated to refugee shelters, mosques and churches, more than 6,000 have packed up their belongings and headed home, said Yeni Hariani Sembiring of the Tanah Karo district information center.
Some piled into the backs of pickup trucks. Others drove their motorcycles or walked up the side of the mountain, which continued to send plumes of white smoke gushing into the air, but with lower intensity than in recent days.
"We don't know if it's safe or not," said Johnson Siagian, who works at a local monitoring post, looking up at the crater, which by late afternoon was shrouded in fog. "But if they insist on going home, there's not much we can do."
Mount Sinabung last erupted in 1600 and government vulcanologists acknowledged they had made no efforts before the mountain started rumbling last week to sample gases or look out for rising magma or other signs of seismic activity.
With 129 live volcanoes to worry about in Indonesia -- prone to eruptions and earthquakes because of its location within the so-called "Ring of Fire" -- it had been considered low priority.
But Lee Siebert, director of the Global Volcanism Program at the Smithsonian Institution, said it was no surprise Sinabung would erupt after 400 years of being quiet. That's not very long by geological standards, he said, noting that a volcano that has erupted within the past 10,000 years can be considered active.
Because of its location along the Sumatra fault line -- the meeting point of the Eurasian and Pacific tectonic plates that have pushed against each other for millions of years -- Sinabung has the potential to be very destructive, others noted.
Magma forming inside the conical tip can act as a plug, allowing pressure to build up until it reaches a bursting point.
"I'm not going to send people back until the mountain shows me it's safe," said Surono, another state vulcanologist, who like many Indonesians uses only one name. "It's too early. And in the end I'll be judged by how many lives are lost."
Tired of waiting in emergency shelters, more than 6,000 refugees decided to return home anyway. Others headed up the mountain, saying they just wanted to check up quickly on their farms along the fertile slopes, promising to come back by nightfall.
Betta Tariga, a 48-year-old farmer, was not happy with what he saw.
"There's not going to be a harvest this year ... just look at these tomatoes," he said sadly, referring to fields blanketed in gray soot. "They are all going to die."
Indonesia is home to some of the largest eruptions in recorded history.
The 1815 explosion of Mount Tambora buried the inhabitants of Sumbawa Island under searing ash, gas and rock, killing an estimated 88,000 people.
The 1883 eruption of Krakatoa could be heard 2,000 miles (3,200 kilometers) away and blackened skies region-wide for months. At least 36,000 people were killed in the blast and the tsunami that followed.
AP Science Writer Malcolm Ritter reported from New York. Associated Press writers Irwan Firdaus and Ali Kotarumalos in Jakarta also contributed.
http://www.volcano.si.edu
Popular in the Community