Sibling rivalry takes many dramatic forms on the latest episode of " Indoor Boys," the award-winning web series that examines the challenges of gay male friendship in the digital age.
The first two episodes of Season 2, which premiered June 25 on HuffPost, found former roommates Nate (Alex Wyse) and Luke (Wesley Taylor) resuming their boundary-free relationship in New York. To Nate's chagrin, Luke seems to have forgotten about their one-night stand in Los Angeles and is happily enjoying the company of a new beau, Rusty (Kyle Harris).
In "Harmony," Luke's siblings Lacy (Krysta Rodriguez) and Logan (Isaac Powell) pop in, informing Nate why they believe their brother's new romance is doomed. Meanwhile, Luke lets Nate's mother, Ellen (Carolee Carmello), in on a few secrets of his own. (Check out "Harmony" above.)
Meanwhile, the origins of Nate and Luke's codependency are explained in this week's second episode, "He's a Bully." Viewers find out how the pair's families came to know each other through a hilarious flashback featuring Veanne Cox as Luke's mother, Lenora, and Broadway veterans Anthony Rosenthal and Noah Hinsdale as young Nate and Luke, respectively. (Check out "He's a Bully" below.)
The drama continues on Monday, July 9, with two more episodes of "Indoor Boys" on HuffPost. Be sure to tune in.
You can catch older episodes of "Indoor Boys" here.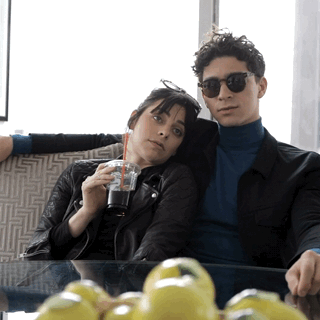 Popular in the Community