Back in February, on the way back from a ski trip to Vermont with friends, we stopped at a country deli to grab a few snacks for the road. The place was heaven--walls lined with homemade compotes, jams, and different varieties of maple syrup, its counters and cases filled with all sorts of homestyle delicacies. As we stood there, we watched two customers be served a huge (the size of my wingspan) skillet of mac 'n cheese. Though we'd eaten a huge breakfast of cheesy scrambled eggs, bacon, and the remains of the No-Knead Bread before hitting the road, it seemed criminal not to at least give this mac 'n cheese a try. But then I noticed pulled pork sandwiches on the menu, and I thought it would be criminal not to give those a try too. I returned to the car with a shopping bag full of food.
Though not the best for car trips, the pulled pork sandwich was the most outrageously delicious mid-afternoon snack I'd had in a while. Then, when I walked through the door of my apartment, I found a new Cook's Illustrated in my mailbox. It featured an article about the best methods for Indoor Pulled Pork. I knew I was meant to make pulled pork. And make it, I did.
Making pork butt for pulled pork doesn't require that much hands-on attention, but it does call for a massive chunk of time. The Cook's Illustrated version requires 2 hours of brining, and 4 ½ hours in the oven. Curious about general pork-butt guidelines, I called up my friend Robbie, who has made it a Sunday tradition to slow-cook a pork butt for 5 hours and invite 20 people over to watch football and eat it.
Robbie said he has tried several cooking times and temperatures, but recommended that if I had an afternoon to kill, the best results are achieved by cooking the pork uncovered at a very low temperature (250 degrees) for 5 hours, and braising it in BBQ sauce towards the end to develop the "bark"--the crusty exterior. He doesn't brine at all, which cuts down on the time.
Still, I was swayed by the feeling of destiny I had when I walked in the door and saw the Cook's Illustrated, and after my inquiries, I decided to more or less follow their method. The result was incredibly bark-y and delicious, but perhaps not as moist as the versions I had eaten at Robbie's, and though I made two different sauces, I am sad to report that both paled in comparison to the one slathering all that tender pork in the sandwich from Vermont.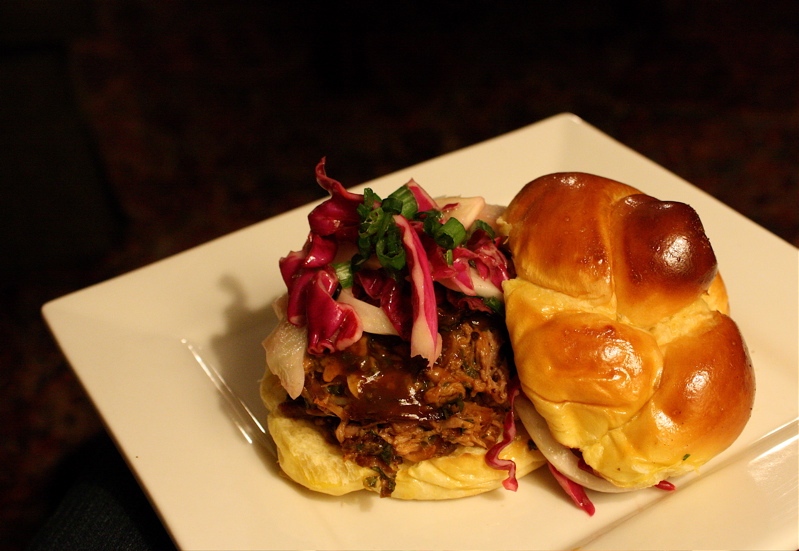 Pulled Pork Sandwiches with Fennel-Cabbage Slaw
Makes 4-6 servings
Cook's Illustrated featured three different options for the sauce, and being the indecisive person I am, I went with none of them, and instead made two different versions of my own. One is ketchup based, similar to what is used on this Manchurian Cauliflower, and the other was inspired by my friend Graeme's BBQ sauce. You can find both as well as the Fennel-Cabbage Slaw recipe here.
As for the method, I am going to tell you exactly what I did including the brine. But I can't wait to try it Robbie's way, skipping the brine, and cooking it for 5 hours uncovered at 250 degrees. Also, if you want to save on time and ingredients, you can skip the wet-dry rub combo. Last but not least, Cara recently made pork butt the Momofuku way, and we'll be posting about the results of that soon.
1 cup salt
½ cup sugar
4 cups water
1 3lb pork butt
¼ cup mustard (Bone Suckin, or honey mustard would be interesting here)
1 tsp salt
1 tbsp sugar
1 tbsp chili powder (I used ground ancho)
¼ tsp cayenne
4-6 toasted challah or brioche rolls - something dense, buttery, and more substantial than your average hamburger bun.
In a large bowl or container, combine the salt, sugar, and water, and stir to dissolve. Submerge the pork in the brining liquid (I used a can of beans inside a ziplock bag to weight it), cover tightly, and refrigerate for 2 hours.
Preheat the oven to 350 degrees. Cover a baking dish with foil (trust me, you don't want to have to clean this).
Remove the pork from the brine and pat dry with paper towels. On a work surface, using your hands, cover the entire surface area of the pork butt with the mustard. In a small bowl, combine the remaining salt, sugar, chili powder, and cayenne. Sprinkle the dry rub over the pork until fully covered.
Transfer the pork to the baking dish. Cover the dish with tin foil, tenting it in the middle so it is not touching the pork. Place in the oven and cook for 3 hours. Remove the foil and cook for an additional 1 ½ hours, or until the internal temperature is 200 degrees.
Remove the pork from the oven and allow to rest, tented with foil, on a work surface for 20 minutes. Shred the pork with two forks. Combine the pork with your desired sauce (recipes here) until moist and lightly dressed - you don't want to overwhelm the pork flavor, and you can serve extra on the side for dipping as desired.
To serve, top each bun with a mound of pork, a spoonful of slaw (see recipe here), and extra sauce on the side.
NOTE: Pulled pork can last up to a week in the fridge. Store the meat and the sauce separately. When you want to eat it again, combine the two and microwave together so the pork stays moist.
REAL LIFE. REAL NEWS. REAL VOICES.
Help us tell more of the stories that matter from voices that too often remain unheard.