For those who find regular yoga on solid ground too easy, stand up paddle board yoga -- literally, doing yoga and pilates while balanced on a surf board-like vessel that floats on the water -- is old hat by now. At least it is in outdoor environments.
Doing yoga on top of a paddle board in an indoor pool? That's something new. And it's coming to Baltimore.
A company called Ultimate Watersports, which brought outdoor stand up paddle board yoga -- otherwise known as SUP yoga -- to Baltimore about a year ago, will be offering the classes in an indoor pool beginning in March.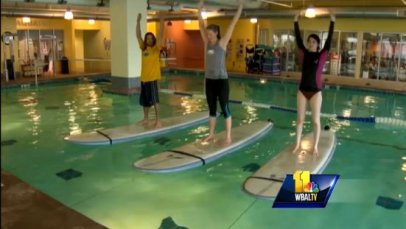 Yoga instructor Jessie Benson touted the benefits of stand up paddle board yoga inside or out, telling WBAL that this practice involves doing the same poses as traditional yoga, "but just taking them to a higher level and having to hold them a little longer with that instability," she said. "You'll see a big change in your body and in your balance and overall flexibility."
Either that, or you'll get very wet. But at least with indoor SUP yoga, you'll also stay warm.
Check out this slideshow of people doing outdoor stand up paddle board yoga -- are you excited to try the indoor version?
PHOTO GALLERY
Stand Up Paddle Board Yoga
REAL LIFE. REAL NEWS. REAL VOICES.
Help us tell more of the stories that matter from voices that too often remain unheard.
BEFORE YOU GO