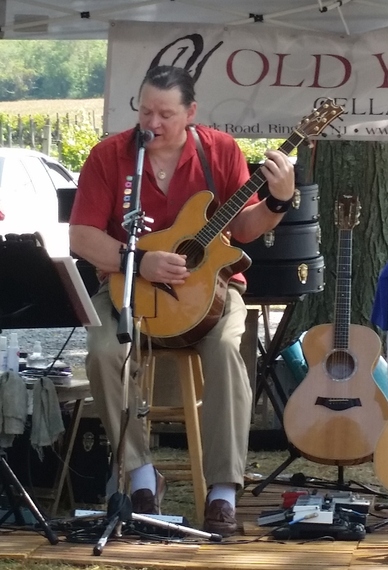 It was a hot day at the Old York Winery in Ringoes, New Jersey. A cool breeze intermittently blew through the air, hinting of the impending fall and cooling off the patrons from the sweltering heat. A large crowd was present on this Labor Day Weekend enjoying the gorgeous weather and savoring the delicious wines. However, no doubt, it was not the picturesque scenery or the wine that drew so many to this location. They were there to pay tribute to songwriter and humanitarian Harry Chapin.
Chapin's untimely death in 1981, undoubtedly robbed the world of some of the most prolific and beautiful songs that he sadly was never able to write. Perhaps although, more tragic were the lives he was not able to touch as the co-founder of World Hunger Year, a philanthropic organization founded by Chapin and radio personality Bill Ayres to combat hunger and poverty in the United States.
On this day though, there was no talk of sadness or loss just singing and celebration thanks to musician Gregg Parker who orchestrated the free event to benefit the Harry Chapin Foundation and to collect food for the local food bank. Mr. Parker, who has included Harry's songs in his repertoire for over 40 years, was also there for another worthwhile cause.
The professional musician from Tabernacle, New Jersey has been on a crusade for the last two years, to have Harry Chapin inducted into the Songwriters Hall of Fame (SHoF). Yes, you read that correctly, Harry Chapin is not in the Songwriters Hall of Fame. How could that be you ask? Surely, his 1974 number one hit, "Cat's in the Cradle" should alone warrant him receiving this prestigious honor. Nonetheless, in all those years since its release, the SHoF has failed to include Harry's name on the list. However, this was not necessarily due to the Hall's lack of appreciation for his storytelling style. A SHoF unspoken rule apparently made Harry ineligible simply by the very fact that he is no longer alive. At least that is until recently when this year the SHoF broke its own unwritten policy and inducted posthumously and perhaps ironically Grateful Dead front man Jerry Garcia. This sudden change in practice has created an opening that Parker is hoping will give Harry Chapin his well-deserved recognition.
Critics didn't always laud Harry's sentimental lyrics or his raspy voice. Nevertheless, his fans loved his very personal shows and poignant songs elevating him to an almost cult-like status. Harry did receive radio play with the aforementioned "Cats in the Cradle" as well as such popular songs as "W.O.L.D," and "Taxi." However, with many of his songs lasting well over six minutes, his airtime was much less than that of his contemporaries. Harry often joked that he was a constipated DJ's best friend. He didn't mind though, because he was not about the fame or fortune. His shows were often free and if they weren't, much of the proceeds to his concerts went to a worthy charity of his choice.
Therefore, it was no surprise that at this event the man holding the guitar and sitting behind the microphone was similar to Harry in voice, humbleness, and passion. Gregg Parker was unknowingly carrying on Harry's legacy of giving back to the community. He played for several hours only stopping to praise his hero and to promote the worthy causes. There were no personal CDs for sale or tip jars that day. Gregg Parker's compensation was the joy he received from playing the music he loves. Looking out into the crowd, you can see that his audience shared his passion for Harry Chapin's music. Many were mouthing the words to the songs as Mr. Parker played from the artist's large catalog. One could see tears streaming down many of the patron's eyes as they listen to the beautiful melodies. Perhaps shed for the artistry of the lyrics, the sweet memories the songs conjured up, or simply pain from the loss of such a great artist. Regardless, there was joy in all those tears and a celebratory atmosphere that was utterly palpable.
Harry Chapin deserves to be in the Songwriters Hall of Fame. But don't take Gregg Parker's word for it or anyone's. Harry often said that his song, "A Better Place to be" was one of his favorites. Mr. Parker appropriately opened his show with this song. Listen to it and cry along with the rotund waitress as she hears the little man's story about loneliness. These nine minutes of pure beauty will motivate anyone to sign the petition to induct Harry Chapin into the Songwriters Hall of Fame. In his short 38 years of life, Harry Chapin amassed hundreds of masterful songs, a feat well deserving of this honor. But more importantly than his songwriting legacy, Harry Chapin has made a difference in the world through his relentless and tireless giving to such social causes as world hunger. In the final analysis, Harry Chapin has done something far greater than writing beautiful songs; Harry has made this world a better place to be.
REAL LIFE. REAL NEWS. REAL VOICES.
Help us tell more of the stories that matter from voices that too often remain unheard.