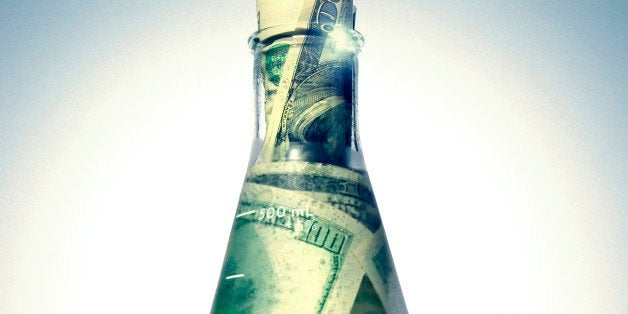 SEATTLE -- Dr. Raymond Neutra adopted an alternate persona as he stepped up to the podium on a sunny, late-August afternoon. Sporting a hat and a fake British accent, the respected authority on environmental health transformed into the fictitious Reginald Charlston, LL.D., of the corporate law firm Dewy, Charlston and Howe.
Speaking to a crowd at the University of Washington, Neutra's character proceeded to explain how he hired scientists to help his chemical industry clients "cast doubt" on "inconvenient truths" regarding the safety of their products. The goal: reinforce roadblocks to verdicts and regulations that could otherwise threaten those corporations' bottom lines.
"I was originally going to represent Dewy, Cheatem and Howe," Neutra, former chief of California's Division of Environmental and Occupational Disease Control, told The Huffington Post after his address, given at the International Society for Environmental Epidemiology conference. "But my wife thought that was going too far."
The session on how corporate money is frequently funneled into researchers' pockets -- a move often undisclosed to the public or even to fellow scientists -- had been inspired by a growing number of real-life occurrences.
"If we continue to put poisoned information into the minds of the public, policy is going to be harmed and people will suffer unnecessarily," said Kathleen Ruff, senior advisor to the Rideau Institute, an environmental advocacy group. "Scientists have prestige, influence, voices that are heard."
Such trust and admiration can keep a conflicted scientist's colleagues in the dark as well. Dr. Wael Al-Delaimy, chief of global health at the School of Medicine at the University of California, San Diego, had previously worked with Dr. Paolo Boffetta, the Italian researcher.
"It struck us as fellow epidemiologists blindside. We never expected [...] someone who was supposedly on our side of public health and the public interest to work for the interest of industry and not declare it," said Al-Delaimy, who participated opposite Neutra in the conference's mock debate as a critic of undisclosed industry funding.
"We deal directly with issues that affect industry immediately," he added, referring to environmental epidemiologists, who study a branch of science concerned with the patterns and causes of health effects related to environmental exposures. "These industries have a huge influence on regulations and politicians."
Boffetta, formerly with the World Health Organization's International Agency for Research on Cancer (IARC) and now the director of the Institute for Translational Epidemiology at Mount Sinai School of Medicine in New York, is under scrutiny for collecting money from and reportedly acting as an expert witness for the asbestos industry. He is also accused of having changed his position on risks posed by chemicals like dioxin and formaldehyde after leaving his post with the cancer agency.
In an email to HuffPost, Boffetta defended himself against the allegations. "My work [has] always been based on science, which I report for peer reviewers and readers to evaluate," he wrote. "It is not influenced by any other consideration."
A number of studies, including surveys of research on food products and secondhand smoke, suggest that when a third party has a hand in funding scientific research, it tends to influence the outcome of that research -- whether the scientists are conscious of it or not.
"We do know that when a study is done with industry funding, it is significantly more likely to produce results that are more favorable to industry," said Bruce Lanphear, an environmental health expert at Simon Frasier University in British Columbia. "That's a fact."
Richard Lemen, former U.S. assistant surgeon general and deputy director of the National Institute for Occupational Safety and Health, has expressed concern that financial conflicts are creeping into research even at highly regarded organizations like IARC. He received a response letter this month from the agency's director, suggesting the IARC would consider Lemen's warnings about asbestos industry ties among collaborators on an asbestos study in Russia -- the largest producer of the insulation fiber in the world -- and a published paper, submitted by IARC and co-authored by Boffetta, that was favorable to the product. In the paper, the authors state that they had "no conflict of interest."
While working on that paper, noted Ruff of the Rideau Institute, Boffetta was being paid by an asbestos company to help it defeat charges of criminal negligence in the mesothelioma deaths of a dozen workers.
Lemen suggested Boffetta's case is "just the tip of the iceberg." He also referenced the late Patricia Buffler, a renowned children's cancer researcher and former dean at the University of California, Berkeley's School of Public Health.
"She was another good scientist," Lemen said of Buffler, who passed away in September 2013. "But, at the same time, she almost led a double life."
Buffler served on the board of FMC Corporation, a major chemical manufacturer, for 17 years, a fact revealed by David Heath of the Center for Public Integrity in a report published last December. Buffler never disclosed her relationship with FMC, even while doing research on pesticides and herbicides that could have affected the $2 million worth of stock she owned in the company.
Further, in advance testimony she filed for a high-profile lawsuit against former lead paint manufacturers last year, Buffler wrote that "the risk to children from lead-based paint in homes is not probable or imminent." Buffler received more than $360,000 from those companies to work as an expert witness, according to the Center for Public Integrity. She had never actually published on the safety of the neurotoxic heavy metal.
"It became clear that she'd been involved in a number of really key cases where she may have -- we can't say for sure -- undermined public health because of those personal conflicts," said Lanphear, who moderated the mock debate last month and is helping lead the epidemiology association in developing conflict-of-interest guidelines.
Still, the issue goes beyond the ethics of individual researchers, Lanphear said. Institutions often encourage industry collaborations, as cuts to public funding of scientific research have left coffers dry.
"I don't think we should never take money," he said. "But we need to be clear and transparent."
"At some point, we have to recognize that as long as we don't distinguish between industry-funded research and independent research, the scientific process will fail us," added Lanphear, referring to the muddling of findings on chemical products such as the plasticizer bisphenol A. "These types of conflicts of interest have the potential to undermine billions of dollars in publicly funded research, and can have dramatic impacts on ongoing exposures that harm and kill people. It's that simple."
REAL LIFE. REAL NEWS. REAL VOICES.
Help us tell more of the stories that matter from voices that too often remain unheard.