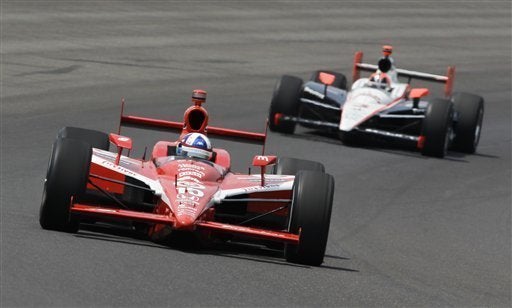 Randy Bernard has a tough job: Running a racing series that has lost a large amount of its fan following since the mid-90s and is still sliding downhill somewhat. He has made some modest improvements in trying to get the series back in order by offering ticket promotions and letting the fans get up close to the action with garage passes before the race, but this has not completely helped. The races have had low TV ratings, even for its pinnacle event- the Indianapolis 500. Randy is indeed doing a good job though, he inherited the mess that Tony George had started and is at least getting it going in the right direction. With the series beginning its new season last week in St. Petersburg, Florida, this is the most anticipated season of Indycar in recent memory. New cars and engines have increased and changed the competition and has introduced some variables that keep you at the edge of your seat. Thinking hypothetically, if Randy was to come to me and hand the keys to Indycar over to me here is what I would do:

Make a consistent TV deal and advertise accordingly
Why? With the season only having 16 races and they are spread apart, new fans can find it hard to follow and remember which races are when. If you have a 3 week gap in between races, have commercials run on all the networks that carry the series [NBC and NBC sports (formerly Versus)].

Bring back the Triple Crown
Three 500-mile oval races and have them on network not cable television, have some kind of cash bonus if a driver can win all 3 races, and award more points for these races. Why? Having a cash prize like they had attempted to do at Las Vegas got people talking about the race and it will get the drivers and teams psyched up and give them something to shoot for. The 500-mile Triple Crown meant that you won the longest races and outlasted both the competition and the elements to win the hardest races of the year. Having the increased point value will give these races importance and also get the drivers and teams psyched up. Having the 3 races on network television and advertising the way I said in the above section will give sponsorship exposure to whomever wants to sponsor the race and should encourage a sponsor to pay up. As for the 2 tracks in addition to Indy, I would pick Fontana and Michigan. In addition to these tracks having the best oval racing, in my opinion, there are some additional formalities that can give them attention. With Michigan being close to Chevy's headquarters, it would give Chevy a chance for some bragging rights. The series is returning to Detroit this year, so one might argue that Chevy could have bragging rights in their own backyard, but I feel that an engine outlasting the competition in a 500-mile race running at consistent speeds at 220mph+ for 2.5 hours straight is a bigger accomplishment than winning on a generic street circuit. Fontana is located in a highly diverse and populated area of the country so if it could be marketed good, it could draw out a good crowd.

Run regular road courses in the international races rather than street circuits.
Why? Street circuits have a tendency to produce boring racing because of the lack of elevation changes and narrow track width. In Brazil, the Autodromo Jose Carlos Pace where Formula 1 races is a world class facility and would be suitable for an Indycar Race. Cart raced at an oval at another track in Brazil- Autodromo International Nelson Piquet, which is also a road course and that track could also work in either configuration for Indycar. Unfortunately that track is supposedly going to be demolished to build an Olympic training facility for the 2016 Olympics in Rio. There is also another circuit in Brazilia that with some time and effort could hold an Indycar race. In China, rather than running at a street circuit in Quindao, there is the Shanghai International Circuit where the Formula 1 Chinese Grand Prix is held, and the Zhuhai International Circuit where the 6 Hours of Zhuhai is held that is capable of running an Indycar race.

Have rotating former drivers in the race control booth to aid the officials.
Why? Having a former driver that has driven the cars and the circuits can help make a judgment call based on experience is a good thing. Formula 1 has the same thing and it works very well. At Edmonton in 2010, Helio Castroneves was penalized at the near end of the race for a "blocking" move on Will Power (see here). Needless to say Helio was pretty pissed at race control. The move does not look like blocking to me, and I am just a racing fan/blogger. Many former drivers from different forms of racing all said that Helio's move was not blocking, he was just turning up to make the corner. Had one of them been in race control, they could have made the call that the move wasn't blocking. This particular decision was made by Brian Barnhart, whom is notorious for making bad calls, check out the restart at New Hampshire here. Barnhart has since been replaced by Beaux Barfield much to the delight of fans and drivers both.

But Indycar hasn't called me yet to run the series, so I'll just have to sit back and watch. But I can dream can't I?

REAL LIFE. REAL NEWS. REAL VOICES.
Help us tell more of the stories that matter from voices that too often remain unheard.