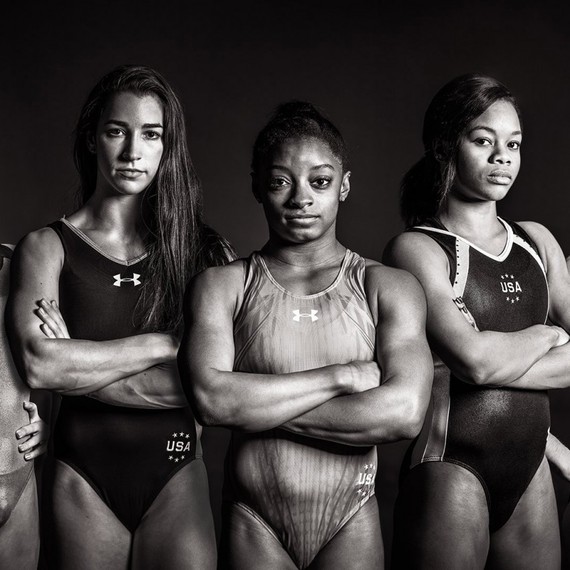 Inequality, in mathematics, describes the relationship between two values when they are different.
Expressed in its equation form as "a≠b," that is exactly what it means--not that one is bigger or smaller than the other or even that they can be compared in size. Ergo, when applied to society this relatively simple equation makes clear the huge complexity of inequality and, I'd argue, advocates a much more primal solution than what can be found in pay scale or job grade.
Shelley Zalis, the CEO and founder of The Girls' Lounge, is perhaps the most articulate and creative thinker on the subject of inequality.
At the World Economic Forum in Davos and elsewhere, I have had the honor and the opportunity to participate in The Girl's Lounge discussions and events. I believe that the following thoughts from Shelley's blog make the values argument best, as she suggests how to "help close the gap":
Hiring the best talent and giving them equal pay for equal work
Building a workplace culture that embraces work-life balance
Ensuring that every step of management is focused on developing its employees
Recognizing feminine leadership qualities as integral to the work environment
Aiming for true partnership in the home, as this impacts every woman's performance on the job
A careful and nonconfirmation biased reading of Shelley's manifesto reveals that the bulk of the solution can be found by first aligning such ideals as work-life balance and leadership qualities; principles like hiring the best talent and paying for it while focused on career development; and primal beliefs that a home is a partnership. These are values that transcend Gender...
Now let's be clear and fair. Gender bias is a subset of general and insidious inequality...based on race or sexual orientation or religion or, increasingly, on pure hatred for anything different. But, frankly, I deeply believe that the fix is the same--we must understand that the solution is not as simple as percentage dictum...it's a primal values issue that needs to be fixed. Here, I will use Gender as a placeholder for all...
There are more Team USA female Olympians than there are Team USA male Olympians. Compare that to the 1972 Olympics when only 72 out of 428 US athletes were women. In Rio, Team USA is comprised of 263 men and 292 women...imagine that split in a corporate environment.
Yet the key indicator of true success is found not in the participation statistics but in the actual winning of medals. In the 2012 London Olympics, 63% of the Gold medals and 56% of the overall team medals taken home by Team USA were won by women.
Companies with more women on their boards have delivered a 36 percent better return on equity since 2010 than those groups lacking board diversity, according to MSCI, the index provider.

MSCI examined the 1,643 companies that make up the MSCI World benchmark and found that groups with strong female leadership delivered a 10.1 percent return on equity, compared with 7.4 percent for those companies without.

Strong female leadership is defined by MSCI as those boards containing three or more women, or one with a female chief executive and at least one other female board member.

Currently women make up less than 17 percent of Nasdaq 100 boards in the US and just a quarter of FTSE 100 boards in the UK.
Returning to Rio and current events.
KNEE-JERK reaction...yes, there is much to comment on: green water, poorly constructed venues, miserable accommodations, doping, politically inspired poor sportsmanship that frankly has chilling undertones, ignoring the full reality of Brazil for good and bad...and, I have no doubt, much more.
But I will continue to focus on Team USA and what can be learned and applied to our equation.
I don't know about you but we are obsessed with the women's gymnastics teams. We have always followed the sport at the Olympics and cheered for all of its stars, US or not.
Yet the coverage they and their competitors receive is not commensurate with their achievements or sheer talent.
...television coverage of the sport is hindered by an outdated image of gymnasts as teen-age pixies bouncing around the screen. This is a disservice to the athletes, the viewers, and reality. For starters, the average age of the female gymnasts competing in this year's Olympics is just shy of twenty-one. The average age of the American swimmers is a little more than twenty-two. Yet much of the coverage encourages us to look at swimmers as some of the world's premier athletes, and the gymnasts as the world's most coordinated beauty-pageant contestants...

I found it useful to think of top gymnasts less as young girls doing beautiful things and more as über-athletes doing very dangerous things. A typical floor exercise has less in common with a ninety-second dance routine--taxing enough as that is--than with a running back sprinting ninety yards for a touchdown that requires him to leap over, spin past, and barrel through opposing players...

Not enough drama for you? How about the fact that gymnasts risk their health every time they step onto the mat? "If you don't think you're gonna get hurt in gymnastics, then you're being a fool," Aimee Boorman, Biles's coach, told me. "That's why every single piece of equipment out there has a warning on it that you could be paralyzed."

Gymnastics has more in common with an American football team than it does with the ballroom floor...and yet the issue is not just about women gymnasts...
In an environment where 45% of the total athlete population is made up of women, the BBC questions, "Is some Olympic commentary sexist?"
When US gymnast Simone Biles gave a storming performance on the uneven bars, an NBC commentator complimented her by saying: "I think she might even go higher than the men." Meanwhile American swimmer Katie Ledecky was praised as being the "female Michael Phelps" in the Mail Online. Both women were already world champions so why was there a need to compare them to men?

Another commentator caused outrage on social media when he implied a female athlete was reliant on her husband - after Hungarian swimmer Katinka Hosszu won gold in the 400m individual medley with a new world record, he referred to her partner, who is also her trainer, saying: "This is the man responsible."

The Chicago Tribune has also come under fire for the way it described Corey Cogdell-Unrein, the bronze medal winner in trap shooting. In a tweet, the paper called her "Wife of a Bears' linesman."

A BBC commentator was criticised too when he referred to the judo final between Kosovan Majlinda Kelmendi and Italian Odette Giuffrida as a "cat fight." And, back at NBC, eyebrows were raised again when it was said that the US women's gymnastics team looked like they "might as well be standing in the middle of a mall" during their team final.

Researchers analyzed millions of words relating to men and women and Olympic sports in the Cambridge English Corpus (CEC) and the Sport Corpus - massive databases that include news articles and posts on social media.

The study revealed common word combinations for female athletes included aged, older, pregnant and married or unmarried. In contrast, top word combinations for male athletes included fastest, strong, big and great.

It also found that the language around women in sport also focused disproportionately on appearance, clothes and personal lives....

However, some things are changing. The proportion of female athletes competing at the Olympics has increased with every games since 1964 when it was 13.2%. By 1988, 26.1% of competitors were women and in Rio 2016 it is 45%.
Yet the truth is that nothing will change if we look at the equation as success using parity in numbers as the measure. Remember inequality is about values...and a lack of values can be seen in the huge percentage of negative tweets about the US women's gymnastics team, ranging from hairstyles to parentage to race to religion.
There is so much more to write and I soon will...., but, first, some hints. Look at Internet usage in developing countries...language usage....social sharing...and so much more.
But in conclusion for today...
Although gender issues have roiled my industry and others, they are a subset, a placeholder and a classroom for all inequality and the values problems that drive them.
No advance in wealth, no softening of manners, no reform or revolution has ever brought human equality a millimeter nearer. George Orwell
As long as we focus on numbers and declare victory when the greater than and less than symbols converge, we will have achieved nothing of any lasting value.
Popular in the Community