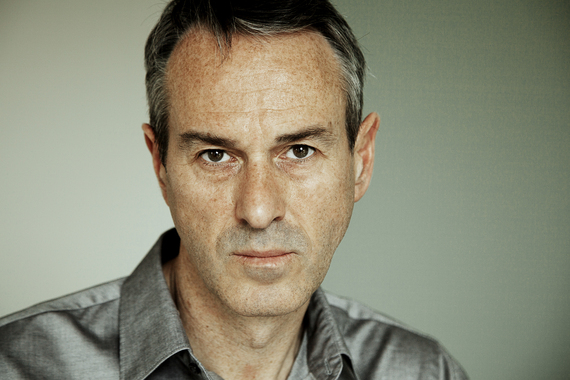 Ivo van Hove
Photo: Jan Versweyveld
Belgian director Ivo van Hove [pronounced EE-vo van HOE-va] made his Broadway debut with A View from the Bridge and The Crucible, which have been nominated for a combined nine Tony Awards. We spoke with him, from an Amsterdam rehearsal room, about his eventful season.
.
Your productions of A View from the Bridge and The Crucible suggest that you have a strong affinity for the work of Arthur Miller.
IVO VAN HOVE: It turns out that I do, but I wasn't aware of it because I've avoided Arthur Miller my whole career. I've done a lot of Eugene O'Neill plays, but never Arthur Miller. But I discovered that, indeed, his work is fabulous. The plays are clearly very personal to him, but they deal at the same time with problems in society. The beauty and the strength and the urgency of Arthur Miller's plays is that they talk to every new decade, you could say, in a different way. You see it in The Crucible. The atmosphere of a society reigned by fear, people who are afraid of each other, what that does to people; also the pinpointing--the scapegoating--that goes on. I was watching the Republican debates very closely while I was working on The Crucible--it happened every night!! You are this! You are this! You are a liar! You are too! You-You-You! It's a kind of society that's very near to us. It's not only Salem in the seventeenth century, and that's the strength of Arthur Miller. He always finds a very specific situation in a society. In A View from the Bridge, it's about immigrants. In the case of The Crucible, it's a small community of American, extreme Christian people. But they become metaphors for all of us, all over the world.
Why, prior to A View from the Bridge, did you avoid Miller?
IVO VAN HOVE: I had a huge misunderstanding. I thought that Miller was a politically correct author who divided people into good and evil. And I was of course totally wrong in this. The plays are very ambiguous, the characters are very complex. So I discovered that I was totally wrong about him, I consider him one of the great--if not the greatest--American playwright.
Did you ever meet him?
IVO VAN HOVE: I was introduced to him, two or three years before he died. I was at the Lincoln Center going to see a play and someone introduced me, he said "this is the greatest playwright in America." I just shook his hand, that's all.
Was the Miller Estate involved with the productions?
IVO VAN HOVE: I was in contact with Rebecca Miller. She saw the productions. She came to The Crucible, to an early preview, we talked about it. I had some questions also, here and there. That was a very open conversation. I think that the Miller Estate very much wants the plays of Arthur Miller to survive in the 21st century. That means that you have to develop. Also, Arthur Miller wrote stage directions that were very innovative when he wrote them in the 1950s. Do the plays that way now, they can become very old-fashioned because we have seen it already hundreds of times. So it needs also directors and an artistic team that push it; that push the work. The words and the dialogue are of a genius, so you know it's fabulous; but you push the plays aesthetically into the 21st century. I think the Miller Estate is doing a very good job about allowing that. Watching, of course, but not watching like a watchdog. Very open. If I had a problem with the text, where I thought it repeated itself a bit, I could openly have a discussion with them.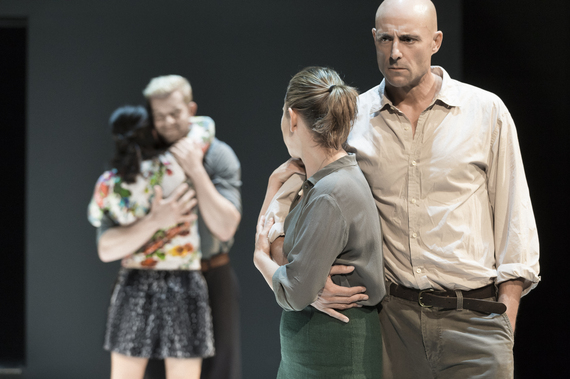 Phoebe Fox, Russell Tovey,
Nicola Walker and Mark Strong in A View from the Bridge
Photo: Jan Versweyveld
How did it happen that the two plays were produced within several months of each other?
IVO VAN HOVE: Actually, I think Scott Rudin had already set his mind on a production of The Crucible. Then he saw my production of A View from the Bridge, at the Young Vic in London. First of all, he asked if I'd do The Crucible, and I said--Yes!!! But I was also afraid, because to make your debut on Broadway with a production with eighteen actors on stage, it's a little bit scary; it's a little bit enormous. During the process when we started to talk about cast and about the production itself, Scott said "wouldn't it be a good idea to do A View from the Bridge before?" I said that would be great! I think that it was a great idea, because I don't make theatre in one style; I always start from text, and I see how this text wants to be produced. It gave us also the possibility to present the same author in two totally different acting styles, and also visually totally different productions. So I was very happy that Scott dared to do this, because it was a risk to do two Arthur Millers in one season.
Did you find working on Broadway, in the commercial theatre, different than what you are accustomed to?
IVO VAN HOVE: Artistically, there was no difference at all. But I worked with a very good producer, Scott, who really takes care of his artists and the artistic project. So once he believes in the project that you propose to him; and the set that you propose to him; and the effects that you want, and the music--once he supports that, he goes for it. He is not the kind of typical commercial producer who is penny-wise and dollar-foolish. He wants to make the best of the best. I think that a production like The Crucible, the way that we did it, would be very difficult to do within the commercial atmosphere in Europe. (That is, Europe; not England). There are a lot of actors onstage, they normally never do that in Europe.
Did commercial considerations make you adjust your normal method of rehearsal?
IVO VAN HOVE: It was very collaborative, the circumstances in the rehearsal space were perfect. Actually, I had the time I wanted; but I'm not the type of director that wants eight weeks or something. I've worked in New York for ten years at New York Theatre Workshop, and I learned a lot; I learned that you can do it in less time if you're prepared well. Scott really gave us the perfect artistic circumstances, and logistic circumstances, to work with. He's a man who really loves theatre, and who wants to produce a play in the best way possible. And he chose us--my team--to do this not once on Broadway this year, with an Arthur Miller play, but twice during the Arthur Miller centennial year. That means that he had this vision, that he thought this would really mean something.
Typically, a director will work out his concept and then consult with designers. These productions seem to have been devised visually, rather than having scenery designed to accommodate the staging.
IVO VAN HOVE: Jan Versweyveld, the scenic and lighting designer, we work together. I think that's what theatre should be, it's a total collaboration from the first moment on during the preparations. What we do is, we were asked to do The Crucible, I said yes. Jan and me, we start reading and then we start talking about how to do this play. And then we came up with this idea of the classroom, I think it was Jan's idea in this case. He said the classroom is a very good space to show the development of people that should be a perfect society, a perfect education, with the young girls in school singing together in total harmony with each other. And then this same classroom is like an emergency room at the end, where a disaster has taken place. Like a prison, like a wasteland, at the end. So I like that idea because it's very American, a classroom, but it's also all over the world. Even in Africa, in the jungle, there are little classrooms. Everybody wants to be educated, wants the best in their life. When it becomes a disaster, that is something very moving, I think, and very cruel to watch.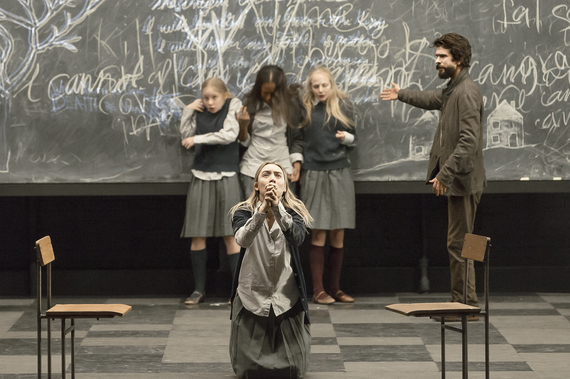 Saoirse Ronan (center) and Ben Whishaw (right) in The Crucible
Photo: Jan Versweyveld
How long have you and Jan been working together?
IVO VAN HOVE: Thirty-six years. That's a long time, eh? Every production I ever did was with Jan, so we know each other very well but we still keep pushing each other towards the limits. We really are at the birth of every production. Everything, we are in touch with everything, because you cannot separate the work of the actors apart from the visuals; actors have to be aware of their bodies, where they stand. Everything is a part of the whole process.
You are most known for your work in what we would call experimental theatre.
IVO VAN HOVE: That's a misunderstanding. In Holland, I work in theatres that are like Broadway theatres. 600-700-800 people in the audience. I never work, anymore, in Europe in smaller theatres. Never. I only do that in New York, at New York Theatre Workshop. All my other work is large scale, very big scale. We present these quite daring productions, but for large audiences. There's a misconception that we are small-scale, experimental people doing productions in small rooms. Not at all.
How did you find the experience of working on Broadway?
IVO VAN HOVE: I must say, I was very surprised in a positive way. At the first preview of The Crucible, there was a great mixture of people. Not only rich people that can afford these expensive tickets, but also a lot of young people. And not schools; individual people who came with friends, so there was a great mixture of people. A second thing I was surprised by, in a very positive way, was the reception. Because this is a three-hour production, and there's a lot of text. Oh, there's a love story in it, but the love story is one scene of seven minutes. It's not like a feel-good evening, it's discussions about society, about the importance of religion, about the cruelty of religion, about conflicting ideologies, all these things. And the people--I was totally surprised in a very positive way, because I thought that after intermission only half of the auditorium would be here.
So this is not what you expected to find?
IVO VAN HOVE: For me, this whole Broadway experience is different. But you see it also now with Hamilton, there's a whole new wave going on. And I think audiences are much more ahead than most producers think. They want to see daring things that they cannot see on their television, otherwise why go to the theatre and buy an expensive ticket, if it's nothing special for them? They don't only want comedies or easy, easy things; they want something complicated. Hamilton is a complicated story, a political story that nobody knew about before the musical was there. Fun Home, a lesbian relationship, it's very un-Broadway, all these themes. I think Broadway is ready for it, the audiences are ready for it. They want it.
Two years ago, did you think you would ever be asked to do a Broadway show?
IVO VAN HOVE: No, never, never ever. I've been put in a box in New York, that I was this "bad boy of avant-gardists," so I was never ever expecting it to happen. I'm very glad that I had the experience, it was a very good experience.
Are you considering directing any more Miller?
IVO VAN HOVE: I would love to do, once in my life, Death of a Salesman.
.
The Crucible opened March 31, 2016 and continues through July 17 at the Walter Kerr Theatre
A View from the Bridge opened November 12, 2015 and closed February 21, 2016 at the Lyceum Theatre
Related
Popular in the Community