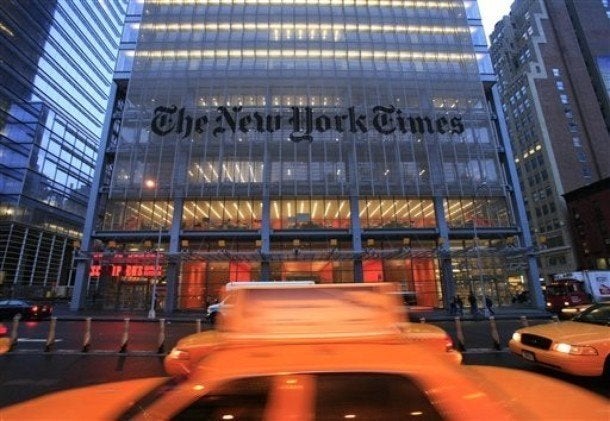 Welcome to the latest installment of NYT CorrectionWatch(tm), in which a minor blunder produces minor hilarity and profound self-flagellation:
Because of an editing error, an article on Wednesday about a 50th-anniversary edition of the book The Elements of Style misspelled part of the publisher's name. The publisher is Pearson/Longman, not Pierson/Longman.

The article also overlooked an element of style in The New York Times Manual of Style and Usage in referring to Roger Angell's introduction for the fourth edition of the book. He wrote the foreword, not the "forward." (As the Times stylebook notes, a "foreword" is the word before Chapter 1.)
Error #1: A teensy gaffe: forgiven, I guess, but I suspect Pearson's eating his/her hat right now. It's not my job to forgive any error, for this is indeed CorrectionWatch, and if you call my attention to it, I'm duty-bound to slap you on the wrist. But the second paragraph is where the comedy comes in.
Error #2: Who's writing the Corrections? Perhaps someone with something close to a sense of humor, as not only is the error pointed out (the article used "forward" when it should have been "foreword") but it is noted that this distinction is clearly stated in the TIMES stylebook.
I enjoy how the editor (never named! never blamed!) is not only singled out, but the source that would have prevented this grave oversight is also named. Is it just an attempt to imitate the chuckly, style-referential parentheticals with which the reporter was permitted to clutter the piece (charming? cloying?), or is the Corrections editor keen to get a plug in for the New York Times Manual of Style, to, in effect, steal a little of The Elements of Style's thunder on its 50th birthday? The Grey Lady would never stoop to such antics! Or would she?
PS Not even a brief mention of the devastatingly beautiful, Times contributor Maira Kalman-illustrated version from 2005?
Previously in New York Times CorrectionWatch:
Calling all HuffPost superfans!
Sign up for membership to become a founding member and help shape HuffPost's next chapter