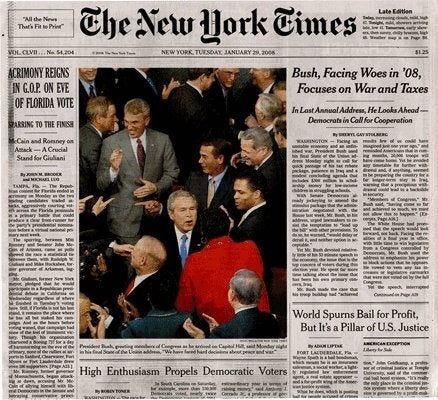 Well, someone apparently asked NYT's Sheryl Gay Stolberg about how the White House gets along with reporters, and she let it be known that they send the paper mean emails on a regular basis:
The New York Times, for instance, has had a standing request to interview President Bush since well before I came on this beat in May 2006. So far, no interview -- and the reason why is hardly a secret.

White House officials are quite open about the fact that we have not gotten an interview because they don't like our coverage. I get e-mails to that effect from them all the time. But the request still stands, and we are hoping for an interview before Mr. Bush leaves office.
Well, even if the desired tete-a-tete with the horse's mouth never materializes, the Times will still be able to claim ownership of the next best thing: the 2002-2005 reportage of Judith Miller.
Popular in the Community