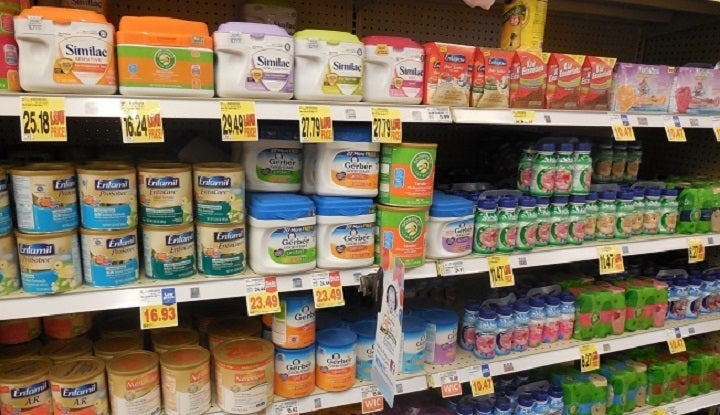 Money has been called the mother's milk of politics, which may help explain why the Trump administration attempted earlier this year to help infant formula manufacturers by squashing a World Health Organization resolution that encouraged breastfeeding.
Three of the largest infant formula companies ― U.S.-based Abbott Laboratories, Swiss-based Nestle, and U.K.-based Reckitt Benckiser ― have spent $60.7 million lobbying U.S. lawmakers and officials during the last decade, according to a MapLight analysis.
The maneuver to squash the WHO resolution also marked another example of the Trump White House's preference for corporate interests over health care. Within the last three months alone, the administration has rolled out plans to cut $7 billion from a key children's health insurance program and implemented controversial policies separating immigrant children from their parents.
"There is no question that breastfeeding plays a critical role in children's development and helps reduce the risk of life-threatening diseases for children and mothers alike," said Sen. Tammy Duckworth, an Illinois Democrat who in April became the first senator to have a child while in office. "The health benefits of a mother's milk simply cannot be overstated, so it is shocking to see the Trump administration take the opposite position and put the interests of major corporations ahead of public health experts and families around the world."
Trump claimed in a tweet that "the U.S. strongly supports breast feeding [sic] but we don't believe women should be denied access to formula. Many women need this option because of malnutrition and poverty."
The resolution was originally pushed by Ecuadorean health officials, according to the New York Times, which first reported on the controversy. It was withdrawn after Trump administration officials threatened to pull military aid and economic support from the small South American nation. The administration also threatened to withdraw financial support for the global health organization; U.S. tax dollars make up about 15 percent of WHO's budget. Eventually, a resolution supporting breastfeeding was sponsored by Russian delegates.
While many mothers are unable to breastfeed for health or economic reasons, the World Health Organization has estimated that as many as 820,000 premature deaths could be prevented with the exclusive use of breast milk for children younger than 24 months. Mother's milk is considered to be more nutritious and safer than infant formula, especially in countries where clean water isn't always available.
While the New York Times reported that the formula manufacturers didn't play a visible role in the debate over the WHO resolution, lobbying records show they have a significant Capitol Hill presence that often extends beyond infant nutrition. Abbott, for example, has spent $32.4 million since 2009 on issues ranging from taxes on medical devices to patent reform, according to the Center for Responsive Politics. Nestle, which has spent $24.3 million during the decade on lobbying, has hired lobbyists to work on environmental, retirement and immigration issues. Mead Johnson, the infant formula subsidiary acquired by Reckitt Benckiser in 2017, has spent lobbying funds on opioid abuse legislation.
The lobbying money ― combined with more than $4 million in campaign contributions ― has elevated the influence of the three companies on Capitol Hill, but hasn't always insulated them from criticism, especially outside of the U.S. A February report by the Netherlands-based Changing Markets Foundation accused Nestle of unethical marketing and misleading customers about the nutritional value of its milk formulas. China's economic planning agency announced in 2013 that it would levy a $33.3 million fine on Mead Johnson and $12.6 million penalty on Abbott for antitrust violations.
The companies have also been involved in high-profile controversies in the U.S. Abbott was accused in 2011 of compiling a massive database of breastfeeding and formula-using mothers by misleading them into believing that a survey used by a front company since 1954 was developed for scientific research purposes, rather than as a marketing tool.
Related
Popular in the Community