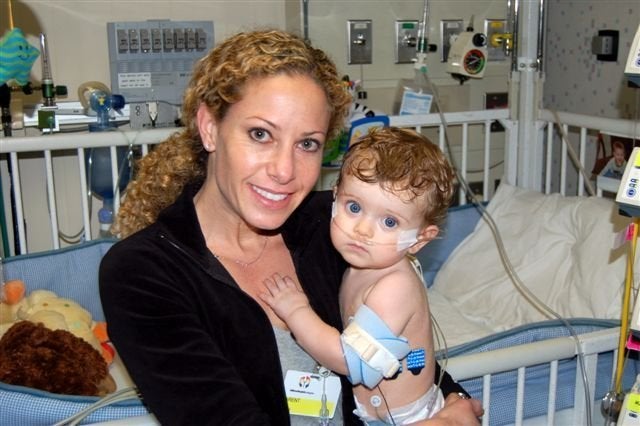 It was New Year's Eve 2006, and Marnie Blakey couldn't get rid of an extremely troubling thought that kept bubbling to the top of her mind.
"There has to be a drunk driver out there, so my child can live," she recalled thinking.
The Blakey family spent that night, as they had many others, holding a vigil in a hospital room at the Children's Hospital of Los Angeles. They were waiting for a heart transplant for their 9-month-old son, Mitchell -- something that would only happen if another child died somewhere in the region.
"You never want something to happen to another child, but yet you know something bad has to happen in order for your child to live," Blakey said in an emotional and frank interview about what parents go through as they wait for word that an organ has become available for their child.
Navigating the experience of waiting for a heart donation is a complex time for patients and families, and Blakey said that she realizes "how deeply wrong" it was to have thought so openly about how and when another family might suffer a tragedy so her son could live. But such desperation is something many parents would likely feel in her situation. The exhausting waiting process, the "torture" that is "actually watching your son die in front of your eyes," Blakey said, is an experience that can hardly be put into words.
But it is a reality, as there are not nearly enough organs -- especially infant hearts, for that matter -- to go around. And the process can be a psychological hurdle for waiting parents.
Pediatric transplant candidates must be compatible with a donor's blood type and receive hearts that match their body size. Their families also must be able to get them to a hospital at a moment's notice for an intensive surgery (hearts must be transplanted within about four hours or less). Organs can only be removed and donated when patients die in the hospital, primarily when brain death occurs, said Anne Paschke, spokeswoman for the United Network for Organ Sharing (UNOS), the nonprofit that manages the Organ Procurement and Transplantation Network (OPTN), the country's national organ sharing and matching system. Patients who die on the scene of an accident, for example, are not eligible to be heart donors, noted Melissa Dunbar-Forrest, chairwoman of the Transplant Coordinators Committee at OPTN/UNOS.
In 2006, the year Mitchell was waiting for his transplant, 58 children under the age of 18 died while waiting for a new heart, according to UNOS data provided to The Huffington Post. In 2012, 41 children died waiting.
Families of adult donors can find out their deceased loved one's wishes thanks to state registries, which include people who've declared they'd like to be an organ donor upon renewing their driver's license. But when children die, it's up to the next-of-kin to decide what to do. Removing a child's organs after a tragedy can be very difficult for grieving parents, but choosing to donate can also offer them a sense of closure in knowing that their tragedy gave the gift of life to another family, Dunbar-Forrest said.
Once a heart has been placed into the system as a donation, it's subjected to an automated allocation process that combs the immediate region in which it was donated for potential recipients. If no match is found, the system automatically expands the search outward, in zones, looking for a match. Children waiting for a heart get the donation based on a tiered system that ranks them according to the urgency of their situation, their physical size, their geographic location, and how long they've been on a list. Money or celebrity status have no effect on patients' ability to get an organ once they're on the list -- a common misconception about the process.
"The system is very scientific," Paschke said.
Pediatric heart transplant candidates can sometimes find themselves on the list with very little time left to live -- sometimes only two weeks -- unless they're able to secure a donor heart.
There is a lot that has to go right -- and wrong -- to save one life.
As of Jan. 18, 2013, there were 283 children under the age of 18 waiting for a new heart in the U.S., according to UNOS data given to HuffPost. Infants under the age of 1 who were added to the list between January 2011 and October 2012 had a median waiting time of 86 days -- one of the shorter median wait times for transplant candidates -- UNOS reported. (In contrast, those in the 18-34 age range could expect a median wait time of 326 days). Last year, 303 children under the age of 18 received a new heart, including 89 babies under the age of 1, the organization said.
Dunbar-Forrest and other doctors described receiving an organ as a "gift" in interviews -- but they also noted that an organ transplant is really an exchange of one problem for another.
"A transplant is not, install an organ and forget it," said Dr. Arthur Caplan, director of the Division of Medical Ethics in the Department of Population Health at NYU Langone Medical Center. "It's a procedure that basically takes you from an acute illness -- one that's going to kill you -- and turns you into a chronic illness patient."
A parent whose child receives an organ must be committed to giving his or her child a strict regimen of daily immunosupressive drug dosages, as the child's body will always view the new organ as foreign. Parents must also be prepared to closely monitor babies' health for signs of rejection and ensure they get continual medical follow-ups. Some children will eventually need a second transplant, triggering the entire process all over again.
But Blakey welcomed the changes. The family received a call at their home at around 10 p.m. on Feb. 5, 2007. They had been waiting 78 days for the surgery.
"You have this feeling of joy, and yet you can never let go of that feeling of sadness because you know how a heart became available," she said. "For some people, it may be hard to watch their loved one go in for surgery. But Mitchell was so sick, so handing him over to the surgeons at that point was like, 'Please, take him. Please help us.'"
"If you ask any transplant recipient, they know their organ anniversary -- February 6 -- and that anniversary is like a second birthday our family," Blakey continued. Wednesday will be Mitchell's sixth heart anniversary. He is also 6 years old, and will turn 7 on March 24 of this year.
"He's in first grade, and he does taekwondo and soccer, and is a normal little boy," Blakey said.
Dunbar-Forrest said it's incredibly important to increase awareness about the organ donation process. "I think people just have to understand that there are not enough organs, period. That's what drives this entire system. People do not donate. People do not understand organ donation. The biggest thing we can do is get the word out," she said.
The recipients, Paschke noted, "are absolutely very lucky."
Related
Before You Go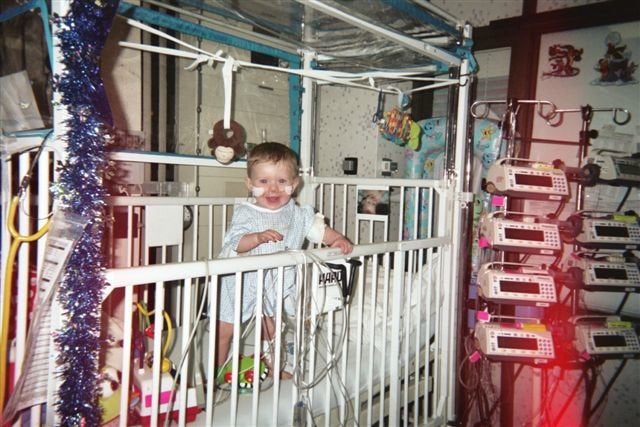 Mitchell Blakey's Wait For A Heart Transplant