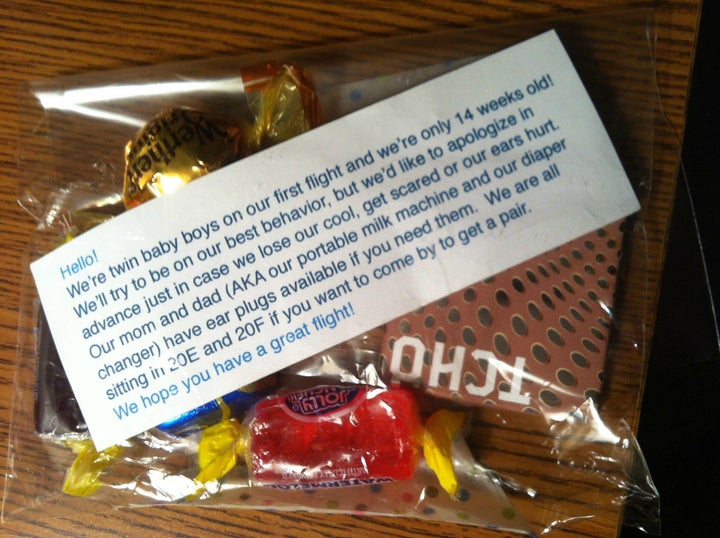 Bribery or Gratitude? Brilliant or Unnecessarily Apologetic?
Those were the questions on Reddit this weekend after a passenger posted this photo under the headline "Brilliant and thoughtful parents handed these out to everyone on my flight."
There is perhaps no subject as divisive online as the rights of a baby on a plane. That proved true once again on this Reddit thread, with over 3000 comments and 1 million views, split, as usual, between those who don't believe babies belong on planes at any time, and those who defend every child's right to fly, however noisy or pungent they might be.
There was praise. "That's the most considerate thing I've ever seen," teeohdeedee123 wrote, "and it has fully restored my faith in said consideration."
And concern about the larger anti-baby message: "Really? You don't find this to be overkill?" papabusche asked. "I don't require an apology for a crying baby on a plane. This is to be expected. I'm ok with it. People have babies, and they need to travel too. There are plenty of assholes I'd much rather have an apology from.
And questions about logisitics: "I wonder what the TSA thought of this, while they were going through security?," asked chudapati09.
The original poster, gigantomachy, reports that the flight went well:
The parents were fantastic and the kids were better than would be expected. mom was super nervous and obviously very tired, but still extremely nice to everyone around her. Not a mean or frustrated word from dad either. Saw them meeting his parents at baggage, who were seeing babies for first time, and got a bit teary.
Me, I am wondering about the traveller in seat 20D, what with the parade of people coming by to either coo or scowl at the twins.