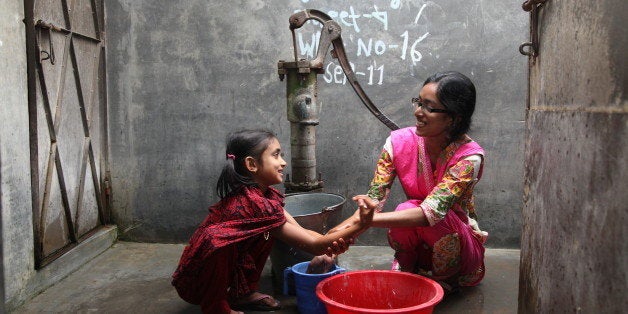 "Wash your hands..." "Don't put your hands in your mouth..."
I cannot count the number of times I heard these admonitions as a child growing up in the rural outskirts of Hong Kong. Wise words they were, too. The simple act of eating a piece of fruit or a chocolate bar with soiled fingers and licking those delicious flavors off already dirty hands may have resulted in a stomachache -- or so much worse.
For the most part, we in the developed world can usually escape those trespasses unscathed.
That is not the case in much of the developing world. Lack of access to water for handwashing and sanitation is why infections with intestinal worms, also known as soil transmitted helminthes (STH), affect nearly 25 percent of the people on this planet. It's why STH infection is considered a major public health issue in more than 120 countries around the world. Worms live in contaminated soil, food and water, waiting for a warm body to host them. The majority of people who are affected or at severe risk from infection are below the age of 15.
I was lucky. But even today, in underdeveloped areas with a lack of sanitation and clean water, children suffer from repeat infections, which are devastating to their developing bodies. Worm infections rob children of the nutrients and energy they need to grow, learn and play. Without nutrients, children are listless and struggle to concentrate at school. Repeat infections impart long-term damage on a child's development, causing stunting and impairing cognitive growth, thereby holding back their potential to be healthy, productive adults.
Johnson & Johnson was the first pharmaceutical company to address this huge global health issue. Since committing to donate Vermox® to treat children and creating Children Without Worms (CWW) in 2006 to be stewards of the donation, the program has grown steadily. What started as a commitment to donate 50 million doses per year in 2006 has since grown fourfold; together with other partners, we will be working to distribute as many as 200 million doses of deworming medicines per year through 2020.
As my CWW colleague David Addis recently wrote, medicines alone are not enough. The cycle of infection is directly linked to a lack of access to sanitation facilities and water to wash soiled hands. As such, CWW advocates for a multi-pronged approach and has striven to develop the right partnerships to tackle this stubborn parasite. For example, CWW works with World Wildlife Fund in Cameroon to build latrines that keep contaminated fecal matter contained and out of the soil where children play. CWW also works with Helen Keller International in Cambodia to integrate hygiene education into school curricula in order to teach children about the importance of using proper sanitation facilities -- and yes -- of washing their hands.
Replicating these models is not as impossible as it sounds -- but it is no small feat, either. It is resource intensive and requires multiple partners in willing collaboration and tight coordination.
But imagine what's possible. If the expertise of a range of private sector, government and non-governmental partners came together to provide children with access to water, sanitation and hygiene education, the results of their efforts would have a multiplier effect - progress would extend well beyond reducing intestinal worm infections. These efforts would create a world in which girls could stay in school and not have to fetch water. A world in which 2,000 children per day would not die from diarrheal diseases. A world in which many other infectious diseases could be prevented.
The momentum is building. Our respective sectors share the same objective: to improve the health and well-being of children all around the world so they can grow into healthy adults -- able to contribute to their families and communities at their full potential.
Now, we must come together to make it happen.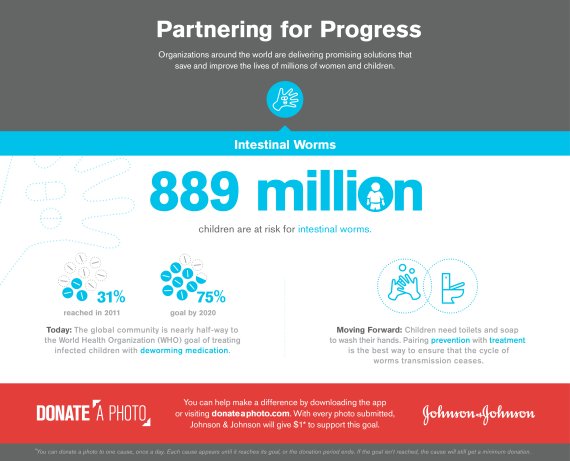 This blog is part of a month-long series in partnership with Johnson & Johnson to highlight the successes and remaining opportunities in the Every Woman Every Child movement. With the aim of improving the lives of women and child around the world, EWEC was launched by UN Secretary General Ban Ki-moon in 2010 to accelerate progress against the Millennium Development Goals (MDGs). To learn more, click here.
Calling all HuffPost superfans!
Sign up for membership to become a founding member and help shape HuffPost's next chapter