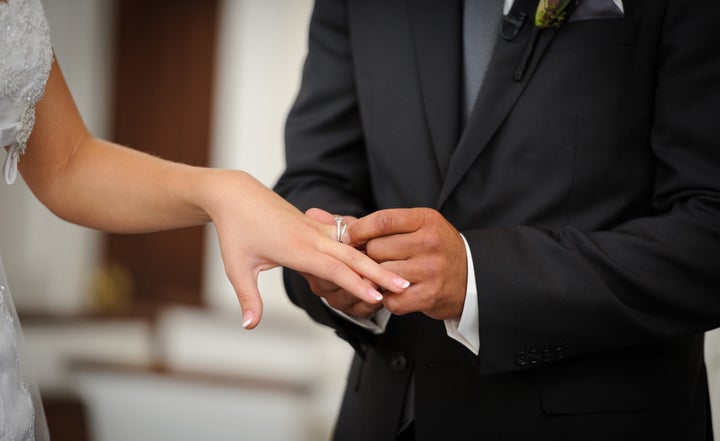 Yesterday I registered my 18-year-old son Nate to vote. Nate has autism. Nate and voting were two words I never thought I'd use in the same sentence -- until I got a call from his school, The Center for Discovery. It is a school that is the stuff dreams are made of. Even dreams I had never dared dream.

As I am now in Voting Action mode, I've been flooded with memories during these past 18 years of my road to motherhood. That is, on my road to Nate. A road, as my headline above notes, that has had more than a few detours. The one thing present along this bumpy journey? Humor. Humor came courtesy of my late husband Fred.

Thirteen years ago, my healthy, strapping 47-year-old husband Fred died suddenly of a heart arrhythmia as he slept beside me. Nate was asleep in his room. Joey was asleep in a bassinet by our bed. He was 10 weeks old.

Fred and I had only 11 years together. But we packed a lot in.

After years of trying to conceive, we advanced to fertility shots. Fred would play a Sinatra CD while he injected me. No luck. So Fred had a procedure to increase his sperm count. We counted the days till our visit to the doctor to see if the operation had succeeded. And we tried to act like the visit was routine. Except it wasn't. For me, it was the visit where I'd learn if I might someday give birth to a son who would have Fred's daffy, lunar laugh. Though we never discussed these silent wishes, my guess is Fred imagined a daughter the way he used to describe me: "She'll walk in a room and ask, 'Mind if I turn on the game?'"

In the lab, the doctor examined Fred's sperm under the microscope. And then he gave an audible sigh. He motioned for Fred to peer through the microscope. As Fred put his eye to the glass he yelled excitedly to me, "Honey, I figured out why you haven't gotten pregnant! My sperm aren't swimming upstream. They're chasing each other! I've got gay sperm!"
Donor Sperm (eew, gross!)
The one thing I swore I'd never do was to was be inseminated by some stranger's sperm. But after a long consult with Fred's doctor, I changed my mind. We registered with a donor bank and soon after, Fred and I were leafing through books of descriptions of prospective donors. Fred had plenty to say about his "competition." I pointed to a med school student with potential. "Are you kidding?" my mild-mannered, upstate New York-bred Fred asked incredulously. "The guy sounds like a Greek dictator!" We finally agreed upon a more benevolent donor. On the day I was to be inseminated, we sat in the doctor's office awaiting one last check that we had the right donor. As the page containing the donor's profile slowly rolled out of the fax machine, our doctor's overzealous assistant couldn't contain her glee. "Oh my God, you picked the guy who likes big dogs and Rice Krispy treats!" she announced to the waiting room. "I LOVE that guy!"

Two weeks later, I was visiting friends when I got the call from Fred. "Hello, mom," he greeted me. The Rice Krispy Treat guy had come through!

I came home and that night we hit our local bookstore and bought a copy of What to Expect When You're Expecting, lingering and strolling around, me holding the book, front cover facing out.
But during a visit to the doctor a month later something was missing. The sound of a heartbeat. There was no hope. We had to abort.
Our next step was the one guaranteed way we could finally become parents: Adoption. I had thought about adopting when we were still going through fertility treatments. After all, adoption is in my DNA. My tall, blonde, Grace-Kellyesque mother, who looked like no one else in our Eastern European family, was adopted. I mentioned adoption to Fred shortly after the miscarriage. Fred wasn't there -- yet. But he caught up in a "Can-I-just-mourn-this-loss-before-jumping-ahead... OK -- I'm there," New York minute.

As was the custom at the time, we put an ad in papers throughout the country describing ourselves as a loving couple, longing to become adoptive parents. We added a second phone with an 800 number. The phone rarely rang. But one night it did. A woman named Marcy told us she had read our ad. She said she was eight months pregnant and liked the way we sounded. Several conversations later, Marcy said she had chosen us to adopt her baby.

The next day our social worker from the adoption agency called and asked if by chance we had heard from a woman named Marcy. We said we had. She told us Marcy had also "chosen" several other parents. The bigger problem? Marcy wasn't pregnant.

The next night, Fred stared at the second phone which he had dubbed the "funny phone," 'cause anytime it rang, as he said, "some nutcase was on the other end." As Fred stared at the phone, he sighed, "I wish the funny phone would ring. I even miss Marcy."
The non-hoax call finally came from our adoption agency. Photos of a baby, our baby in South America, quickly followed. We had always loved the name Nate. It came on our radar years before while watching an episode of the TV show The Brooklyn Bridge. We flew to Paraguay and headed to our hotel where Nate's foster family would meet us. We awaited the knock on our door.

Some 20 years earlier, as a Peace Corps Volunteer in Korea, I had escorted an infant on a plane to the U.S. where her new adoptive parents anxiously awaited at the airport. I will never forget the look on those parents' faces when I placed their new baby in their arms.

Now here I was with Fred on the receiving end. A quiet knock on the door and the foster family placed 4-month-old Nate in my arms. It was the end of a long, planned journey.

It was also the beginning of another journey. One we had no road map for.
When we took Nate to the pediatrician in Paraguay, he told us that Nate had been undernourished by the foster family. What did that mean? I did not learn until a year later. And I can pinpoint that precise moment. When Nate wasn't reaching any developmental milestones we took him to a neurologist for an evaluation. It was then that we heard two words no parent wants to hear: "Maybe autistic." Or as Fred would later say, "Another club I didn't want to join."
Fred had picked up one of those autism-screening brochures and was always looking to see if Nate did things "typically developing" toddlers did. The day Nate put Fred's shoes on and walked around the apartment, Fred took perhaps 20 photos -- as Nate was doing "pretend play," something a lot of kids with autism don't do. One day Fred burst into the apartment, pretending he was furious. He had been visiting our neighbors, whose son Charlie was the same age as Nate. "Do you know what Charlie did?" Fred hollered. "He took a broom and pretended it was a hockey stick! Pretended he was a player! I HATE typically developing kids!"

Oh, if Fred could see Nate now! Nate knows the surest way to get a laugh out of me is to put my pocketbook on his arm and put on my glasses and stand in front of me, laugh, and say, "Like mom." He has a lunar laugh. Like Fred's. And he is my go-to guy for a Facebook "Autism Update" post.
After Fred died, I never went through the "Why me?" stage. I just felt God couldn't get to Fred that night in time to save him. (New York is a big city.) Two weeks after Fred died, I called our neighborhood synagogue, Congregation Rodeph Sholom, and asked if I could speak to a rabbi. And when Rabbi Robert Levine welcomed me into his study, I told him I could rest easy if I knew two things. One: that Fred was at peace. Two: that he hadn't already met some blonde.

I also told my rabbi that I desperately wanted Fred to send me a sign. One night I had the game on and the Yankees and Mets were tied, top of the ninth, two men on, two outs. Post-martini I looked up and said, "Honey, THIS would be a great time to stop by. And DON'T think you're just gonna watch the game! We have to talk!" I started laughing. And crying. I knew Fred would have laughed at that comment. And I so missed his laugh.
There was a Cole Porter song that always made me think of Fred. It was called, "After You, Who?" It's about a woman who's just met the guy of her dreams, but her fear of someday losing him overshadows her joy. I used to burst into tears at the lines, "I could search years, but who else could turn my tears into laughter, after you?" I'd tell Fred that's how I felt about him. And then I'd burst into tears. My strong, strapping Fred, the vision of good health, would give me a 'There, there' hug and tell me, "Oh honey, I'm not going anywhere." And just like that, he'd turn my tears into laughter.
Before Nate came into my life, whenever I filled out a form that asked if I had children, I would add a third box next to the ones marked "yes" and "no." I'd write "not yet." And after Fred died, on forms only marked "single" or "married" I'd add a box marked "widowed." I resisted the temptation to add, "but hope to be married again."

Though I wanted to be married again, it was years before I could even think about actually dating. When I was finally ready, I started doing online dating and actually met some really nice guys. But no one made my knees go weak the way Fred had the first time I met him.

No one, that is, until Rick walked into the restaurant and into my life. His thick gray hair and cobalt blue eyes and calm, western Pennsylvania accent were the first things I noticed. For five hours we talked about everything from his Siberian Husky to my Weimaraner, his days kayaking with the Cree and my days teaching for the Peace Corps, his love of camping and my definition of camping as "how my enemies would torture me." Oh, and we talked about our kids. A lot. Our combined five kids.

Just the kids and a Justice of the Peace were in our apartment a year later as we said "I do." (Luckily, I wore waterproof mascara.) Afterwards, we danced to our song on the CD player. It's about a happily married couple old enough to remember when Chubby Checker burst on the scene. Our kids rolled their eyes at lines like "Some folks can't stand it, say time is a bandit. But we take the opposite few. Cause when I need a lift, time brings a gift. Another day with you..."

After the ceremony, we headed with the kids to a local restaurant for dinner. Our honeymoon? A night at the Sheraton at the Short Hills Mall in New Jersey. It was grand. Twice in a lifetime. How lucky can a gal get?

And I finally can answer the question I used to ask Fred, now without tears: "After You, Who?"