Infinite Variety Productions (IVP), a New York theater company "dedicated to telling the untold stories of women throughout history," presents a new, original production, Insignificant by Sean Michael Welch, the story of a few early American female astronomers at The Kraine Theater.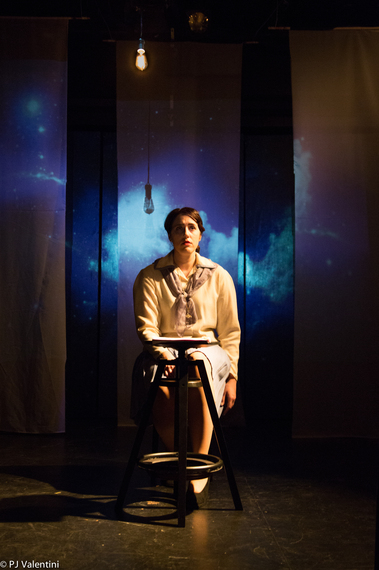 Insignificant frequently breaks theatrical conventions--such as characters addressing the audience--to reveal the lives of female scientists before the turn of the twentieth century. The astronomers, Williamina Fleming (Laura King Otazo), Antonia Maury (Ashley Adelman), Henrietta Swan Leavitt (Alla Illvosa) and a young Annie Jump Cannon (Kaitlyn Huczko) are introduced by male show barkers with top hats and canes calling out their character traits, such as "feisty" for Antonia, rather than their accomplishments. The theatrical device shows how their male contemporaries devalued the women. Their efforts to uncover the mysteries of the stars were insignificant. These women toiled in obscurity in small, all female labs, forbidden the use of telescopes, their discoveries discredited or their names attached as footnotes to well-known male scientists.
Set in the early 1920s, the play within a play is narrated by a mature Annie Jump Cannon (Kathleen O'Neill), both to the audience and her young fellow scientist mentee, Cecilia Payne-Gaposchkin (Deanna McGovern). Annie must make Cecilia understand the sacrifices her predecessors made so that she does not make the same mistakes. Although there had been some discoveries made by female astronomers by the early 1920s, it was still very much a male dominated science. Annie tries to impress upon Cecilia the importance of taking ownership of her work and not taking a backseat because she is a woman. In 1925, Cecilia Payne-Gaposchin made an important discovery in her Ph.D thesis--finding that the sun was primarily made up of hydrogen instead of the same material as the Earth as previously thought. Her theory has often been attributed to Henry Norris Russell, an astronomer who originally dismissed her discovery, but later published a paper on it after coming to the same conclusions. Russell briefly mentioned Payne-Gaposchin in his findings.
Entertaining, provocative and informative, Insignificant manages to convey some of the complex ideas of astronomy through the stories of the women who didn't live to see their discoveries recognized. After each performance, there is an added bonus of a talkback with an expert in the field. Past participants have included Gerceida Jones, New York University, Emily L. Rice, College of Staten Island and Marc Taylor, Hudson Planetarium. The December 18th performance will include an after show discussion with Jillian Bellovary of the American Museum of Natural History.
Insignificant is directed by Colleen Britt with a cast that includes Ashley Adelman, Andrew Dunn, Jordan Gwiazdowski, Kaitlyn Huczko, Alla Illvosa, Deanna McGovern, Kathleen O'Neill, Laura King Otazo and Timothy Ellis Riley. It is produced by Ashley Adelman, Fatima Amr and Ally Tufenkjian. The production team includes Betsy Ellsworth (Stage Manager), Carina Don (Assistant Stage Manager), Caitlin Cisek (Costume Designer), José Luis Martinez-Morales (Associate Set Designer), Paula Weaver-Timoney (Lighting Designer), Kate Foretek (Sound Designer), Patrick LaChance (Associate Sound Designer) and Terry Gsell (Scenic and Projection Designer/Technical Director).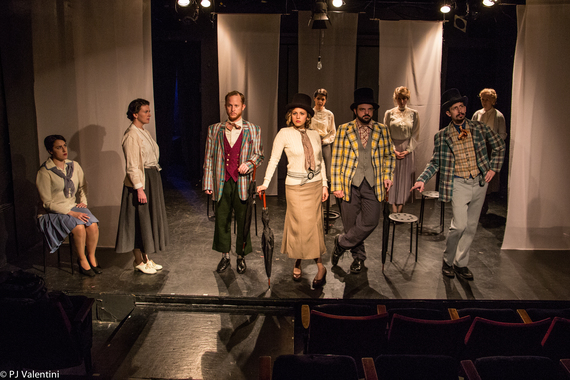 Calling all HuffPost superfans!
Sign up for membership to become a founding member and help shape HuffPost's next chapter