I was lucky enough to get the opportunity to talk to both of them about Snapchat for brands - it's a tricky platform, especially if you're looking to establish metrics and track your marketing and engagement efforts. You can read their thoughts below - and you can also catch their upcoming session at Ragan Communications' PR Now & Next Conference in Chicago, IL from July 20-21, 2017 (and use the link in this article for a $250 discount on registration).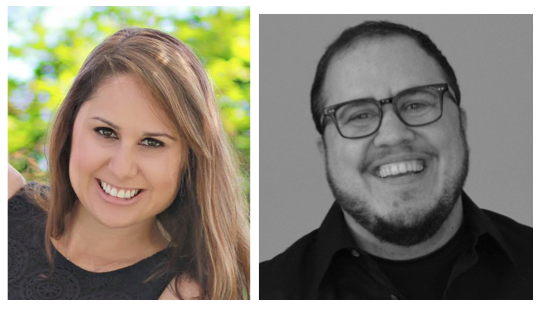 1. Tell me a little bit about yourselves and your background?
Tony: I moved to the Bay Area in 2002 to go to grad school for conceptual art and just sort of fell into social when it was born, Friendster anyone? I ran social media from both the guest service and brand side at Virgin America for the last 6 years, and I recently got a new, fun job managing social media at Postmates.
Kate: I have been in the social media game since my college years of TheFacebook.com. Ever since then, I've loved every component of social media from producing content for brands like Kiva and Virgin America to working in early stage startups focused on platform monetization to teaching online courses. My love affair with Snapchat has led me to write about it for Engadget, KISSMetrics, and Social Media Examiner -- and I even wrote a best-selling book, "Oh Snap! You can use Snapchat for Business."
2. You're focusing on Snapchat at your upcoming PR Now & Next session - what are the top three things that brands need to know about the platform if they're considering using it?
1) A new form of storytelling. Brands need to produce narratives that includes the native components of Snapchat -- lenses, filters, emojis -- while showcasing their marketing messages.
2) Content disappears and doesn't have the traditional components of other marketing channels with clickable links and strong metrics.
3) Growing your channel takes consistency, time, and partnerships with influencers and content creators.
3. When it comes to brands, what is Snapchat best used for? Why should a brand decide to create a Snapchat strategy vs. Instagram stories or Facebook live?
Snapchat is best used for targeting a millennial audience to showcase authentic moments. Storytelling on Snapchat differs from other channels. You need to create content in short, digestible pieces. You can use Snapchat to feature behind the scenes content, new product launches, interviews with C-Suite executives, your daily office antics or really anything that engages your audience.
Snapchat can also be a tool that brands use to have a bit of fun! Other platforms like Facebook and Instagram, even Twitter, have become SO marketing heavy that users have tuned them out. Snapchat is a place where brands can try to do something a little different, less buttoned up.
In terms of strategy, it is all about where your audience consumes their content. It's important to be omni-channel nowadays; especially when platforms are starting to copy one another. Just make sure that you create content on each channel that is relevant to how people use the platform. For example, you can create a Facebook Live broadcast for long-form events or moments, Snapchat is, of course, short-form storytelling, and Instagram Stories should be the behind-the-scenes stories that complement your Instagram posts.
4. What metrics should brands look at if they want to measure success on Snapchat? How can they prove value?
Metrics on Snapchat aren't as streamlined as other social channels; however, there are ways to measure organic success. You can measure views throughout Snapchat stories -- focus on when there is user drop-off to improve your storytelling capabilities on the platform. Other metrics include screenshots from users (which is a good sign), chats that occur throughout the story, and if you include a promo code within your snaps if those are used on the e-commerce platform you're directing your users towards.
5. Is there a B2B use-case for Snapchat or do you think it's largely a platform for consumer engagement?
Definitely a use-case for B2B brands! Some of the leaders in the B2B space are IBM, Salesforce, and HubSpot. All of these B2B companies are able to bring their products to life on Snapchat. On their channels, IBM has featured IBM Watson in creative ways from early morning Daybreaker dance parties to figuring out the menu for events, Salesforce educates consumers with their content, and HubSpot shines their company culture with employee interviews and fun learning segments. One way that B2B brands can stand out from the pack at conferences or trade shows is to create their own geofilter as a way to drive attendees to booths or to meet with prospective customers.
6. What are Virgin's top tips/best practices for using Snapchat?
At Virgin, we used Snapchat to highlight major events. Snapchat geofilters were created at each airport for guests to take a selfie with; almost like you were in the window of the plane. It was a great way to incorporate Snapchat into our social and brand strategy. With any social media practice, it's important to play around and have fun with it. Snapchat offers you so many options to show some personality.
Disclosure: Ragan Communications is an Affect partner. Affect was not financially compensated by Ragan for this post.
Calling all HuffPost superfans!
Sign up for membership to become a founding member and help shape HuffPost's next chapter
This post was published on the now-closed HuffPost Contributor platform. Contributors control their own work and posted freely to our site. If you need to flag this entry as abusive,
send us an email
.