In the fast-paced and crowded world of digital advertising, programmatic ad buying is growing quickly and is set to spike in coming years. In fact, the latest forecast from eMarketer estimates that nearly four of every five U.S. digital display dollars will transact programmatically this year, totaling nearly $33 billion. 
Yet, with so many companies looking to execute programmatic ad campaigns and agencies competing for their ad dollars, there is still a long way to go to deliver on the promise of targeting the right person at the the right time with the right message. This is true because the industry is struggling with issues around transparency, ad fraud, non-human-traffic (bots), ensuring brand safety, evaluating performance and more. As a result, a recent poll among 59 members of The World Federation of Advertisers — a trade body for many of the world's largest brand marketers — found that nearly 90% of respondents are reviewing their programmatic advertising contracts, and seeking transparency and control over how their ad budgets are spent, Business Insider reports.
I recently sat down with Jeff Chi, co-founder and COO at Krush Media, a full-service digital advertising and media company that allows brands and publishers to traditionally and programmatically execute powerful ad campaigns that engage and monetize audiences across all screens. Here he talks about the biggest challenges facing the digital advertising industry, how they can be overcome and how traditional and programmatic agencies like Krush Media are helping to shape the future of the industry.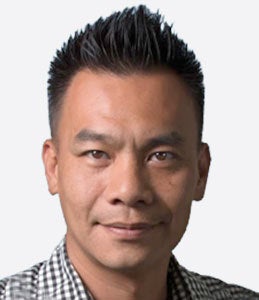 1. What's your professional background and current role at Krush Media?
I've worked in digital media – particularly emerging tech – for over 15 years.  In this time, I've helped companies like Gorilla Nation, Media Mayhem, UberMedia, Fullscreen, Beachfront Media, and Krush Technologies build and expand their media business through ad sales, ad tech and first-to-market ad offerings.  As co-founder and COO of Krush Media, I'm focused on leading our team in its efforts to build out and grow programmatic and traditional media opportunities utilizing first-party data, first-in-class ad tech and direct to publisher inventory for our ad clients. I've been working directly with advertisers and brands for some time now, so I know what makes a successful ad campaign. My goal is to focus on what the client wants and create easy to activate, highly targetable and effective ad opportunities for ad clients and brands that reach their intended audiences at scale, across all digital platforms. By working with our publishers directly, we are able to promise brand-safe activations, high viewability and low bot ad inventory, which we are seeing a rising demand for across our industry.
2. In your opinion, what are some of the biggest challenges facing the digital advertising industry today?
We're seeing a big shift in how advertisers and brands are spending their ad dollars. Until recently, almost all budgets were planned traditionally through an RFP cycle before programmatic buying was introduced. Programmatic continues to gain momentum for many reasons: it's easier to buy, targeting has become more robust with the incorporation of data, and budgets can be adjusted on the fly to wherever buyers are seeing the best performing results.
This is not to say that there hasn't been a whole new set of industry challenges to overcome with the massive traction programmatic advertising has been getting. Like any new and booming technology, new issues will surface that need to be addressed. The main challenge we face with programmatic is access to quality ad inventory. Quality traffic can mean different things to different advertisers, depending on their campaign goals. They may evaluate inventory quality based on viewability, user interaction, brand-safe content and NHT (Non-Human Traffic, aka Bot Traffic), among other criteria.
Today, advertising budgets are quickly shifting from traditional planning to programmatic activations because of the obvious advantages of programmatic buying and the scramble to capture these media dollars has created lower quality programmatic ad inventory. Because publishers are trying to generate more ad inventory, they may put ads in less than optimal placements on their properties, resulting in low viewability, and ultimately, low user interaction. There has also been an influx of cyber criminals creating bot farms that saturate the programmatic industry with NHT. According to a recent study, digital ad fraud driven by bots could cost advertisers upwards of $16.4 billion in 2017. That is more than double the expected rate predicted for 2016. I see this as our industry's most pressing issue, and we are aggressively working to control and eliminate these threats.
Outside of non-human traffic and misrepresented ad inventory, the industry is facing a handful of other issues, such as market saturation, redundant offerings and platforms and technology that is not yet standardized and mature. I am confident these issues will all work themselves out as leaders in our industry come together to improve the experience for our advertisers and brands.
3. How can these challenges be overcome? What role do traditional/programmatic agencies like Krush Media play in addressing these issues?
As I mentioned, fraudulent NHT inventory is the most widely talked about topic in programmatic today – and for good reason. Marketers are expected to shell out $83 billion on digital ads in the U.S. in 2017 so the potential for fraud is astounding. Ensuring that companies are delivering on their promise and running ads where they are supposed to has become a priority focus of the Interactive Advertising Bureau's Tech Lab, which launched its Ads.txt solution to protect publishers from any unauthorized companies selling their ads via programmatic ad exchanges. And many leading companies, including Google are taking notice and doing what they can to root out fraudulent digital ads.
There are some tech companies in the marketplace that have done a great job in identifying NHT inventory and blocking it from advertisers. However, they are only the first layer of fraud protection for any programmatic media company, including Krush Media. We utilize these technologies, and highly recommend other companies do as well, but their services can be costly, and although these technologies filter out the majority of fraudulent inventory, they are not perfect.
At Krush Media, we've made it our goal to take these efforts one-step further with a firm commitment to tackling this industry-wide problem. With my background in emerging technology, I find the bot problem especially interesting. I want to take every step necessary to combat these bots head on and find a cost effective solution for our advertisers. We have made and will continue to make significant investments in our products that solve the NHT issue for our ad clients through our ad offerings. Our investments include using technology and data to filter out what inventory is real and what is coming from a bot. We've also made a strong push to work with our publishers directly to circumvent the bots that are frequently found in ad exchanges. Lastly, we're layering in real first-party user registration data to ensure the inventory is coming from real human beings.
By working with publishers directly, we can police where our ads run within the sites. This results in optimal viewability and user interaction with the ads. We can manage our expectations with them directly to ensure the best performing ad placements for our ad clients. Our number one priority is making sure our clients' ads are sent to high-quality, targeted viewers, in brand safe locations, and our strategy allows us to provide better protection from fraudulent inventory that could potentially harm our clients' reputations.
4. Krush Media specializes in helping brands engage millennials - why do you think this is such a hard group to target through advertising? What do you think is the silver bullet for advertisers?
Millennials are a highly sought after audience for many advertisers and brands. They are our future, but most importantly, they are both heavily influenced and serve as effective influencers at the same time. These characteristics make them the perfect target audience for mainstream brands.
However, millennials are also notorious for being moving targets-- they constantly change where they consume content – and this makes them incredibly difficult for advertisers to engage with in an impactful way. As soon as you think you have found a way to reach them on one screen, they've moved on to a new platform and it's time to redo your strategy to find them where they are most likely to go next.
Because we're the owners and operators of ooVoo, the popular social app, we have access to data on over 185 million registered millennial users around the world.  With our ooVoo Audience Extension program, we're able to serve ads to this highly sought after demographic wherever they go – whether we find them using ooVoo or consuming content on one of our publisher partners.  With this extension, we can target millennials on whatever their preferred platform may be.
5. What does the future of programmatic advertising look like? Where is the industry headed over the next decade?
It's apparent that programmatic is here to stay– and is well on its way to becoming both the standard and most efficient way for brands to access their target audiences. The advantages of programmatic buying clearly outweigh the temporary issues that come with it, and programmatic platforms will become even more effective as the practice matures.
The future of programmatic is simple: there will be greater data for targeting, better post campaign reports that will help brands understand their audiences' behaviors, more cost effective pricing and improved ad quality once technology catches up and regulates its. Thanks to advances in technology, healthier industry practices and greater oversight, we'll also see better control and eventually elimination of bots. At Krush Media, we've positioned ourselves as leaders driving this charge.  With companies in the space working together, it is only a matter of time until we are able to flush out these issues and we want to be a company that plays a vital role in the progression and overall success of the programmatic sphere.
Disclosure: Krush Media is an Affect client.
Calling all HuffPost superfans!
Sign up for membership to become a founding member and help shape HuffPost's next chapter
This post was published on the now-closed HuffPost Contributor platform. Contributors control their own work and posted freely to our site. If you need to flag this entry as abusive,
send us an email
.