The hellishly homophobic headline makers; Uganda, Jamaica, Russia, Egypt tend to capture most of the time and resources of human rights NGOs and funding agencies. This is understandable. Human and financial resources to fight homophobia are precious, so places with glaring human rights tragedies are prioritized. However, it might make more sense to apply strategic attention to places where the wall separating LGBT people from freedom and equality is already cracking and crumbling, than places where the wall is thick and insurmountable.
According to a recent UNAIDS survey, Trinidad and Tobago's population is having a radical shift in attitudes towards LGBT Rights. It is not the only survey of its kind that reflects this. This has been a pattern for some time and is gaining momentum. This twin island republic is located at the southern-most part of the Caribbean archipelago, just seven miles off the coast of Venezuela and is the richest of the 20 islands of the CARICOM (Caribbean Common Market).
There is no ubiquitous "Homophobic Caribbean". The island chain is made up of very different rocks with very different attitudes towards LGBT people. This is my assessment from my island hopping and general knowledge: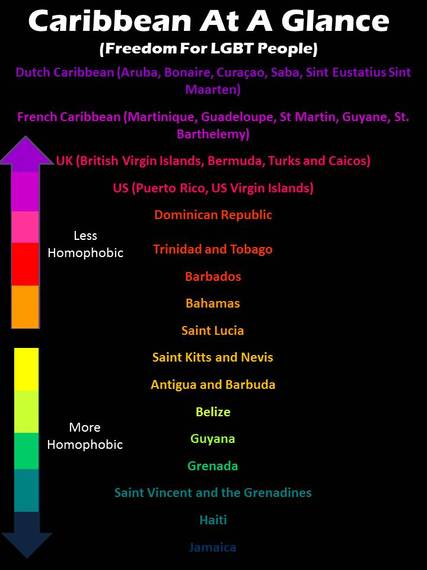 T&T's Prime Minister, the Honorable Kamla Persad-Bissessar, promised a few months after being elected that she was undeniably for LGBT rights. Then when given the chance to act, she coped out,claiming she needed a referendum. Well guess what? Within less than a week of her statement, she got it!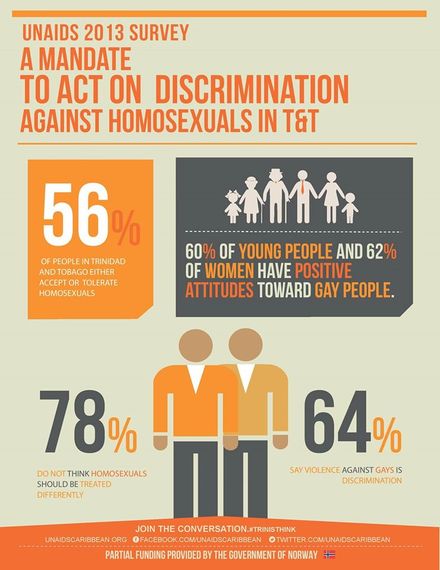 The research was done by Caribbean Development Research Services (Cadres). It used a stratified random sample of T&T and analysed data from 1,176 questionnaires from interviews done in October 2013.
T&T may still struggle with drug-trafficking (being so close to South America) and the crime related to it. Despite our prosperous economy with a large middle class and growing upper class, we still have pockets of poverty. There is a continued fight against corruption, inefficient public services and poor environmental prioritization. However when it comes to tolerance, our country is second to none. It may have taken 50 years since our independence from Britain, for the "Tolerance" embedded in our civil DNA as a national watchword to manifest in this new generation, but finally the words of our national anthem which begins, "Forged from the love of liberty...." and it ends, "here every creed and race find an equal place," are starting to resonate on a deeper level you can see and feel.
Sure, we have always been known as the multicultural, rainbow country that gave the world the steel pan and a signature hybrid music called soca that makes our multi-hued party crowds go into a frenzy of Kundalini sensuality, Orisha possession and all the euphoria of a gospel concert. Sure our Prime Ministers have been Roman Catholic, Anglican, Muslim and now we have a Hindu female Prime Minister. Sure we have Rastafarians in Parliament and unlike the USA, that honors Christopher Columbus with a special day, we honor our First Peoples instead.
But I'm talking about a whole other level of fair-mindedness.
The old anti-sodomy laws not been enforced in ages and famous gay people like Tim Gunn (to visit Anya Ayoung Chee, Project Runway finalist and eventual winner) and Elton John (for Tobago Jazz), have been allowed to enter our country. This year, Jowelle De Souza, a transgendered citizen received one of the nation's highest honors and she is now running for public office.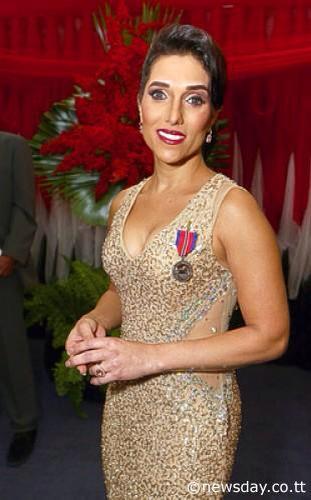 More people are coming out as visible members of the local LGBT community and/or allies, something Harvey Milk said is essential. I have seen T&T become a place where openly gay people serve in Parliament and deliver rousing TED Talks to a cheering local audience. While we've always been a sensual, sex-positive people, especially during Carnival where even LGBT people feel the freest, I've never seen a gamine, sinuous male belly dancers audition on live tv without any fear of mass ridicule.
Our Gen X, Gen Y and Millennials grew up with MTV The Real World, Will & Grace and Ellen but American cable television cannot take all the credit for them being less homophobic. We have many local writers, dramatists, musicians, fashion and Carnival masquerade designers and artists that are beloved and respected for putting our country's culture on the global map who also happen to LGBT. T&T is not nor ever will be Jamaica, like this episode of a much loved, adult puppet series Santana makes clear.
NSFW (WARNING- Strong language, homophobic slurs but a really great ending worth it all)
Our prominent RC Priests are speaking up for LGBT rights. Thanks to Government subsidized education right up to tertiary level, we have a large intellectual and academic population who also fiercely defend our multiculturalism and secular Constitution when certain people (usually Evangelical Christian or Muslim) insist on speaking as the sole moral authority for all Trinbagonians on the matter of LGBT rights.
Pastor Phillip Lee from "His Way Out Ministries" and funded by Focus On The Family (which also sponsored the anti-gay outreach Uganda) was in a bit of a culture-shock when he visited Trinidad on October 22 to 26, 2011, to speak at UWI. All of his usual ex-gay talking points were soundly refuted with scientific facts and reason and it was not just by the students wearing the "No Hate Zone" t-shirts. Clearly he did not expect that so many Trinis knew about the ex-gay fraud in the USA. He grew more defensive and irritated, eventually asking, "Have I been judged today?"-implying he was being persecuted. One UWI professor responded, "You have been judged, but because you have judged." How I wish there was a video of this to share!
Judy and Dennis Shepard (parents of Matthew Shepard) however got a very different reception when they visited Trinidad earlier this year.

I lived to see this shift happen my lifetime! I can remember the island being far more homophobic just ten years ago, in fact so homophobic my partner and I left. Today, I read of more homophobic assaults happening in supposedly liberal cities like London, New York, Philadelphia and Seattle than in Trinidad and Tobago. I will never again lose faith in the blueprint of Trinidad and Tobago's soul and the amazing ability of its people to live and let live.
This will not be the first time we have thrown colonial Christian-centric laws in the trash bin in favor of freedom. We once enforced laws that forbade the beating of drums and practicing witchcraft which infringed on practicing Orisha, Amerindian and Hindu ceremonies. We reversed an unfair ban on the Shouter Baptists (an Orisha-Christian hybrid religion) and even gave them a bank holiday. Now we are on the brink of doing something similar with this unjust and unenforceable (without infringing on human right to privacy) anti-homosexuality law! But we need help to break through the political cowardice and religious homophobia from American Evangelical and Islamic religious groups. Here are four ways the international LGBT community can help.
1.Funding Public Awareness Campaigns.

T&T is a media savvy nation with award winning communicators who can deliver educational and awareness to refute all the usual homophobic rhetoric anti-gay pastors and imams spread. This is especially important for the less educated members of society.
2.Assisting local LGBT groups in setting up chapters of PFLAG and Youth Shelters.
We still have a major problem with parents abusing and kicking out their LGBT children (particularly the effeminate boys) which leads to vagrancy, drug-use, and prostitution and inevitably HIV contraction.
3.Outreach by LGBT affirming faith groups
We need a strong counteraction to the hijacking of religion by homophobes. It does not matter what denomination or religion you are, Trinidad and Tobago will welcome you. We are a mecca of Universalism and most citizens have an abiding respect for spirituality of all kinds.
4.Resolutions By The Medical Community

Facing embarrassing retraction and financial losses, the ex-gay movement is sniffing around the developing world for fertile pastures in which to plant their snake-oil seeds. Our professional boards for mental health need to be ready for this and can benefit greatly from the sharing of research and information on this matter, leading to our own local resolution, condemning and barring the practice as medical therapy.
Please contact these groups:
I have one more compelling reason to add to my plea for support of Trinidad and Tobago. The Dutch, French and British islands where LGBT people enjoy equal rights have not been able to influence the CARICOM region on the matter. Trinidad and Tobago on the other hand has a track record of exerting a strong cultural, economic and geo-political influence on its neighboring CARICOM territories. The crack in the wall between LGBT people and full human rights in the Caribbean is located right here and brave local groups have inserted the chisel. Now please help us hammer it, hard!
Popular in the Community