Stephanie Schriock president of Emily's List endorsed the former secretary of state Friday evening in a Clinton campaign manager's home in Des Moines.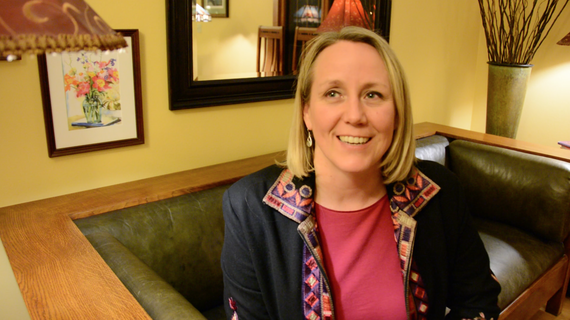 Emily's List is a Political Action Committee (PAC) dedicated to recruiting, training and supporting Democratic, pro-choice, women get elected to office.

Schriock was first inspired by Clinton speaking while in college at Minnesota State University in Mankato, MN. She said she saw her speak while campaigning for her husband in the 1992 presidential election, when Bill Clinton was seeking his first term in office, and now here she is, supporting Clinton in hopes the former secretary of state becomes the first female president.

She said she supports Clinton for a number of reasons and she spoke of them on a snowy Friday night in Des Moines with a few community members to hear her speak.

The Emily's List president spoke to Clinton's admirable choices in life, whether it was her choice to go to law school when many women were not applying, let alone being accepted or when she took a job working for the Children's Defense Fund.

Schriock said, as well as reiterated on Clinton's homepage, that she chose not to head to New York or Washington D.C. to work for a prominent law firm, but to advocate for all children, no matter or socio-economic class or disability, to have the right to attend public schools.

Her homepage said, "It's this commitment to public service and fighting for others--especially children and families--that she's carried all her life," which is what Schriock said during her endorsement announcement.

Throughout Clinton's career, Schriock said, she has been able to "advance women's leadership at every step of the way."

When asked, Schriock said for first time millennial voters to just get out there and vote.

Emily's List is especially interested in millennial women exercising their right to vote in the next election. The president of Emily's List said, even more so focused on those women voting for Hillary Clinton.


"Millennials, as a generation, will be the biggest voting block in 2016, bigger than the Baby Boomers," Schriock said. "They have the power to direct this country."

Schriock said Emily's List is targeting millennials between the age of 18 to 29, instead of the accepted definition of a millennial between the ages of 18 and 35.
Calling all HuffPost superfans!
Sign up for membership to become a founding member and help shape HuffPost's next chapter