The Brits Love Disney World, the French are heading to beaches, Italians to big cities, and the Germans? They're everywhere (in big numbers)
Hotel search trivago has examined the top U.S. destinations that are most popular with Europeans this summer. Presented for each city is a breakdown by nationality of these overseas visitors. The findings -- Germans make up the biggest proportion of European globetrotters in all but three of the destinations surveyed. The exceptions are Orlando (home of Walt Disney World), Boston, and Chicago, where the Brits outnumber the Germans by a healthy margin.
Below is an infographic showing a few of Europeans' favorite U.S. cities, each with a breakdown by nationality.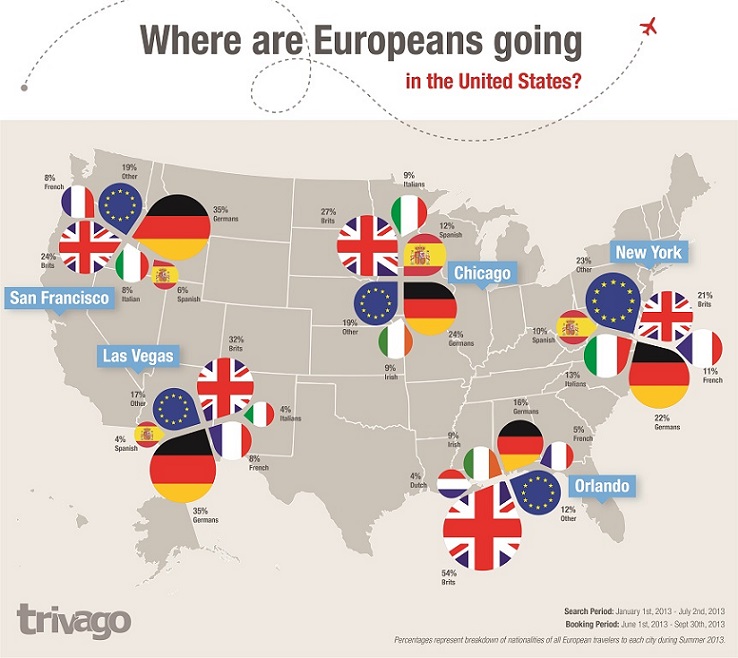 Germans outnumber other Europeans in 9 out of 12 destinations surveyed
According to The World Bank, Germany is the European country with the most international departures, followed by the UK. It is therefore of little surprise that the top destinations in the U.S. are most heavily represented by German and British. Germans dramatically outnumber other European nationalities in cities Los Angeles, San Francisco, San Diego, Honolulu, and Key West -- suggesting a trending affinity towards California and warm-weather beach destinations.
British love Disney World -- outnumber Germans in Orlando, Chicago, Boston
Brits make up the majority (54 percent) of all Europeans visiting Orlando this summer, while Germans account for only 16 percent, which suggests that Brits have a stronger attraction to Disney World than their European neighbors. British people also have a much stronger representation than Germans in Boston -- where English roots run deep, as well as in Chicago, where they make up 36 percent of European travelers.
French travelers prefer parties and beaches, Italians head to big cities
New York City's strong historical connection to Italy may be the reason the Big Apple draws more Italian tourists (13 percent) than French (11 percent) this summer. Italians also outnumbered the French in San Francisco, San Diego, Boston, Chicago, and Washington D.C. However, trivago reports a stronger French presence than Italian in Los Angeles, Las Vegas, Miami Beach, Orlando, Honolulu, and Key West. Perhaps the French (more than the Italians) prefer to party and lay by the beach while vacationing in the States. Miami was the only U.S. destination examined in which the French (18 percent) outnumbered the British (15 percent).
Las Vegas attracts German and British in huge numbers
Although Las Vegas is the first or second most popular destination for all European nationalities traveling to the U.S. this summer, it is also the city that sees the weakest distribution of visitors among nationalities, where German nationals make up for a bold 35 percent of European visitors, followed by the British (32 percent). The next largest group was the French (at eight percent).
Dutch have strong presence in Florida
Travelers from the Netherlands made it in the top five list of European nationalities only in destinations in the state of Florida--Key West (at six percent) and Orlando (at four percent).
The top 12 most visited US cities by Europeans...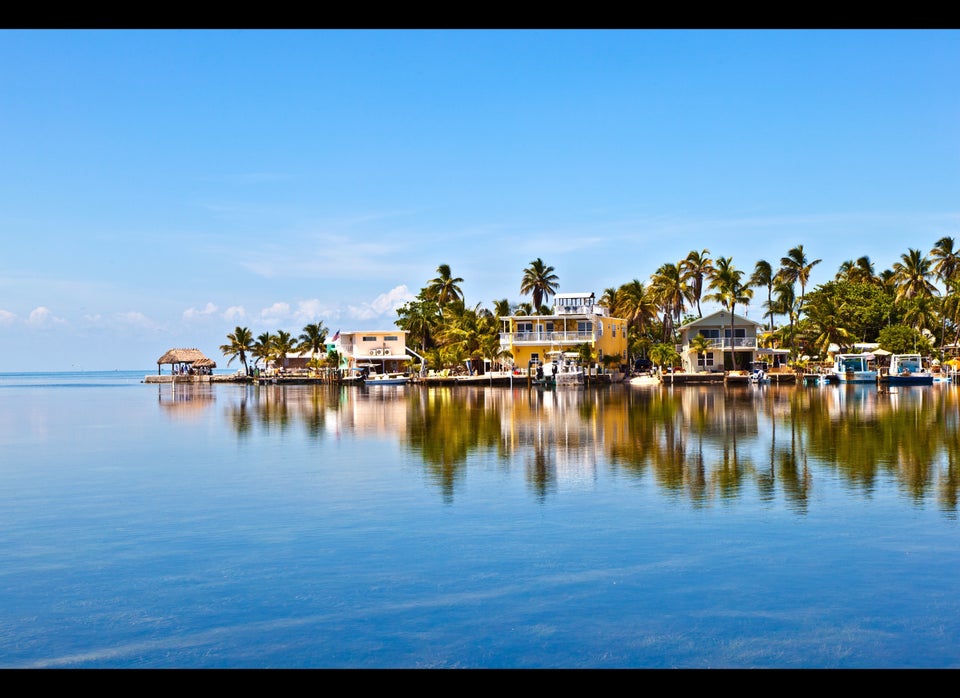 Europeans' Favorite US Destinations
Below is a more comprehensive breakdown of nationalities in all 12 destinations surveyed. Cities listed by rank of overall popularity among European travelers.
1. New York City
22% German
21% British
13%Italian
11%French
10%Spanish
5%Swedish
4%Irish
14%Other
2. Las Vegas
35%German
32%British
8%French
4%Italian
4%Spanish
4%Dutch
3%Irish
10%Other
3. Miami
30%German
18%French
15%British
13%Italian
4%Spanish
4%Swedish
3%Dutch
13%Other
4. San Francisco
35%German
24%British
8%French
8%Italian
6%Spanish
3%Dutch
3%Swedish
13%Other
5. Los Angeles
31%German
21%British
13%French
9%Italian
6%Spanish
4%Swedish
3%Dutch
13%Other
6. Orlando
54%British
16%German
9%Irish
5%French
4%Dutch
2%Italian
2%Swedish
8%Other
7. Boston
36%British
21%German
12%Italian
10%Irish
6%French
5%Spanish
3%Dutch
7%Other
8. Chicago
27%British
24%German
12%Spanish
9%Italians
9%Irish
6%French
3%Swedish
11%Other
9. Washington D.C.
25%German
24%British
8%Italian
8%Spanish
8%French
5%Swedish
4%Irish
17%Other
10. San Diego
38%German
27%British
9%Italian
7%French
4%Irish
3%Swedish
3%Dutch
9%Other
11. Honolulu
32%German
23%British
14%Italian
10%French
4%Spanish
3%Danish
3%Swedish
11%Other
12. Key West
38%German
17%British
9%French
6%Dutch
6%Italian
5%Danish
5%Swedish
15% Other
Data examined for countries: Austria, Belgium, Bulgaria, Switzerland, UK, Turkey, Czech Republic, Germany, Denmark, Spain, Finland, France, Greece, Hungary, Ireland, Italy, Netherlands, Norway, Poland, Portugal, Romania, Serbia, Russia, Sweden, Slovenia. 'Other' category includes all named countries not noted in tables. Figures based on database of over 20 million unique visitors to trivago monthly.
Related