Over a year has passed since the Ebola outbreak in West Africa began. In that narrow window of time, the disease has claimed more than 10,000 lives, stalled economic growth, and hampered - if not reversed - gains the region had made in strengthening public health infrastructure and service delivery.
And yet, as dire as the crisis has been, hope is emerging. The pace of new cases is slowing. The fear of a truly global pandemic has subsided. We are transitioning from emergency response to longer-term recovery - a very welcome sign.
As we take stock of the crisis and the toll it has taken, it's also worth noting what went right in our collective responses. How can we make sure the next health crisis is not so deadly? Examining the success factors for an effective emergency response may be a good start.
Dalberg studied how Senegal and Nigeria eliminated Ebola within their borders to put together the below infographic. See what worked and why: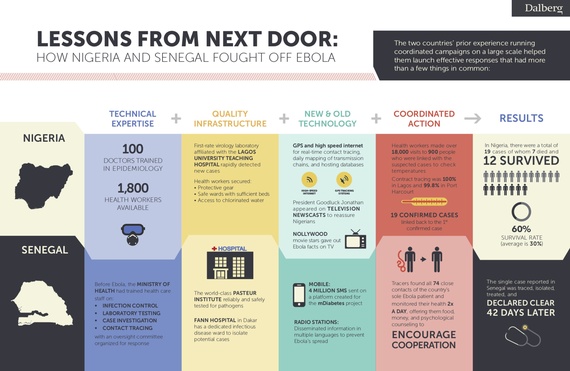 This infographic is from a new Dalberg report, From Response to Recovery in the Ebola Crisis: Revitalizing Health Systems and Economies. The report presents a portfolio of ideas on where to go from here, including how we might develop creative incentives to support emerging leaders and design innovative financing products. We hope to seed a broader conversation with these ideas, and to spark collective action by governments, civil society, foundations, and international agencies in service of the Ebola-affected region of West Africa.
Join the conversation with us - reach out to us in the comments below or on social media: @DalbergTweet on Twitter and on Facebook.
Infographic research by Kabura Ciugu of Dalberg.
REAL LIFE. REAL NEWS. REAL VOICES.
Help us tell more of the stories that matter from voices that too often remain unheard.