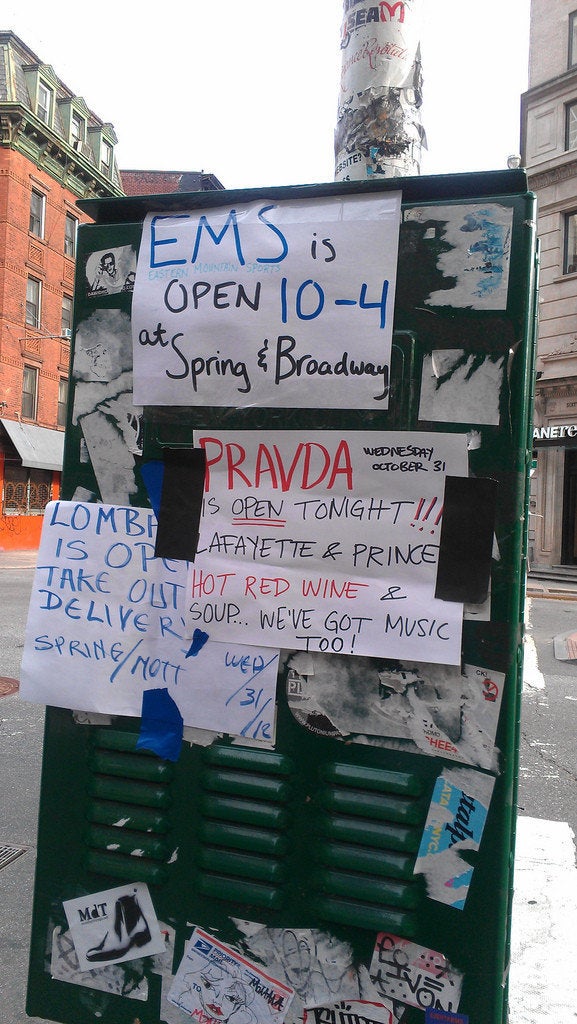 Olivia Cieri spent most of the work week after Hurricane Sandy volunteering at ABC No Rio, an artists' collective on Rivington Street in Manhattan. The team gave out free food and worked with Time's Up New York to provide bicycle generators for charging cellphones. But Cieri hadn't been able to leave downtown for the better part of the week, and by Friday she really wanted to know what was going on inside the Coney Island Museum -- where she used to work.
No one could tell her, though. Even with bicycle generators to charge phones, people in downtown Manhattan did not have working internet through Friday, Nov. 2, when power finally started to return to the grids there. The massive New York City power outage caused by Hurricane Sandy had left Cieri among the thousands of New Yorkers without connection to the outside world, unable to check on relatives or secure information unless they walked or took a cab uptown, where the city had power.
Several streets away from where Cieri spent the week volunteering, the Spring Lounge on Spring Street provided a gathering place for some information-deprived lower Manhattanites after the storm. Owner Brian Delaney said he didn't close his bar during 9/11, and he didn't plan to close during the outage. But without power, he was taking cash only and serving just bottled beer. The bar offered a warm place to sit and to swap stories -- the latter especially important for some downtown, who for days had been cut off from most media. "We're in a cocoon down here," Delaney said on Friday.
On that same Friday at Silver Spurs, a Western-themed restaurant on Broadway with a gas stove, packing tape on the windows and a marker-written "hurricane menu" taped to the register, patrons were served cooked sandwiches on aluminum foil squares and turned to tables on either side to trade hurricane stories.
There was a lot of impromptu hugging and odd declarations -- "That transformer has been trouble for 20 years," said one woman of a transformer that blew near her home. But overall, patrons were hungry for more news -- which could only be transmitted via word-of-mouth. Information downtown filtered oddly in a climate where it was difficult to tell what was the truth: talk that lower Manhattan would receive power by Saturday, taken as truth by many uptown, was treated as a strange rumor that Friday at Silver Spurs.
"I think the lack of information is what scares people most," said David Bradford, a proprietor at SoHo's Eastern Mountain Sports. "The first day people are like 'Eh, I need a headlamp.' The next day, they realize it might last a long time, they're like 'What do I do? How do I cook? What do I cook?'"
Bradford and Chris Lukos, another Eastern Mountain Sports proprietor, kept the outdoorsman's shop open every day post-Sandy. They served up free coffee made in camp stoves and offered survival tips for the blackout to cold, scared and caffeine-deprived locals passing by. Across the street, a Chase Bank location got its ATMs working on Friday and provided free charging, phone calls and filtered water to anyone who entered.
Of course, in the information desert that was blacked-out lower Manhattan, it wasn't easy to learn about the places where you could get information. Bradford and Lukos plastered the nearby neighborhood with signs about the free coffee and camp stoves at Eastern Mountain Sports. Other signs noted restaurant reopenings and food centers across town. Telephone poles became the new classifieds. In Union Square, where people gathered to get bags of dry ice from Con Edison, residents started leaving chalk notes on the stones to advertise places that were open, events that were happening or simply to let themselves complain. The glass window of Fishs Eddy on Broadway became an information hub of yellow Post-it notes, with hard news mixed with doodles and complaints.
Simply hanging around Union Square, one could learn anything from which rare vendors took credit cards (Whole Foods and some of the food trucks) to how to get cellphone service in downtown Manhattan (it's spotty, and it's best to stand on something high, like a lamp post). Some residents even went so far as to walk up to 30th Street or above simply to get mobile reception and come back down with news.
With power now back on in Lower Manhattan, these age-old ways of trading information will likely give way to texting and wireless connections. A copy of The New York Times will no longer be worth more than $2. Will New Yorkers miss it? Most likely not. But a Post-it note in the window of Fishs Eddy may prove nostalgic for some. "Thank you Sandy," it says, "for making New York quiet."
Calling all HuffPost superfans!
Sign up for membership to become a founding member and help shape HuffPost's next chapter
BEFORE YOU GO